One of the requirements of a contemporary project is for increasingly continuous and fluid spaces, potentially characterised by a material that can join the various interior spaces with the exterior. Homes nowadays are experienced in a very different way compared to 50 years ago and having such small rooms, each with its own established function, is hard to reconcile with contemporary living. The arrangement of a typical house in the 70s was a progression from the entry, corridor, kitchen, dining room, etc.; spaces which often had different types of flooring. For many years now, also due to changes in lifestyle, homes are laid out in a much less rigid way, mutating into open spaces where the walls disappear as much as possible, allowing the inhabitants to experience the space more freely.
Request an appointment with one of our representatives
The choice of flooring has followed this requirement and after years of experimentation, continuous surfaces with very few grouting lines can be obtained, so that there is no separation or interruption of the spaces, in order to appreciate the quality and expressive values.
Market needs and technological innovation have given new life to designers in giving form and substance to their concepts. Florim has responded to demand by truly going beyond and providing new design scenarios: the large Magnum tiles measure up to 160 x 320 cm and have become the obtainable dream of every designer. Let's discover why.
Large in Size and Small in Thickness
It may seem paradoxical, but Magnum oversize slabs are extremely thin. Thanks to Florim's knowledge of ceramics and investment into research, this milestone allows you to eliminate numerous grouting lines, freeing the line of sight as much as possible. The main curiosity concerns its thickness; the technical and functional characteristics are achieved with a thickness of just 6 mm, a value that corresponds to its extreme lightness.
Imagine requesting a marble-worker to supply a slab measuring only half the size of the Magnum and with the same thickness: he would say this is "mission: impossible", not to mention the exorbitant cost and the delicacy required. The many projects completed by Florim, on the other hand, bear witness to how this has been achieved with oversize slabs, and that hitherto unachievable aesthetic goals can be easily obtained. However, architects and clients are not the only people to appreciate its quality: the Magnum range has received the highest recognition in the field of design and the endorsement of the 2016 Compasso d'Oro, awarded by the Italian Design Association.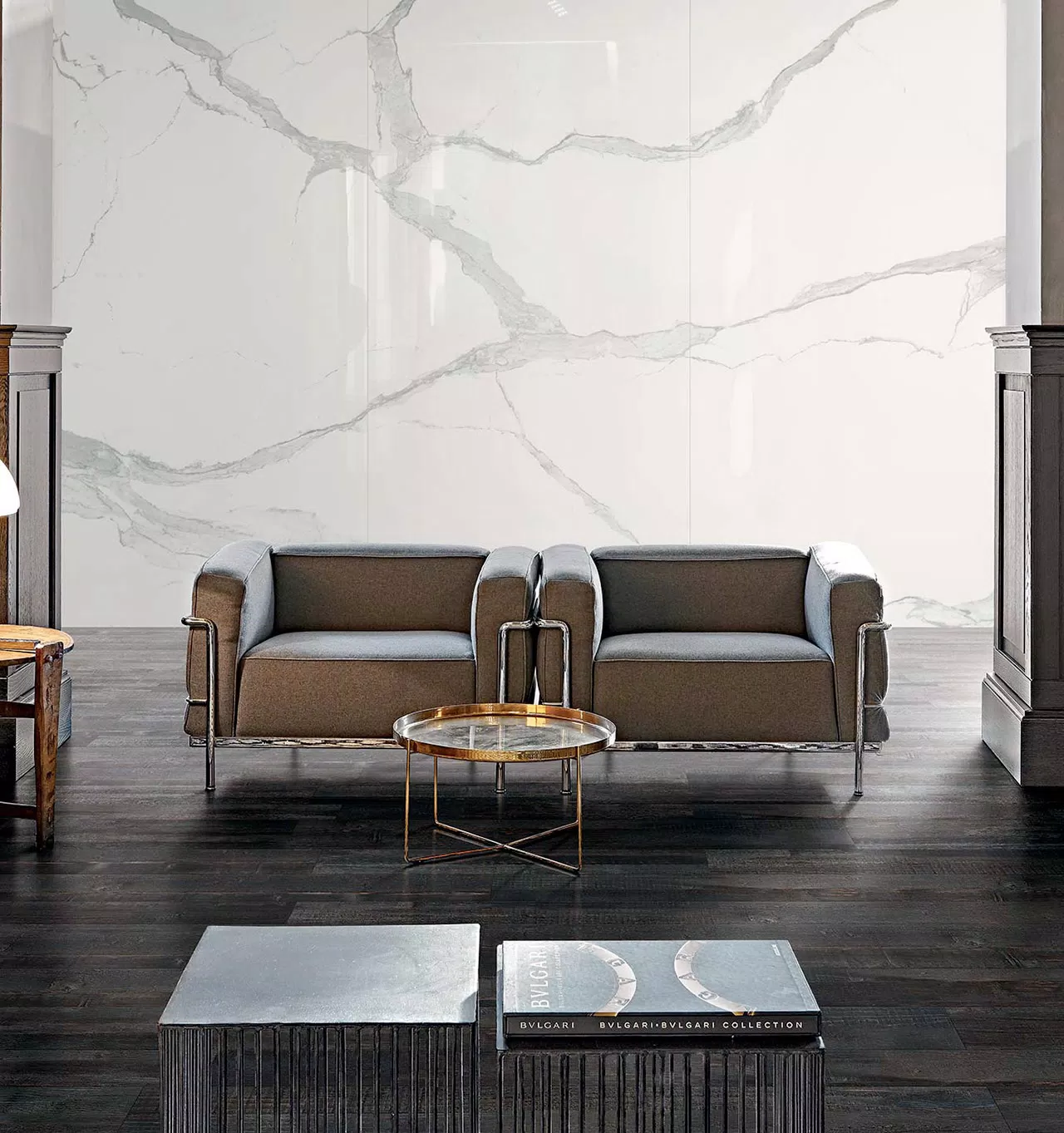 I Classici collection – Statuario chain
Click here to open the collection
The Magnum Line: Performance Born from Aesthetics
Florim places a lot of investment in the value chain. The logistics system that produces the slabs is run to meet the enormous demands of the market, without sacrificing product care and installation. The company offers a specialisation for internal staff and external installers who request it, thereby allowing control of the details. There are numerous Italian companies which supply the adhesive and tools for handling and cutting, thereby accompanying designers through the various stages of the project. The light weight of the slabs also combines well with renovations, where it is not possible to place too much load on attics for structural reasons.
No Limits
Imagining 120 x 280 cm and 160 x 320 cm slabs gives you full freedom to consider porcelain not just as a flooring material but also for other surfaces and scales of project. For example, let's consider the atmosphere which could be created in a bathroom clad in just one type of porcelain tile; one complete, elegant look from floor to ceiling which would bring to mind a warm, intimate environment.
Total look marble effect in a bathroom, with the Stones & More 2.0 collection
Click here to open the collection
In addition to interiors, large format tiles are ideal for installation as facades using the ventilated rainscreen system. However, experimentation has no limits and the possibilities for use are constantly evolving, especially beyond the well-established standards: a large format tile can become an elegant and light dining table, whereas vertical tiles may be used to separate areas of the home as if they were theatrical curtains. It is now time to give your creativity some space: Florim is available to provide a full range of solutions and aesthetic inspirations.
Request an appointment with one of our representatives