In recent decades the production of porcelain stoneware has undergone significant advances. In particular, it has specialised in the construction of large slabs in dimensions which were unthinkable until recently, and with thicknesses of less than one centimetre. The large sizes have allowed its widespread use as an external covering for floors and facades, and in addition, the reduced thicknesses make it suitable for truly innovative uses.
To give an example, the Magnum Oversize project of the Florim brand offers a wide range of sizes (from 80×80 to 160×320) and textures, in slabs with a thickness of only 6 mm, which can completely cover the exterior, interior and furnishings with a truly unique effect. The Florim line of large format tiles obtained the Honourable Mention of the Compasso D'Oro ADI 2016.
Request an appointment with one of our representatives
In the article "Debunking myths on large-format stoneware" you can find an answer to any questions you may have regarding the use of oversize formats concerning transport, installation, technical and aesthetic performances.
Case History
INTERIOR: The Decameron Clubhouse in Odessa
This Hotel was designed and built to communicate elegance and refinement. To create high-quality coatings, it was decided to use thin porcelain stoneware slabs with different finishes. In the different spaces of the hotel, we find cement-effect stoneware, travertine, stone, alabaster and Portovenere marble. It seems almost impossible that all the surfaces are actually made of the same material, but this is the extraordinary capacity of stoneware: a single material which can take on infinite aesthetic and tactile aspects – from the porosity of the stone to the shine of the marble – all with a thickness of only 6 mm.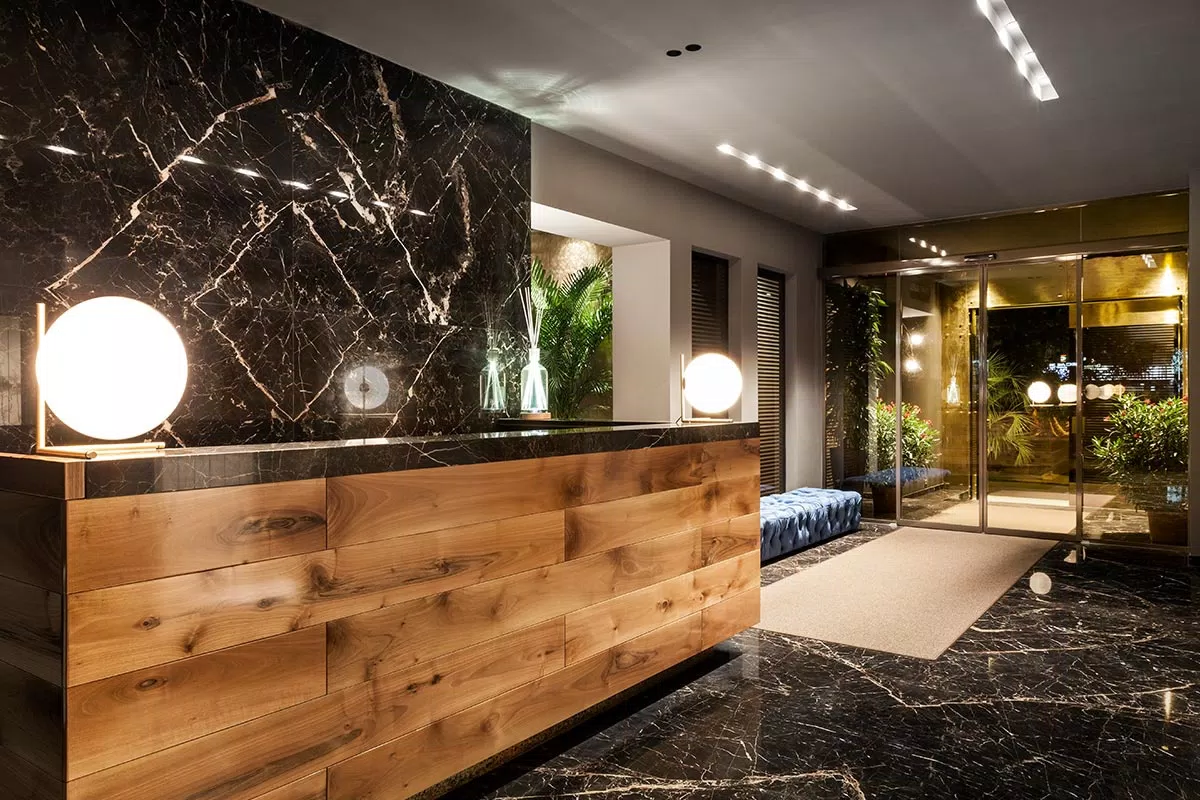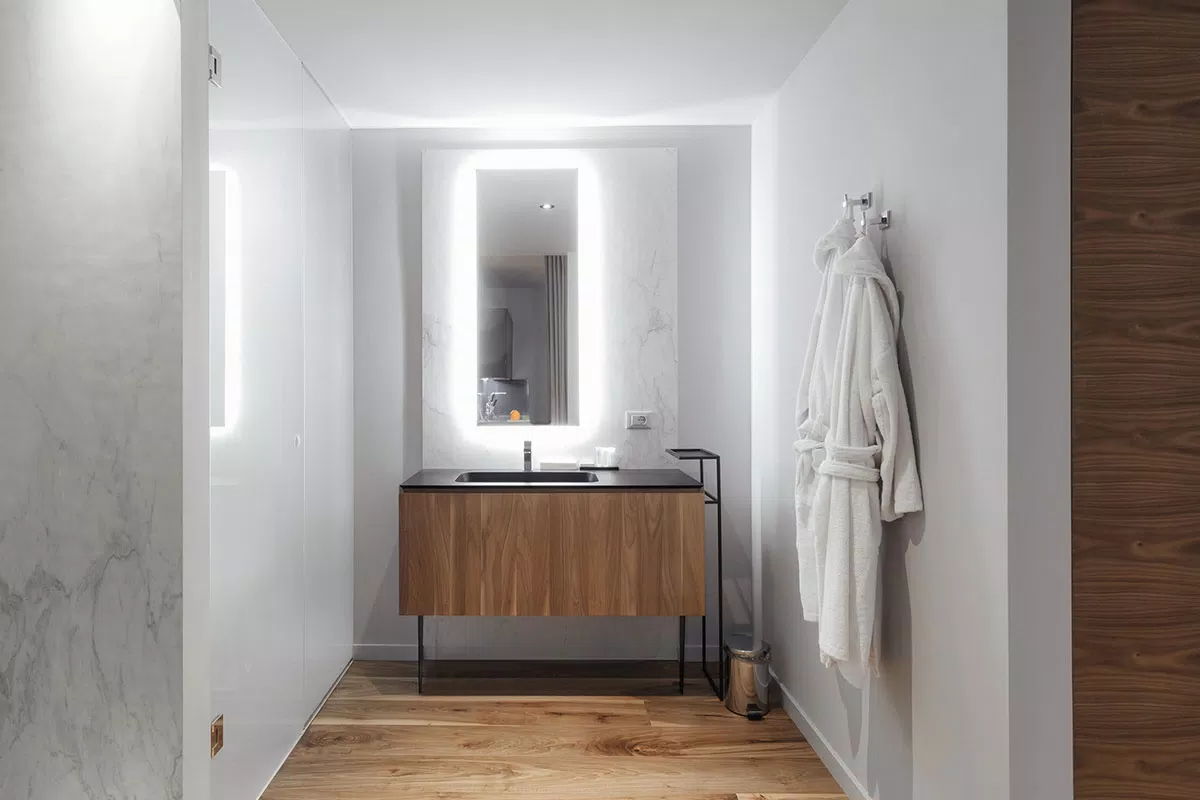 Decameron Clubhouse, Odessa (Ukraine)
view the project
DESIGN: Passive House Cesena
Interior design project of the architect Stefano Piraccini, this private residence located in Cesena shows us how stoneware can be used not only as a floor or wall covering, but also integrated into the furnishings. In the living area, both the kitchen-top and the table are made of large-format stoneware. The table, in particular, the central element of the environment, is made with a single 120×240 slab with a thickness of 6 cm, with a light shade which re-proposes a slight cement spatulate. The worktop of the kitchenette instead has a neutral shade, as do the bathroom coverings, which are also in stoneware.
The possibility to use cuts of any size allows to integrate the stoneware with great creative flexibility, guaranteeing high technical and aesthetic performance for the project. In fact stoneware, thanks to its water-repellent characteristics, high resistance to stains and chemical agents, is perfect for tops in bathrooms and kitchens and worktops in general. Furthermore, stoneware is characterised by ease of cleaning and maintenance, which distinguishes it from other materials. For ordinary maintenance, in most cases, common detergents can be used, with different precautions taken depending on the finish.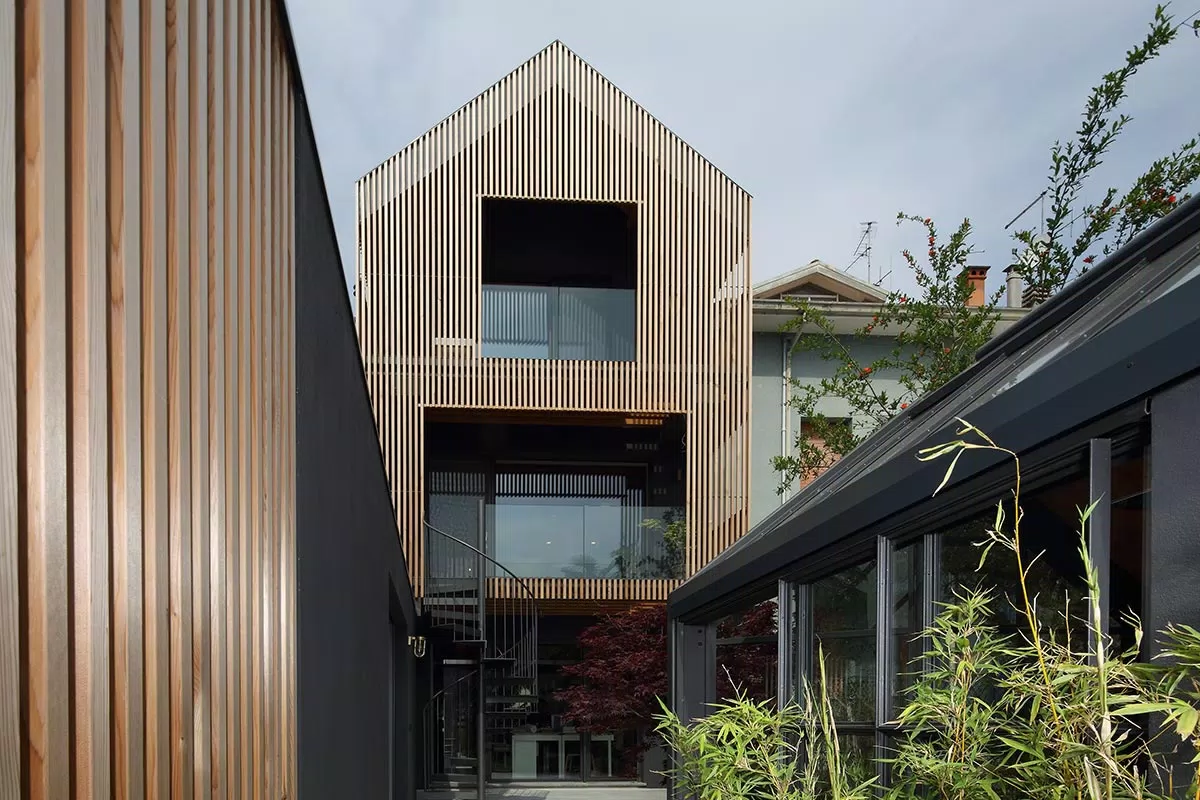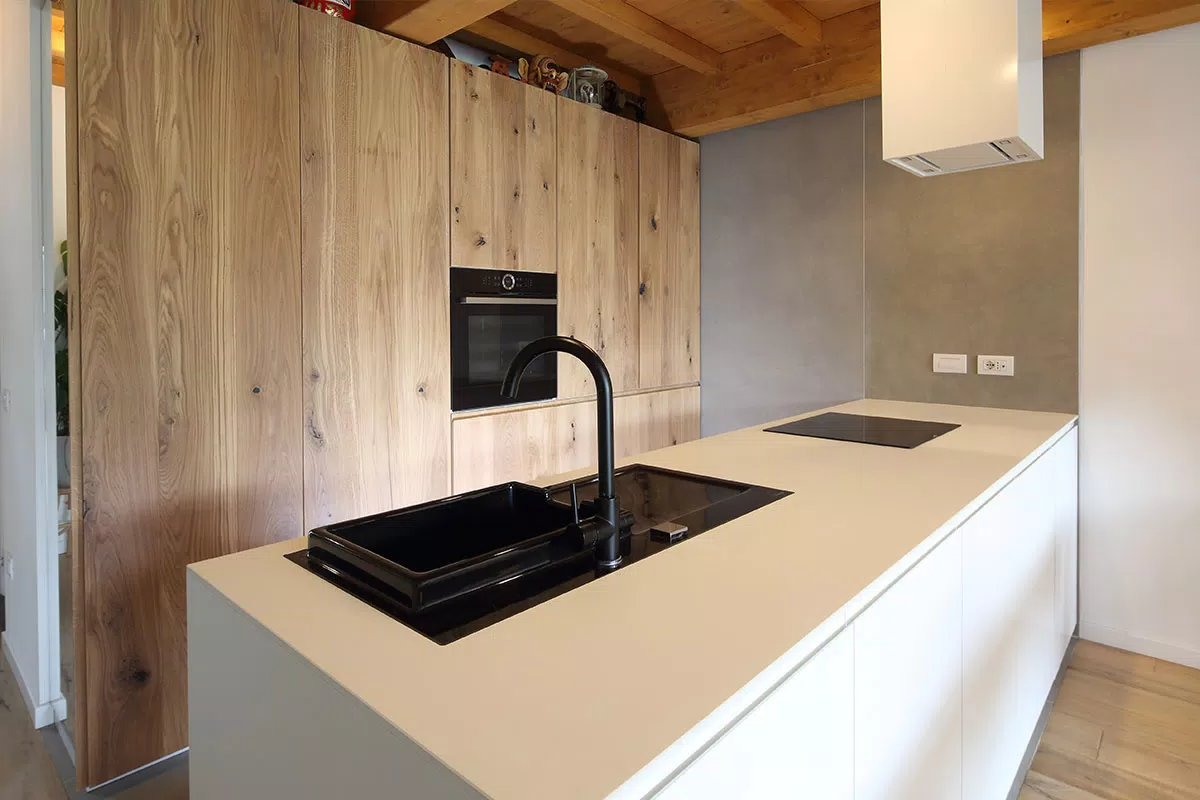 Passive House, Cesena (Italy)
view the project
EXTERIOR: Ventilated rainscreen facade in Mendrisio
The strength and lightness which characterise large stoneware slabs with a small thickness make them the ideal coating for facades. A concrete example is a building built in Mendrisio, in Switzerland. The maxi slabs (sizes of 80×240 cm and 120×240 cm) make an excellent ventilated rainscreen facade thanks to the transmittance characteristics of the ceramic material. The "S" anchoring system between the slabs gives the system an effective response to ordinary and extraordinary stresses deriving from atmospheric agents. The finish of the slabs, inspired by the cement material, gives the building an austere but classy appearance.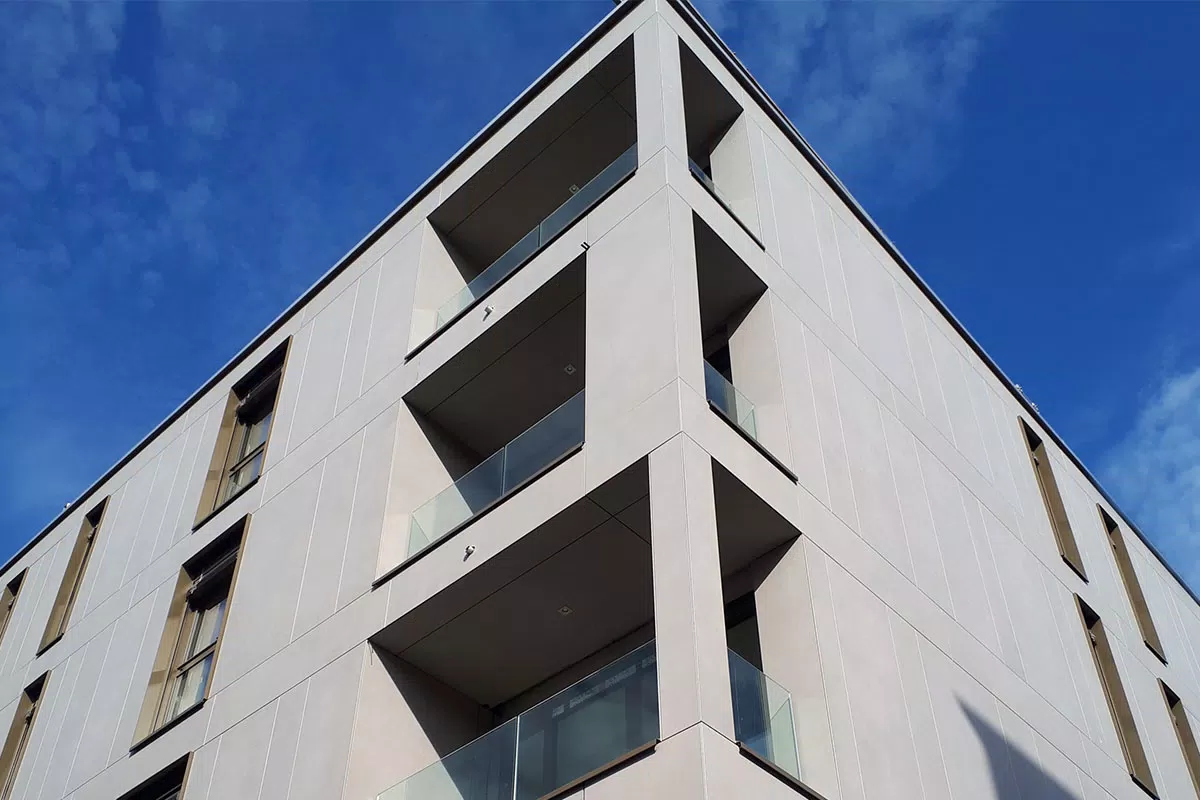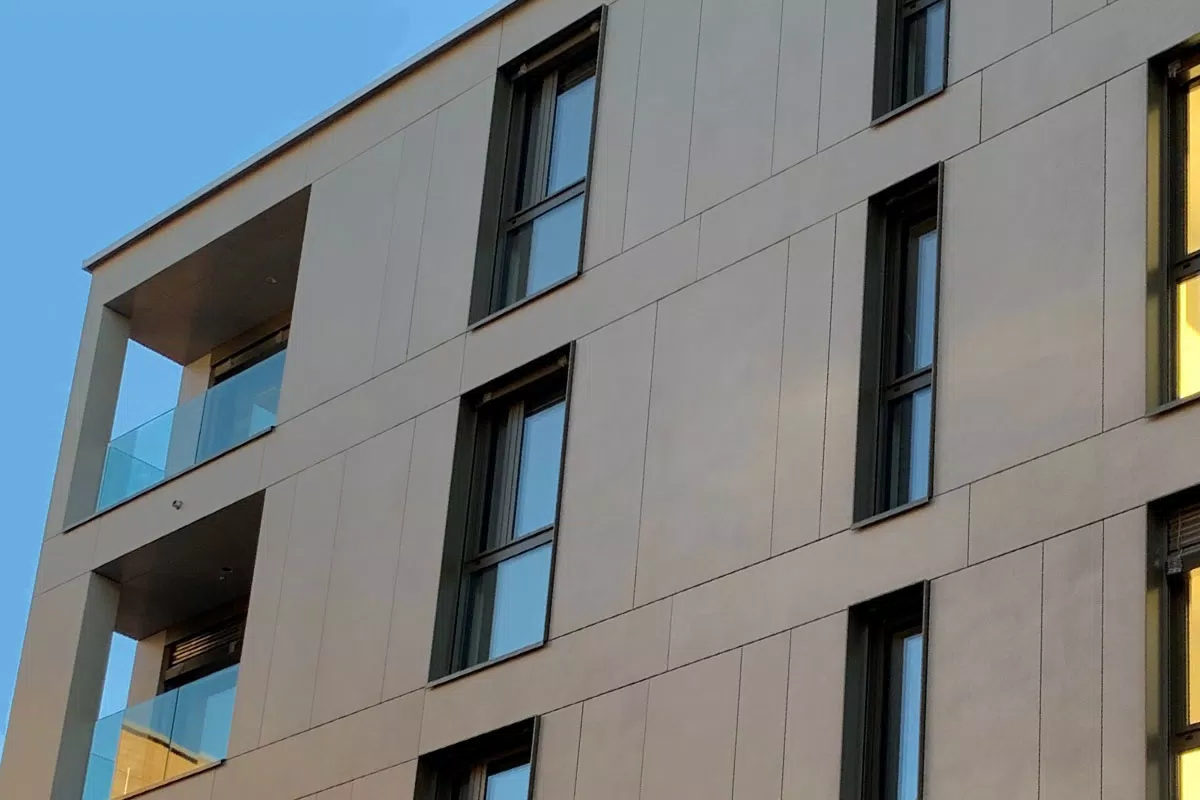 Ventilated rainscreen facade, Mendrisio (Switzerland)
view the project
There are many elements in favour of thin porcelain stoneware which we have seen in these examples. Still, it is worth bearing in mind that this material also involves some precautions which must be taken. Above all, the slabs must be packed and handled with care, and it is important that a specialised team is involved in the installation.
Below are some explanatory videos of the laying and handling of large sizes with such a thin thickness.
In conclusion, thin porcelain stoneware is an excellent choice both for "total look" projects and for projects with a "mix & match" of different inspirations, from furnishing elements to exterior cladding. With a thickness of only 6 mm, it offers excellent technical characteristics, high resistance and an aesthetic of impact.
Request an appointment with one of our representatives