One. One identity of large-format porcelain stoneware is that its technical characteristics are uniquely suitable in the fields of building materials and interior design.
No one. Stoneware has a vast number of textures and finishes such that it is difficult to identify its original nature. What is its true appearance?
One hundred thousand. Because a hundred thousand images and suggestions come to mind when looking at this material. Porcelain stoneware can be elegant and refined in its marbled finishes, ancestral and material in its stone and wood versions, industrial and raw in its cement and metal collections. It can put on an infinite number of masks; some are listed below.
Request an appointment with one of our representatives
THE GENTLEMAN
The hall at Hotel dei Fiori, In Alassio on the Ligurian coast, was designed by interior designer Alessandra Braida. Set in a nineteenth-century nobles' palace, the hotel hall has regained its unique splendour thanks to its wall panelling but, above all, to its coffered floor. The floor was laid with two different types of large size porcelain stoneware slabs: size 180×60 cm whitened Oak-effect slabs and for the edging of 160 cm large square tiles which recall pearly alabaster. The light shades of the materials give the area its brightness.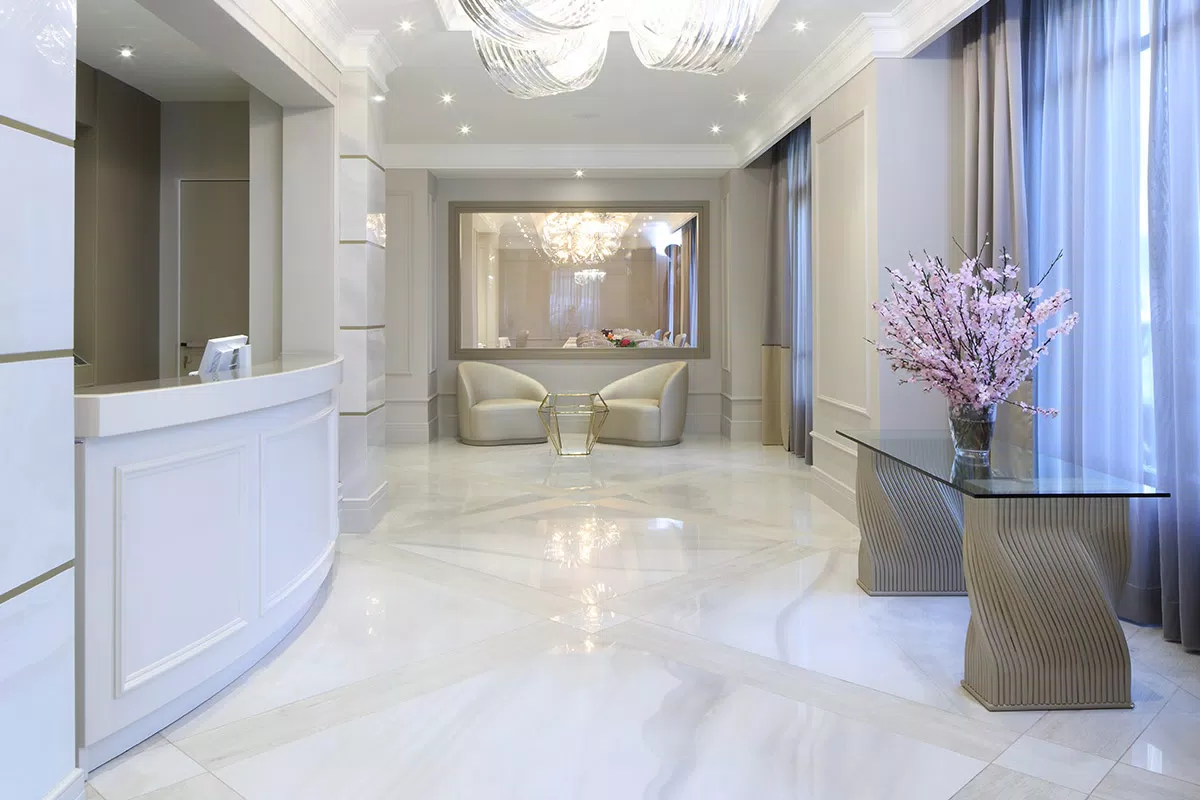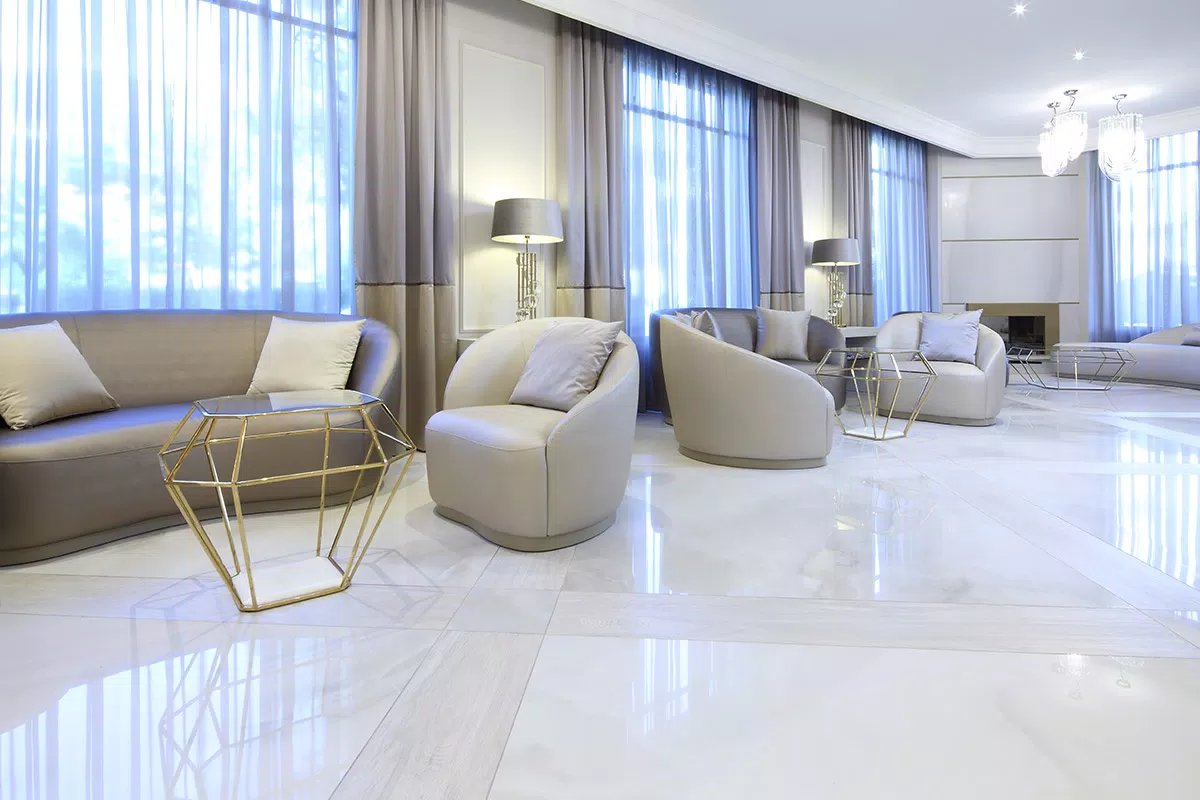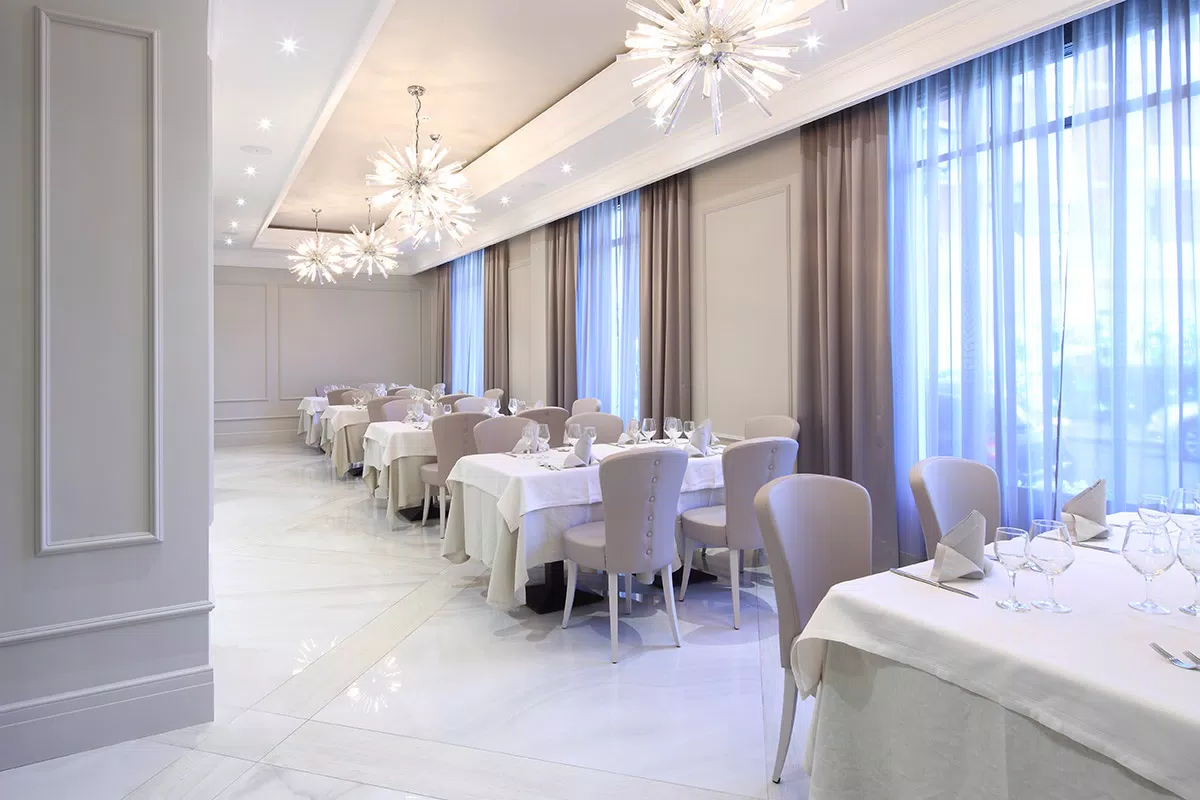 THE CELEBRITY
Stoneware is the perfect choice for Hotel Salo du Parc in Riva del Garda. Studio Simonetti designed the lobby of this hotel with Magnum slabs (120×240) from the Étoile marble effect series (colour étoile symphonie ).
Sinuous veins decorate the entire floor like precious stones, and blend perfectly with their surroundings. The marble-effect stoneware, with its matte finish, blends with the upholstery and furniture and gives life to a luminous and lush environment.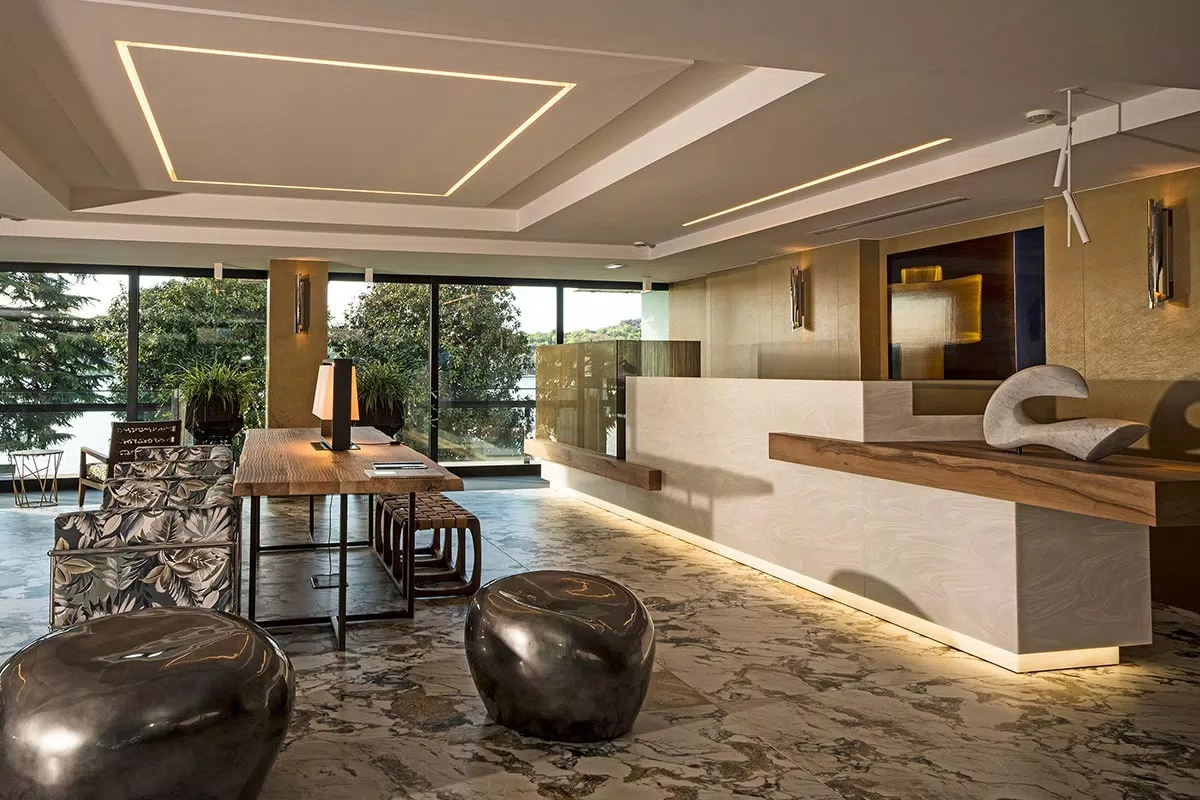 RADICAL-CHIC
The "Gusto Premiere" restaurant, which overlooks the Duomo of Modena, is a mix of history and tradition and industrial/contemporary materials. The project is by architect Elena Silvestri, who chose a concrete texture for the flooring in large-format porcelain stoneware. This contrasts with the vaulted ceilings: the frescoed ceilings of the main room and the exposed brick ceiling.
A third element, which is part of this harmonic contrast, is metal. With stoneware, heavy, structural material can be used in interior furnishings. Here it was used as a covering for the main counter and other service areas, with large slabs cut to size. It is fascinating to see how, with alternative and innovative vision, raw, industrial materials can contribute to the creation of a refined space.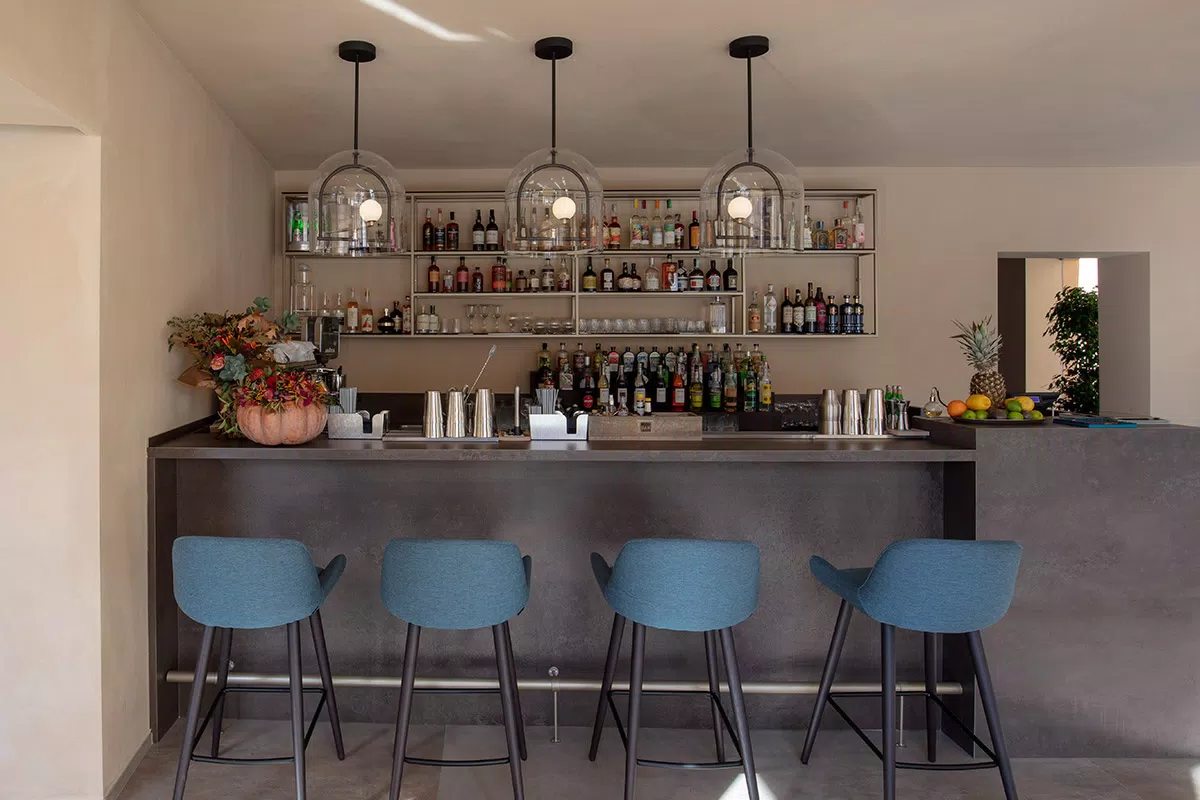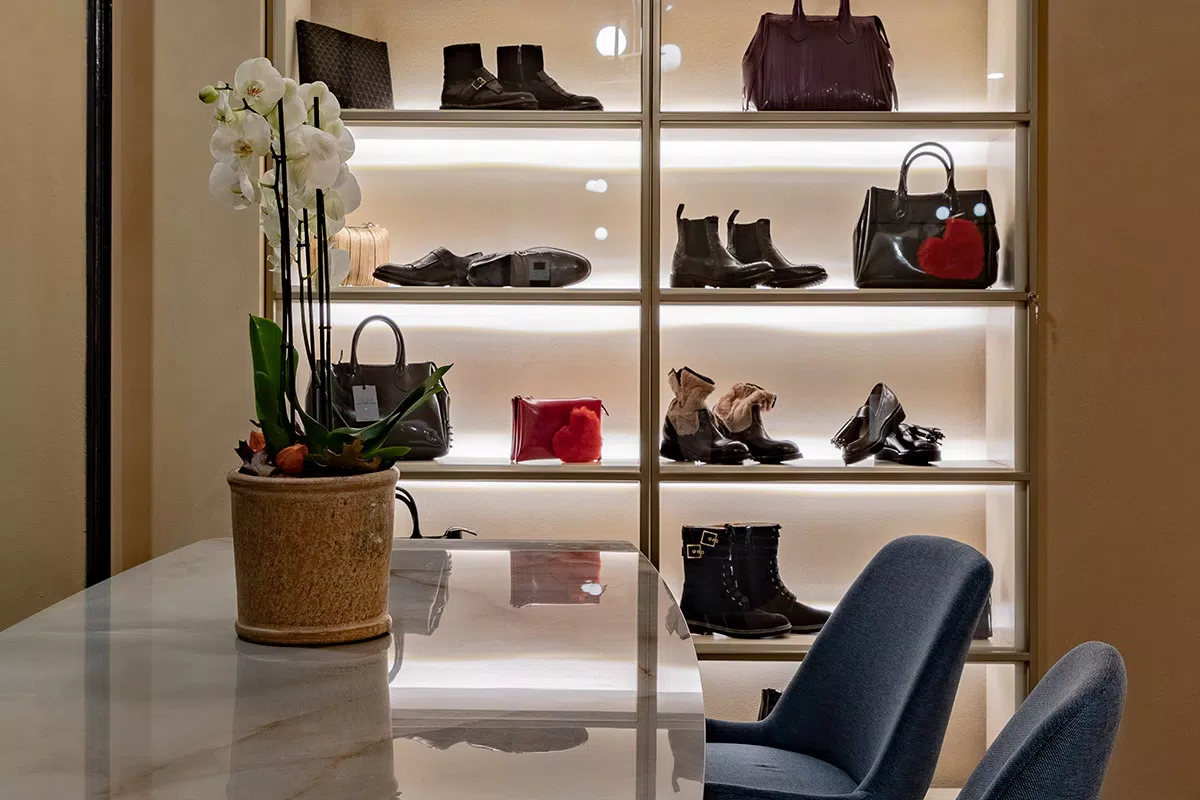 NATURE LOVER
In the heart of Levico Terme (TN) is the Hotel Ambassador, designed by Alberto Buffolino.
At the hotel we find brilliance and seduction thanks to the use of the large Matières slabs (colour Gris). However, there is also warmth and hospitality provided by the use of wood-effect stoneware (Planches collection, Noisette shade).
Porcelain stoneware is the material most used in the building. This is so much so that porcelain stoneware is not only seen in coverings and traditional or coffered floors but also in the creation of furnishing accessories like the reception desk, which fit perfectly into the visual harmony of the rooms.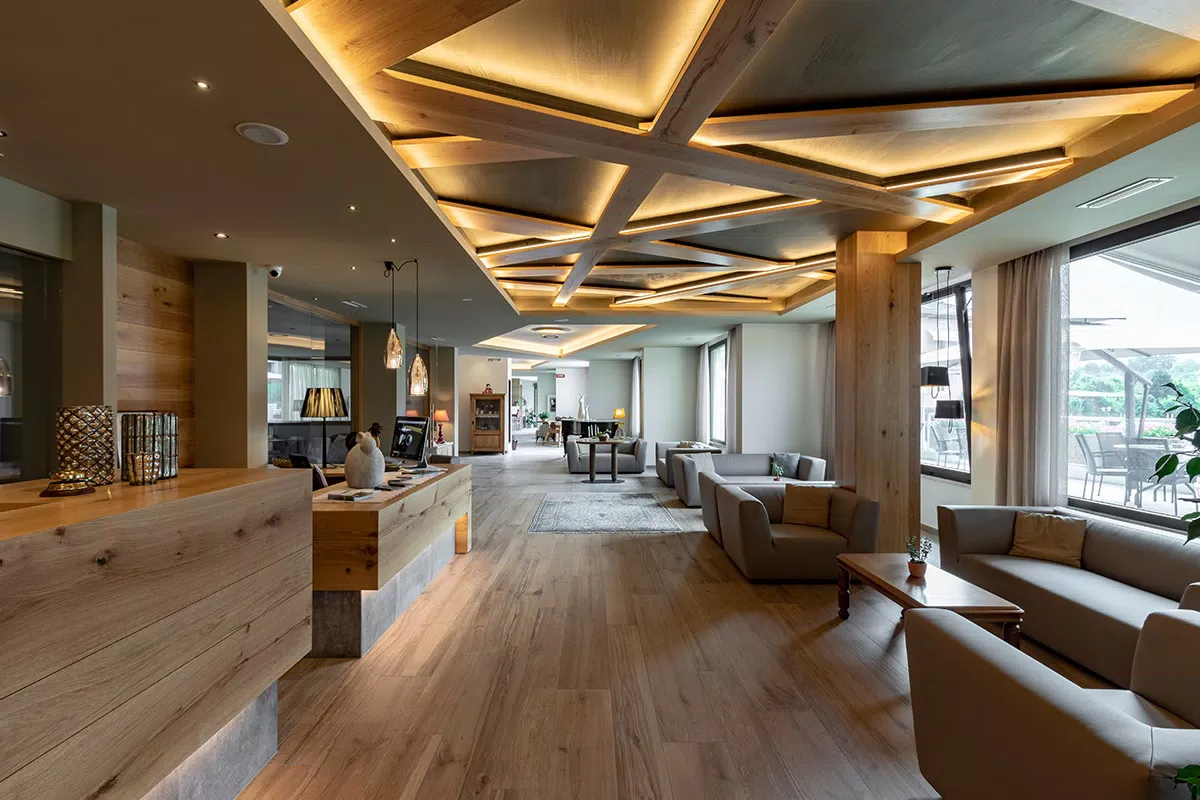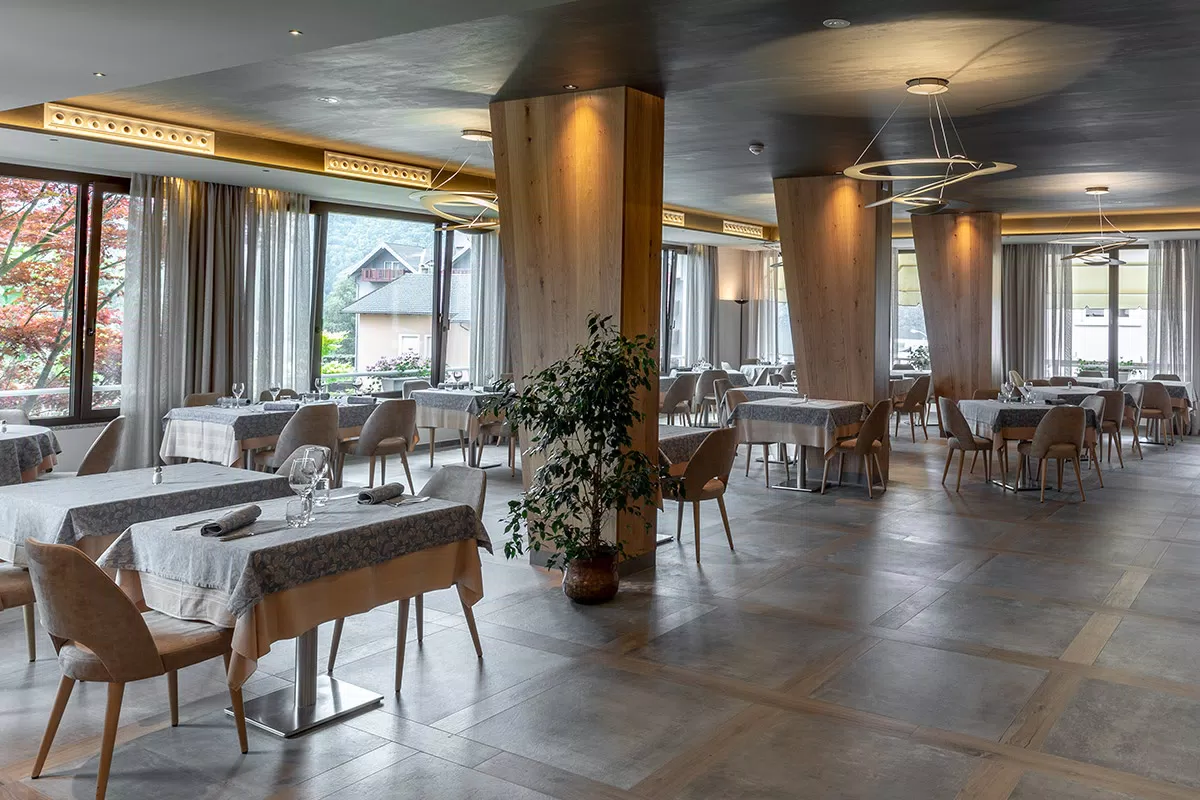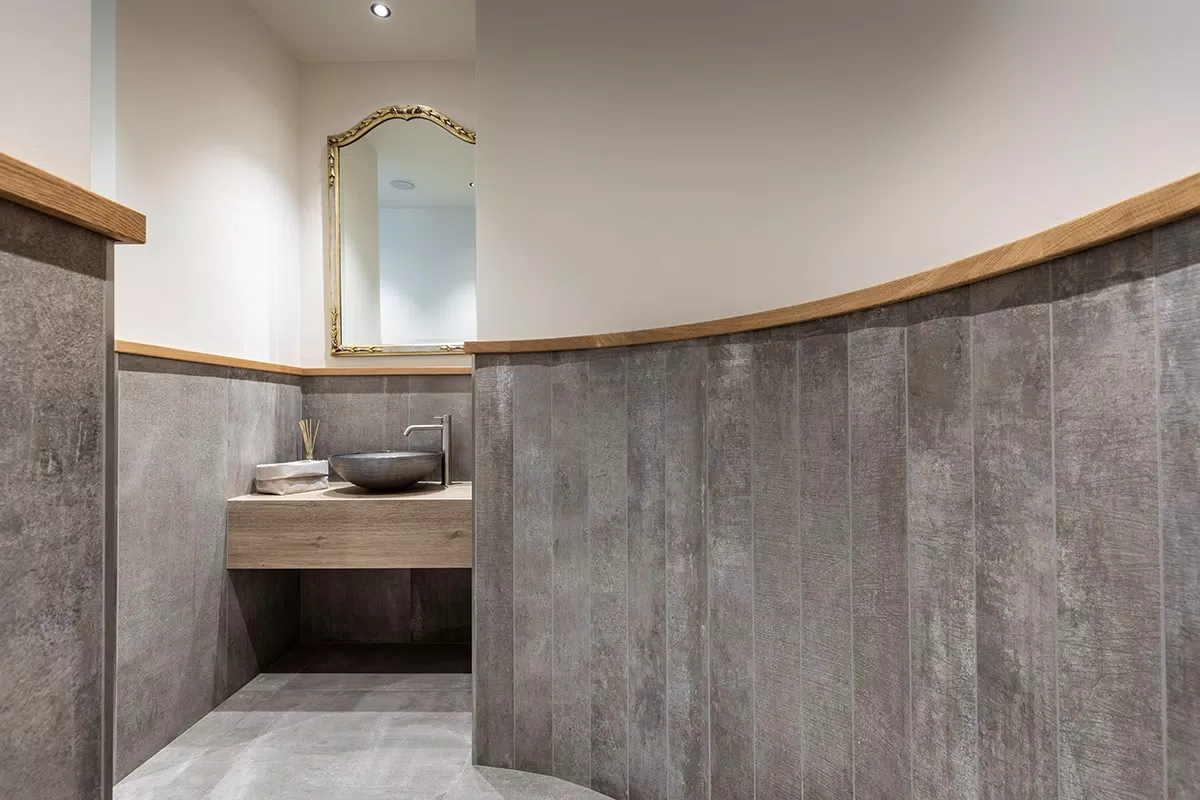 We have seen many faces of porcelain stoneware: metal, marble, stone, wood, cement, fabric – and there many others (think, for example, of three-dimensional formats). Porcelain stoneware is a unique material that is always searching for a new and different identity. The search is ongoing and is as vast as the designer's imagination: there are yet many masks that stoneware can put on.
And just as Pirandello concludes his famous novel, we conclude this article: "… I am born again and without memories: alive and whole, no longer in me, but in everything outside of me."
(from "One, No One and a Hundred Thousand" by Luigi Pirandello)
Request an appointment with one of our representatives