The production of porcelain stoneware has gone through an era of great innovation. Today, slabs can be made with defined and variegated textures, representing the appearance of natural materials to where the difference is hardly noticeable. Furthermore, production has also specialized in large slabs that are less than one centimetre thick and whose size would have been unthinkable until recently.
A widespread use is in cladding the facade of buildings, although reduced thicknesses render the large slabs suitable for truly innovative applications. For example, they can be used as custom-made covering for interior design furnishings. Their durability also makes them suitable as coating for surfaces that may be subject to wear and tear, like flooring and worktops.
Request an appointment with one of our representatives
Marco Piva Studio interior design
Recently, several architects and designers have taken advantage of the possibilities of porcelain stoneware to create works of interior design. An example of this is the The Pantheon Iconic Hotel in Rome, with designs by Studio Marco Piva. Here, porcelain stoneware is not merely a coating for vertical and/or horizontal surfaces, but it also helps define an idea that deliberately brings us into an a-historical dimension.
Finding itself operating from the very center of Rome, the Milanese firm chose to draw inspiration from the cultural and architectural heritage of the ancient Pantheon, recalling its materials, shapes and lights. The hotel's stoneware floor – with its black lacquered marble texture – reflects the vaults and enhances the warm internal light. Recalling the ancient historicity of the Pantheon, the hotel offers a fusion between modern minimalism and the majestic classical magnificence of ancient Rome.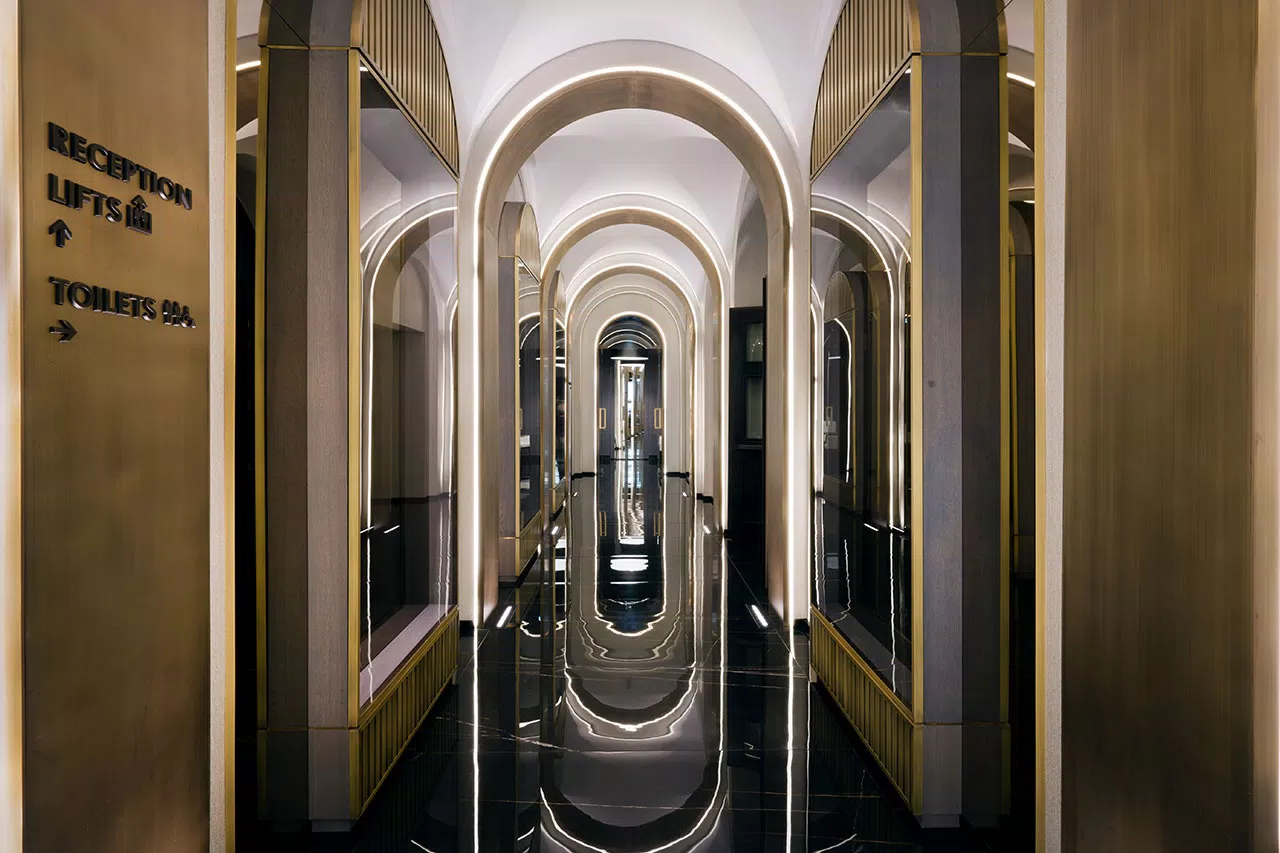 The Pantheon Iconic Hotel
Go to project
Porcelain stoneware as furnishing
In addition to being a covering for interiors, stoneware slabs can also be used in furnishing accessories. Large format tiles can cover large surfaces – such as those of a table or a countertop. A single piece, that is just a few millimeters thick, can be used to cover the whole area.
A single large porcelain stoneware slab can also be used as a decorative and design piece. It can embellish the headboard of a bed, the frame of a fireplace or be used to cover doors and shutters. Custom slabs can be made thanks to an advanced digital decoration technique. Alternatively, slabs that are on the market, and made by leading artists and designers, may also be good choice. Think of the collection of large format tiles produced by versatile artist and designer Federico Pepe. Their texture was created using the marbling technique, with a surprising psychedelic effect.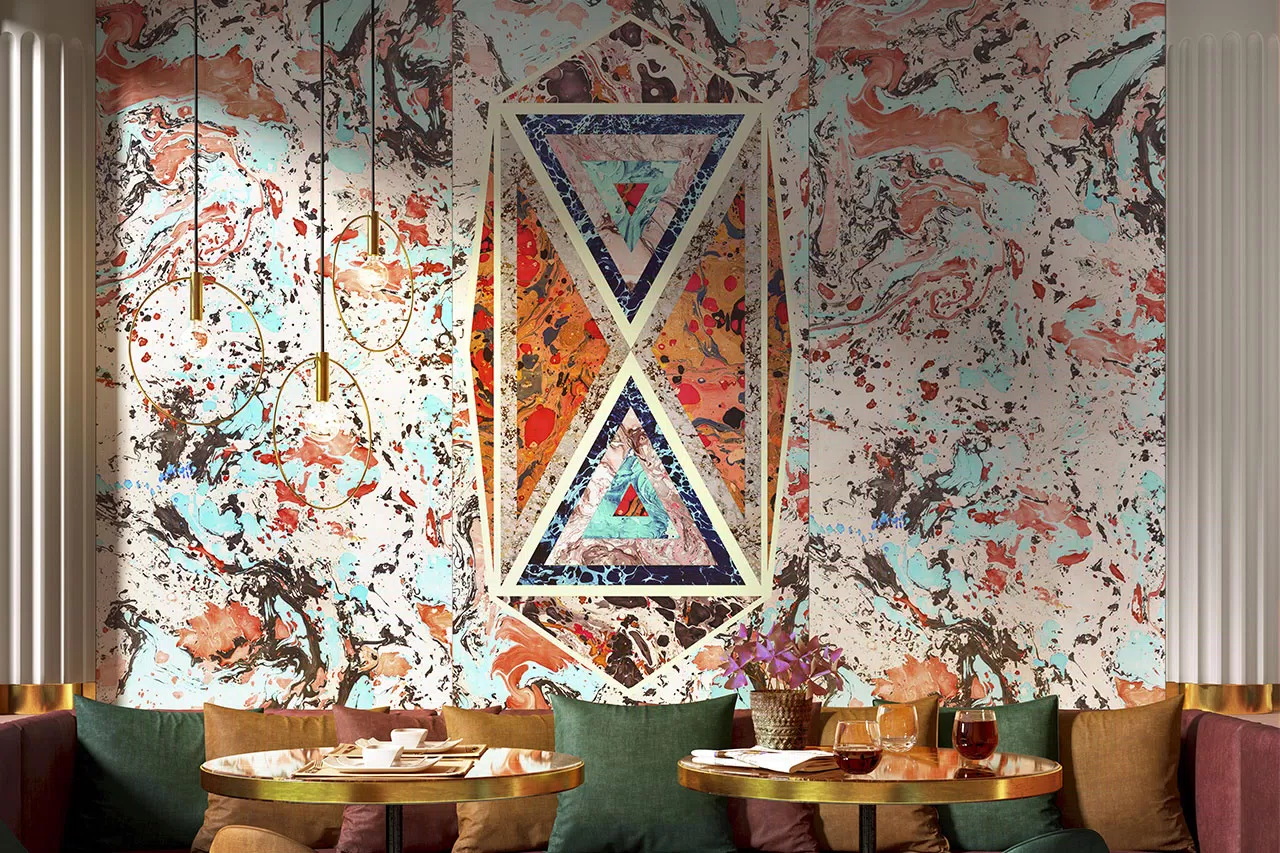 Araldica by Federico Pepe – CEDIT – Ceramiche d'Italia
Go to collection
Another potential of stoneware, especially when in large slabs, is that it offers a way of thinking about architecture and furnishing as a single unit, rather than keeping them as separate elements: the cladding of one element is complemented and merged with the coating of the other.
Why use stoneware in interior projects?
The use of porcelain stoneware in interior design is no coincidence: the world of design is already deeply connected to the production of this material. Often, the designers themselves launch new stoneware collections in collaboration with manufacturers. They draw inspiration from existing materials to create patterns of innovative interpretation, while not neglecting materiality. Other ideas come from history of art and from a variety of cultural contexts.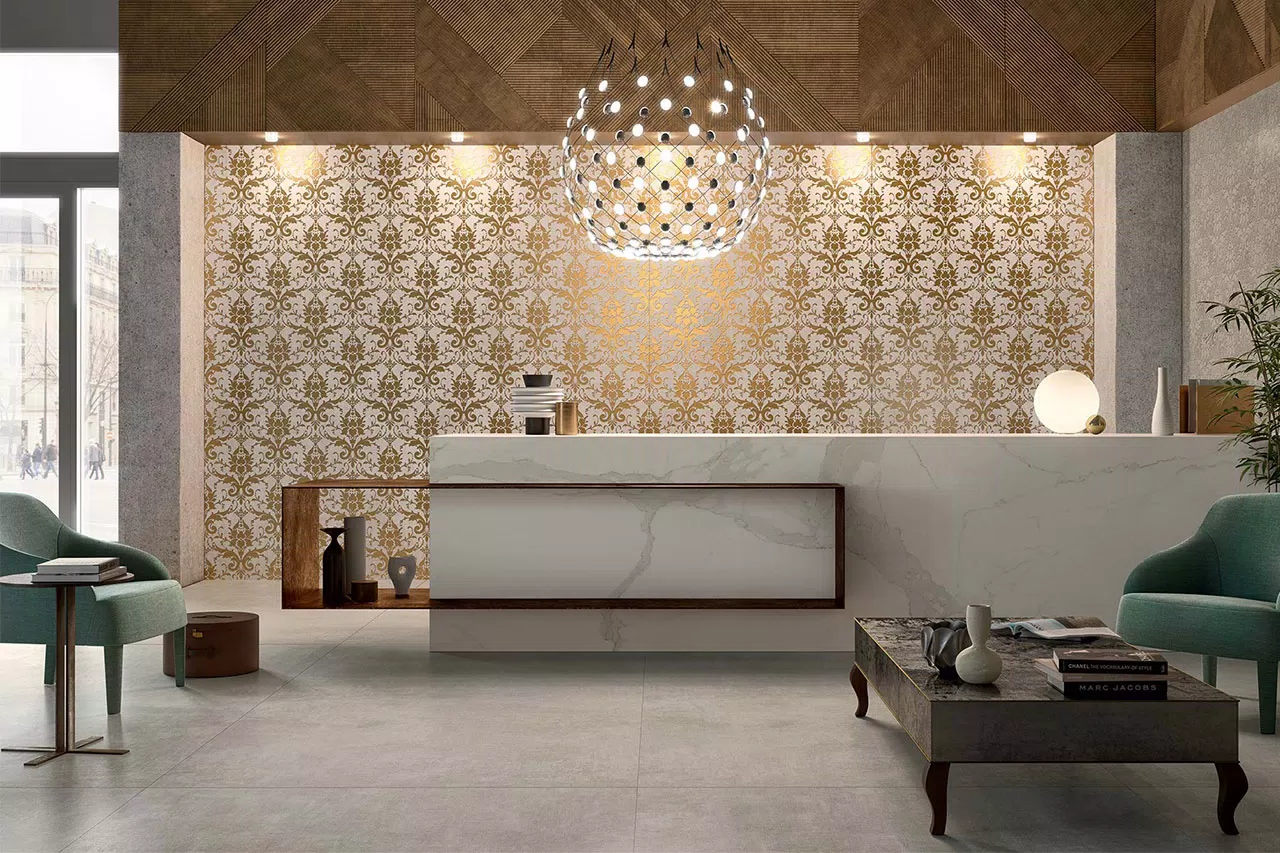 Tesori by Matteo Nunziati – CEDIT – Ceramiche d'Italia
Go to collection
In essence, stoneware offers innovative and high-level aesthetic and tactile options that are perfect for retail and habitat design projects. Moreover, stoneware projects can be developed with less economic and environmental expense than projects made with other materials.
Request an appointment with one of our representatives