Thanks to a growing demand on the contemporary market and on the resulting research in technical fields, large-format porcelain stoneware (slabs up to 160x320cm) can now respond to the most varied project needs and guarantee resistance and applicational versatility in only a few millimetres of thickness.
The large porcelain stoneware slabs can be positioned very close to one another to eliminate any perceived gaps, thus creating surfaces with a seamless appearance. They are the ideal ally for all interior designers in search of performance solutions that are aesthetically varied both for the creation of kitchen and bathroom surfaces, and for customising accessories for furnishings and doors. The application possibilities of large-format stoneware are now numerous: here are some.
Request an appointment with one of our representatives
Walls and flooring
As already mentioned, the placement methods for large-format stoneware allows for the reduction of gaps. This continuity effect due to the proximity of the slabs gives the space the impression of greater dimension: in this way, even the smallest homes or public spaces can benefit from a radical transformation in their appearance.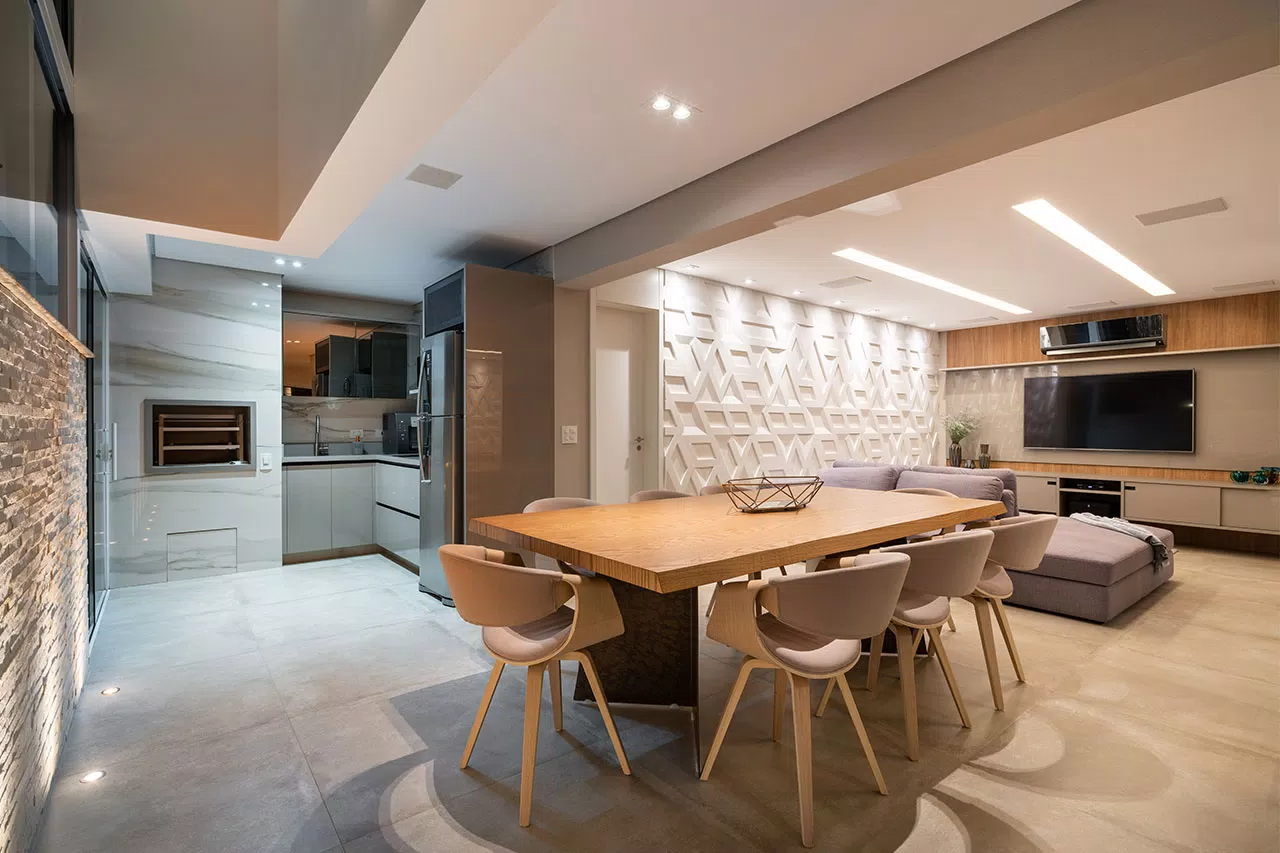 Private home in Brazil
Go to project
In addition to this, the porcelain stoneware reduction to the minimum level of porosity and the continuity of texture in the use of this material results in key characteristics, especially in public spaces, such as allowing swift and easy cleaning of the surfaces, guaranteeing an extremely high level of cleanliness (which is why the large slabs are especially sought-after in the hotel and catering industry).
Swimming pools and wellness centres
In complex environments where constant contact with water often limits the choice of cladding materials, porcelain stoneware offers exceptional planning freedom. The large-format tiles, with their reduced thickness and broad range of texture inspirations, maintain a high resistance to static loads of water and are available with specific anti-slip technology up to R10 class B with PTV>36.
With a single material that is only 6mm thick it can be used to recreate timeless spaces, in which elements appear to be carved from a single block of material: an example of this is the private swimming pool made in Belgium with Magnum slabs from the Industrial Ivory collection (for inner and outer pool) and the spa in Hotel Nazionale in San Remo cladded with marble effect slabs from the Stones & More 2.0 collection.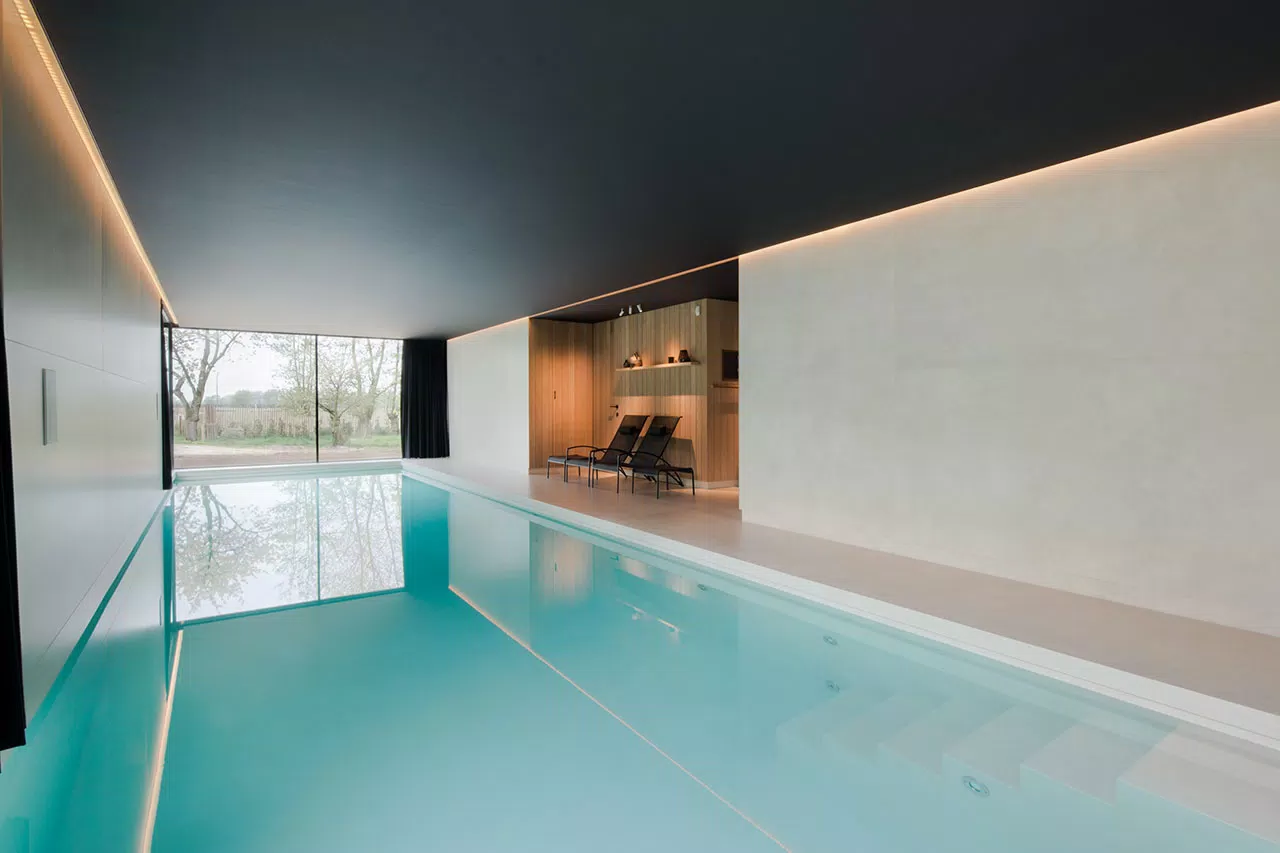 Private pool, Belgium
Go to project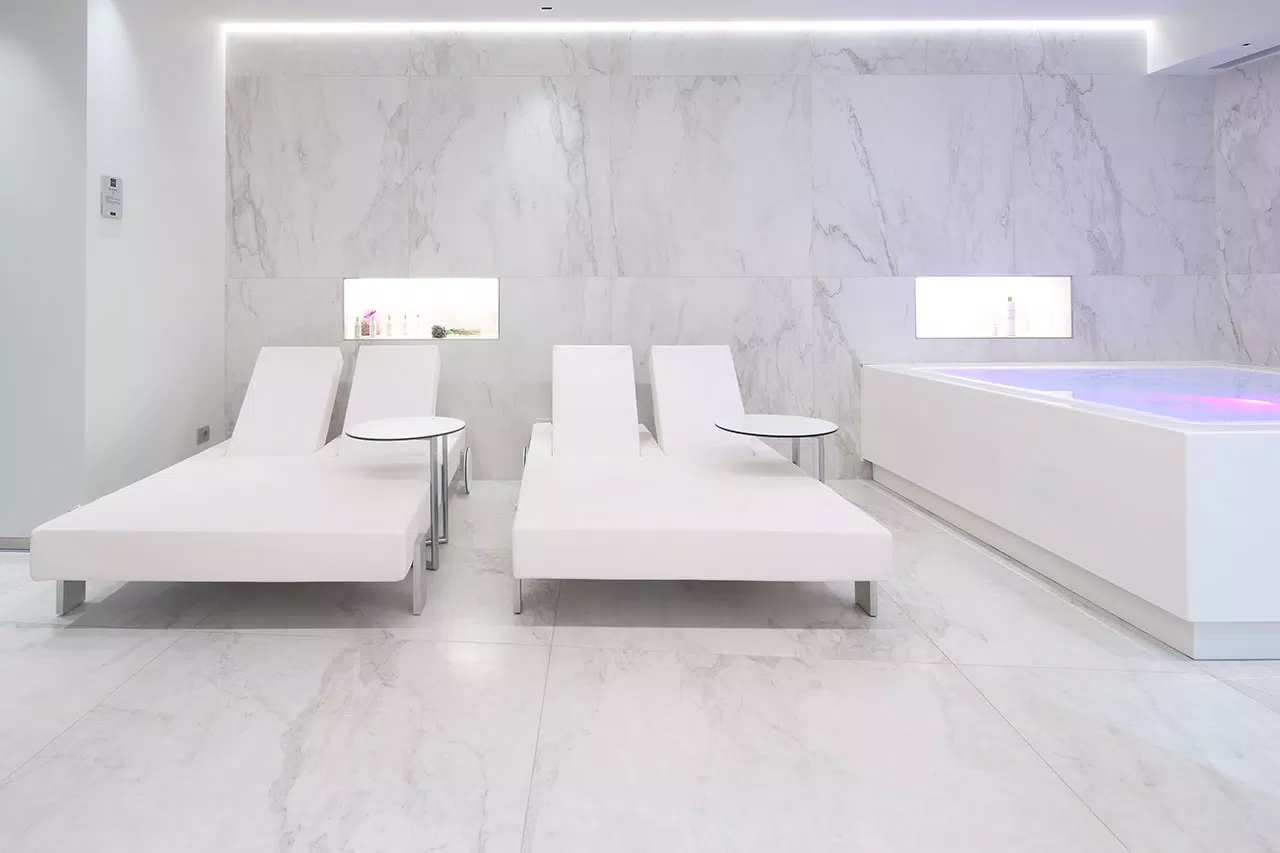 Hotel Nazionale
Go to project
Facades
In facades, large format porcelain stoneware aesthetic quality, resistance and functionality are today widely recognised by designers and architects. Especially when combined with a ventilated cladding system, the technical performance of the ceramic material combined with the variety of aesthetic inspirations available allow the creation of projects with exceptional energetic sustainability, durability, and architectural merit.
This is the case, for example, for Facade Agno created in Switzerland by Florim Solutions. The oxidised corten-effect porcelain stoneware slabs from the Metamorfosi collection of the CEDIT brand prove functional for the creation of a vibrant aesthetic that is simultaneously rational and researched, where elements 120x240cm in size capture the dimensions of the large windows adjacent, rhythmically accenting the facade composition.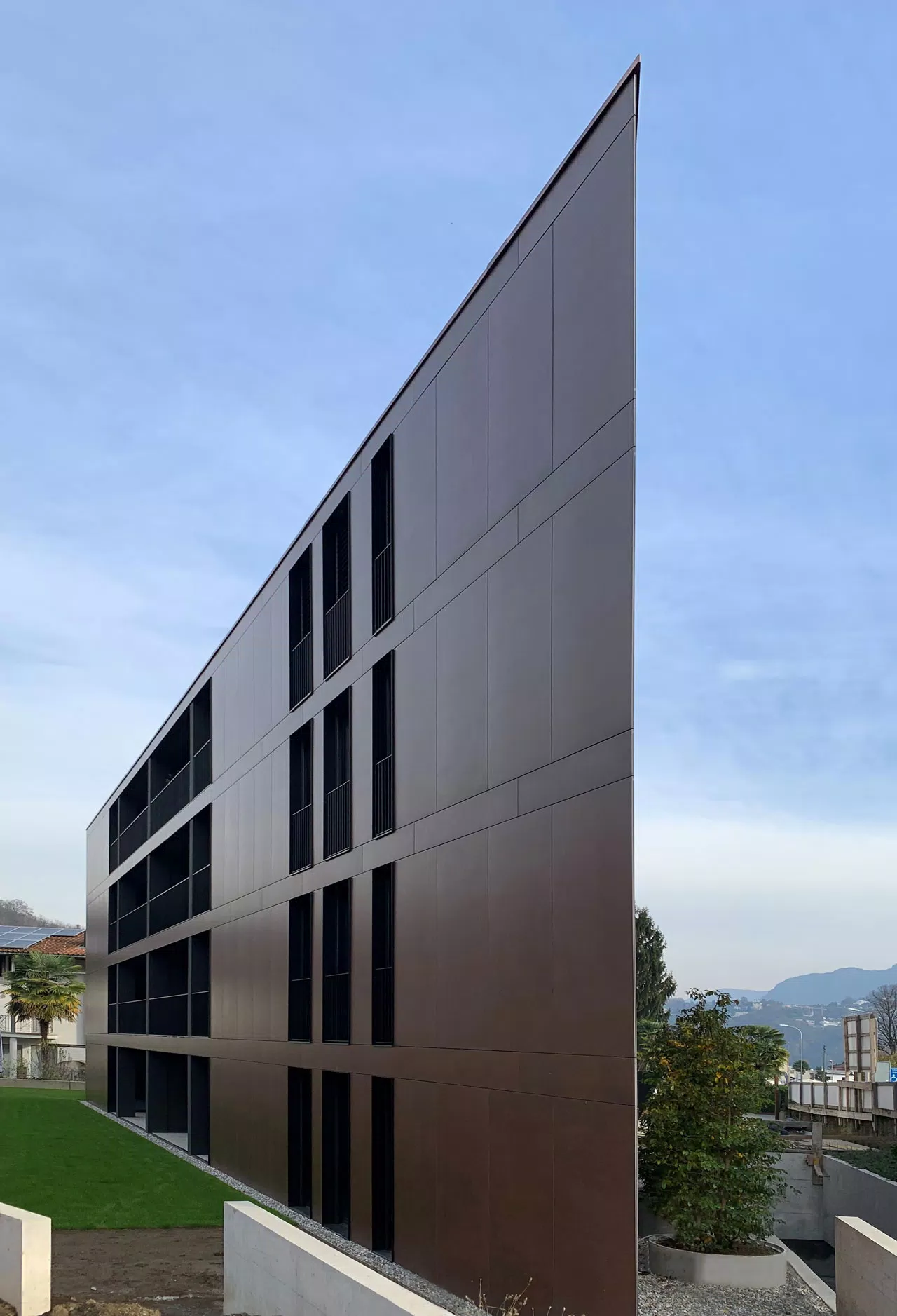 Facade Agno
Go to project
Urban decor
In an urban setting, new projects must be able to coexist in spatial discourse with pre-existing elements, whether architectural or natural, that characterised the area until then. Thanks to its different sizes, shapes, its resistance and varied aesthetic options capable of drawing inspiration from both natural and industrial materials, porcelain stoneware can facilitate such moves in urban spaces by creating unprecedented and original synergies with the surrounding environment.
In particular, when speaking of urban decor for example, the new 120x240cm longitudinal shapes (which can be combined with paving and facades) are suitable for use on benches, planters, fountains and support surfaces guaranteeing impermeability, durability and easy maintenance.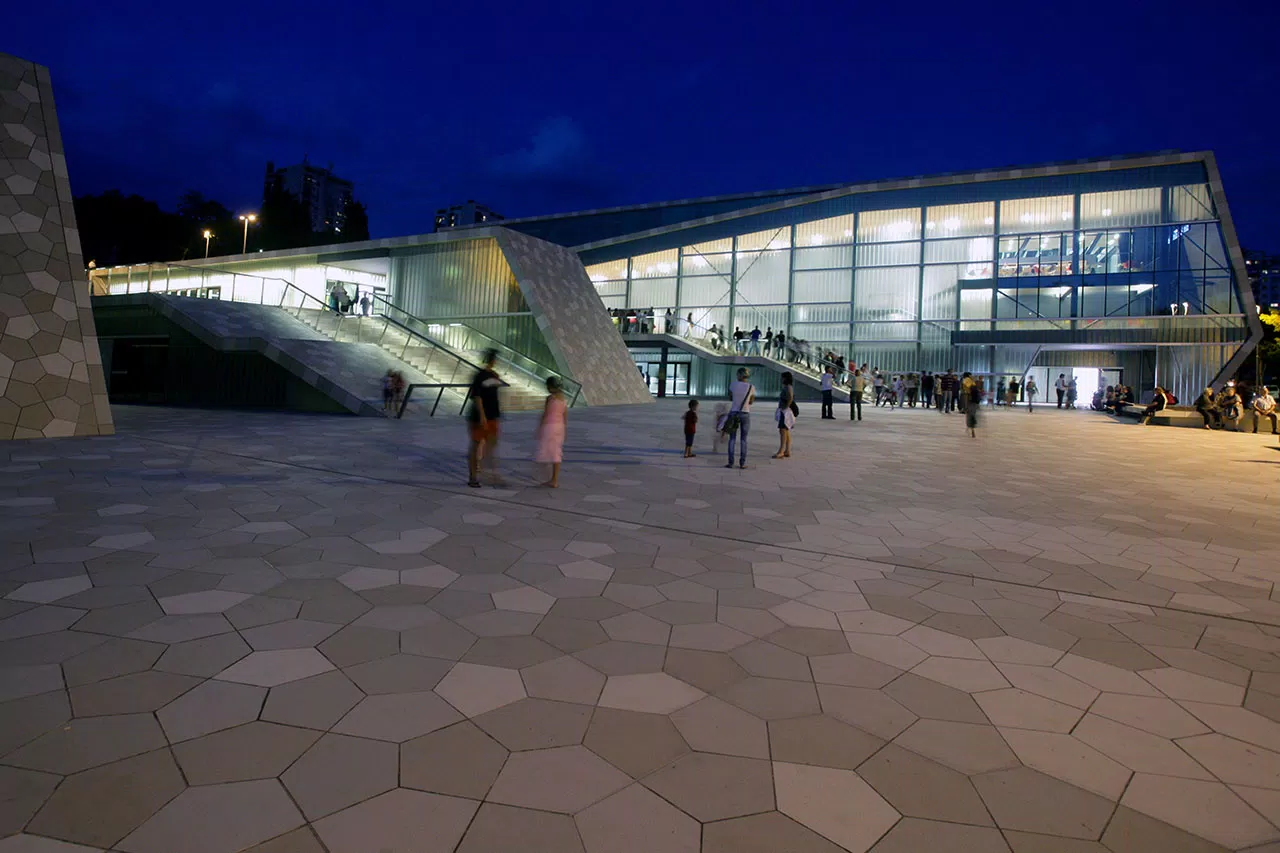 Zamet Centre
Go to project
Indoor and outdoor decor
Until a few years ago, the idea of creating ceramic furniture would have been seen as odd and impractical; today, thanks to the lightness of the slabs in magnum format, porcelain stoneware is a confirmed material for the creation of prized decor elements.
This, in particular, is proven in the design of Savart Restaurant: here Florim stoneware from the collection called I Classici (Statuario colour, Glossy finish) is used for the creation of tables and counters. Another example can be seen in Passive House, Cesena, where the main table – created by combining a slab from the Industrial collection to the steel and wood – becomes a genuine design element in the living space.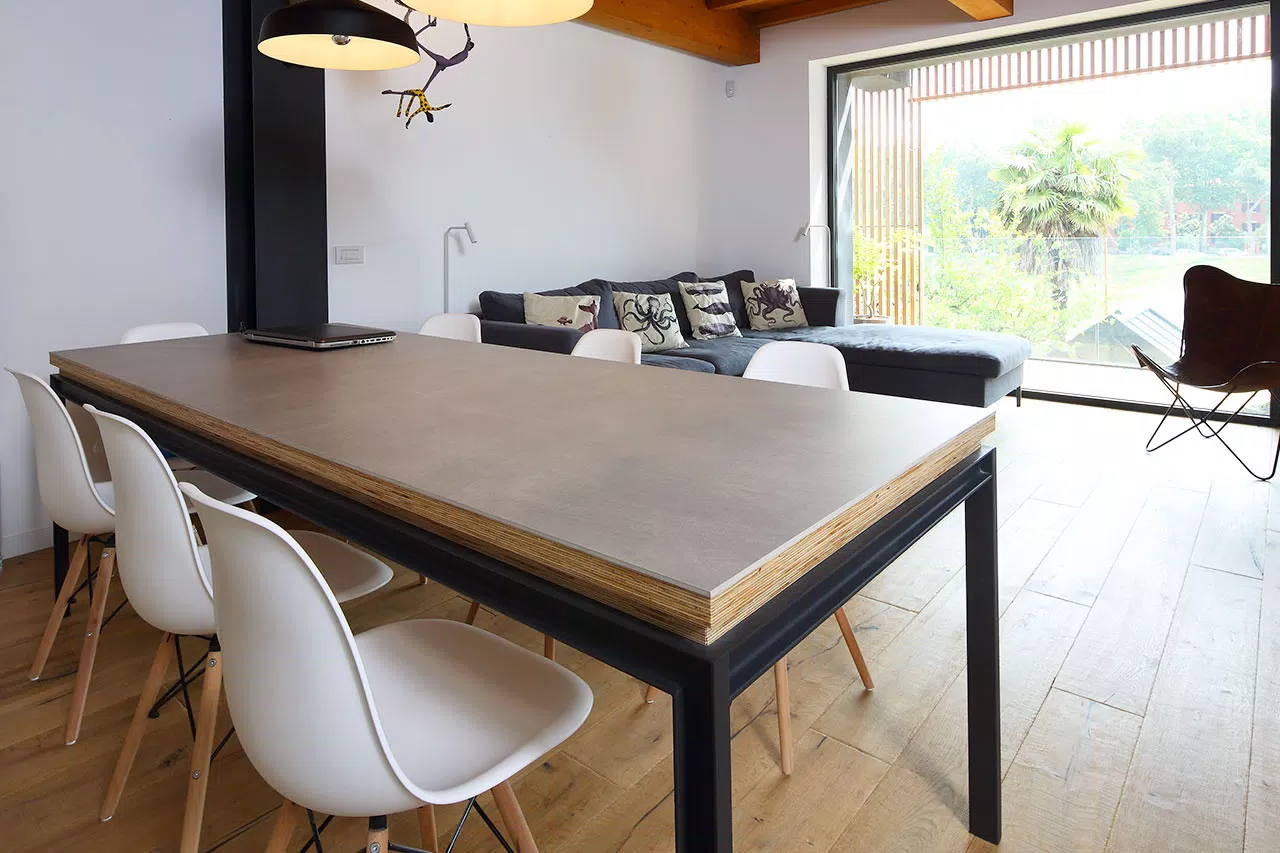 Passive House Cesena
Go to project
On the subject of indoor decor, the FLORIM Stone brand offers designers and architects a broad range of finishes and texture inspirations to choose from: it is possible to create a kitchen with a marble-effect worktop of notably reduced weight compared to slabs of natural material, or an extremely resistant countertop for a bar in corten effect, or an elegant table in cement effect.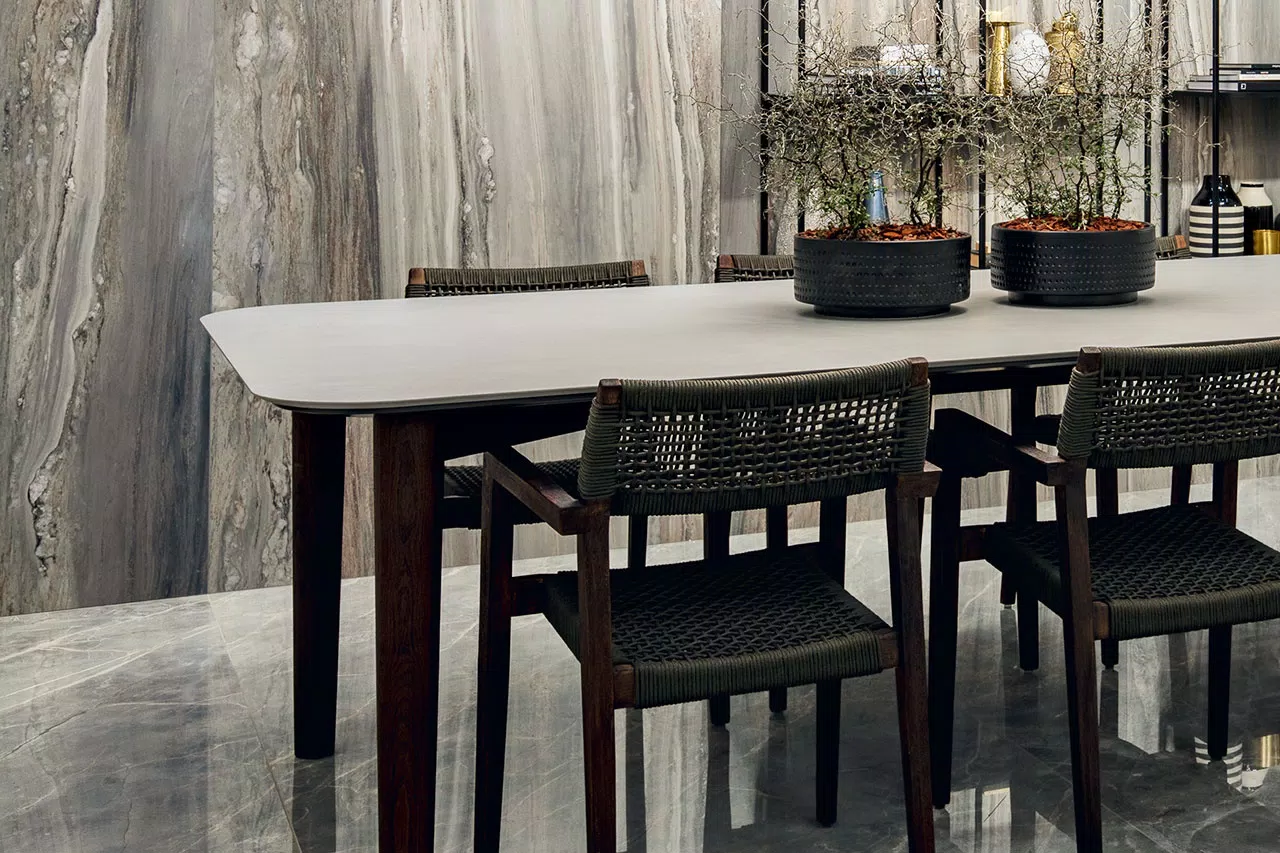 FLORIM stone – Cement Light Gray
Go to collection
Finally, the versatility of Florim products is not limited to horizontal surfaces, but also expands into even more daring applications: the back of bookcases, televisions or fireplaces; bed headboards; shutters and doors for wardrobes and various other kinds of furniture… all with the use of standard or custom sizes to create solutions ad hoc for every project.
Request an appointment with one of our representatives