References to the history of ceramic
Italy has contributed greatly to the ceramics sector, both in artistic creation phase and in industrial processes. The production techniques – together with the expressive capacity of the architects, designers and artists – has constituted and still today represents the cornerstones that characterise the production of Made in Italy porcelain stoneware as one of the best in the world.
The big names in architecture and design of the twentieth century – such as Gio Ponti, Marco Zanuso, Ettore Sottsass, Enzo Mari, Alessandro Mendini, Mimmo Rotella, Achille and Piergiacomo Castiglioni – are those who made history in Italian ceramics after the second world war and who interpreted the material as a design object. Their objective was that of improving the quality of the living space, also through the use of ceramic levels and surfaces.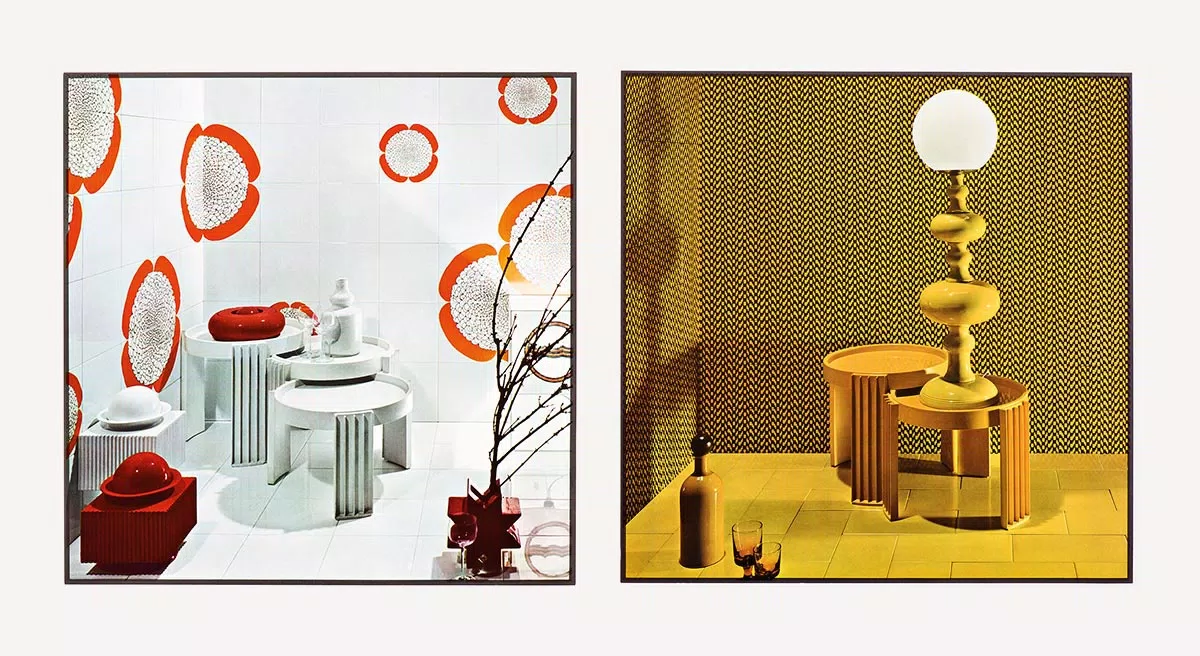 From left to right. Marco Zanuso, Zanuso 32, 1968 and Sottsass Associati, Sottsass alfa, 1971.
Porcelain stoneware: characteristics and composition
What kind of a material is porcelain stoneware? To answer this question, we should borrow the principle of Lavoisier, who is broadly considered to be the father of modern chemistry: "Nothing is lost, nothing is created, everything is transformed". Porcelain stoneware is in fact a material derived from a collection of natural parts finely ground and mixed together to reach a uniform mass which, through a firing process at extremely high temperatures (1200-1250°), becomes vitrified, or "greificata" in Italian: this is where stoneware Italian name "gres" comes from. The ceramic that is obtained is compact, non-porous and completely impenetrable. This is why this product is so widely used in the architecture sector.
Porcelain stoneware: application
One of the most interesting characteristics of porcelain stoneware is without a doubt its ease of application. Stoneware, in fact, can take the form of a considerable quantity of material interpretations while maintaining the same technical characteristics: this means that wood-effect and marble-effect stoneware, for example, can be placed on two adjacent surfaces without having to create different under-surface layers.
Furthermore, its thickness of just a few millimetres makes it a reduced-weight material, rendering it an easy load to carry and apply. The different formats available allow it to adapt to different dimensional spaces, both interior and exterior, whether horizontal or vertical.
Thanks to spacer elements, it is also possible to choose the details of the set-up: one above all, the dimension of the grout lines.
Porcelain stoneware and natural materials compared
Nature is a never-ending source of inspiration. Porcelain stoneware is available today in the form of varied reinterpretations of natural materials such as marble, stone, wood etc. The features of natural materials mean they are not always able to respond to the needs of contemporary living.
Differing from natural materials such as a marble, stone or wood, porcelain stoneware has technical characteristics that are by far superior and that allow use in all the environments of a project; what's more, it is a sustainable and conscious choice.
Its resistance to abrupt changes in temperature and to freezing and defrosting cycles allow application both in interior and exterior spaces; the high temperature used to fire the ceramic and the consequent vitrification virtually eliminates porosity and its capacity to absorb moisture.
Some of the other beneficial characteristics of stoneware is its ease of cleaning, its unchanging structure over time, and its resistance to stains.
Finishes, textures and patterns: the thousand faces of porcelain stoneware
Like a chameleon that adapts its appearance to external stimuli, ceramic presents itself in the same way, with an extremely vast range of graphic and aesthetic variations.
The richness of nature with its marbles, stones, alabasters, onyxes and wood species become interpreted on the stoneware slab, filling the inherent gaps in the natural material, such as imperfections and physical characteristics that make it not always suited to a continuous format in an architectural environment. Similarly, surface finishes are revived through the slab: the glossy effect of a marble recalls the manual polish and wax coating; the bush hammering recalls the work of the stonemasons…
The digital finishing and decoration process of the stoneware is pushed beyond the natural materials and opens up an image of the industrial world: metals and corten steels are interpreted, as are cement and cementine, neutral resins and also multi-coloured ones. It is interesting then to establish a dialogue between the different aesthetics, for example, juxtaposing wood and metal effects, or onyx and resins.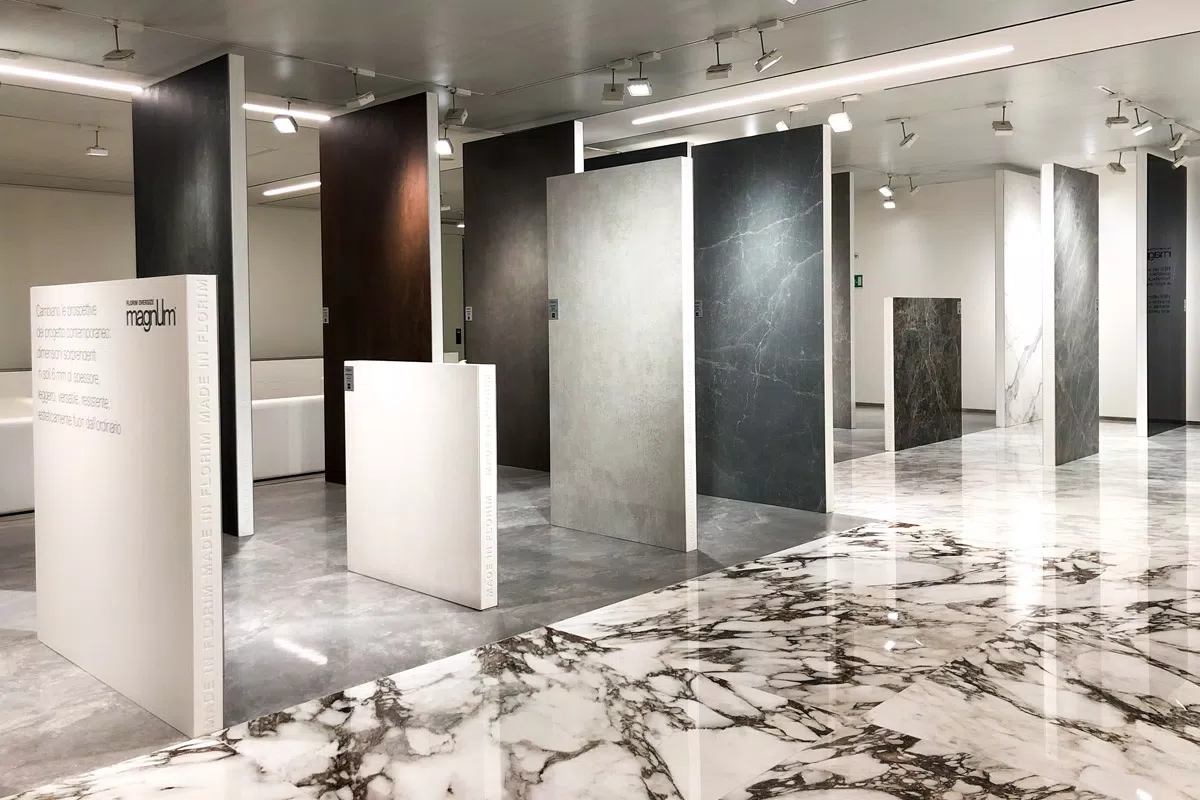 Large Magnum Oversize slabs in multiple aesthetic inspirations
view the products
Interior design and stoneware: Florim's range
The numerous collections that comprise the Florim catalogue constitute the answer to different needs in the field of interiors on the level of functionality and aesthetics. Slabs that are inspired by natural materials and others that look to the industrial world; small tiles that, like fragments, consist of a chromatic puzzle and large slabs that cover an entire wall almost without seams.
Florim ceramics were created to cover quality spaces and to offer an all-round design experience.
In the Luxury design expression you can find a vast range of precious marbles, with glossy finishes that enrich the depth of the surfaces, as well as other luxurious inspirations.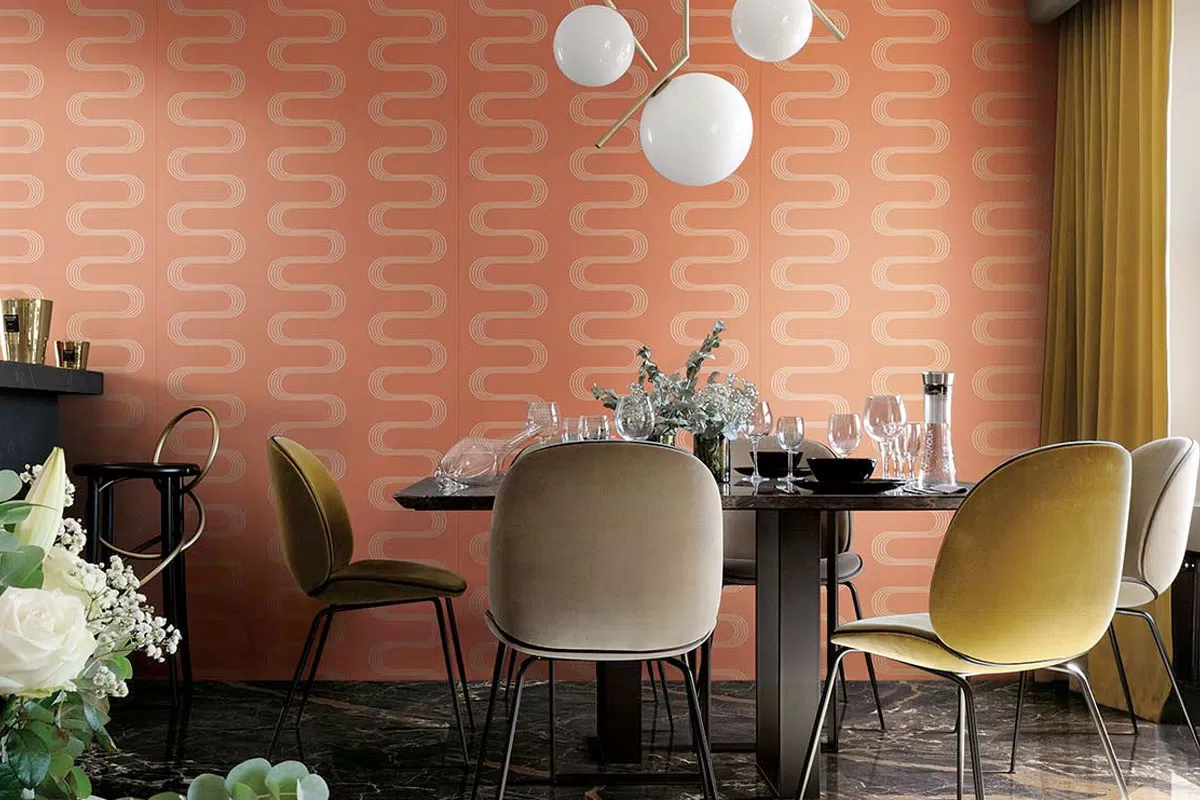 I Filati
view the collection
With the products of Creative design expression, elegant spaces can be created, whether they are ones that are in search of creativity, or more neutral spaces with hues that recall the warm tones of the earth.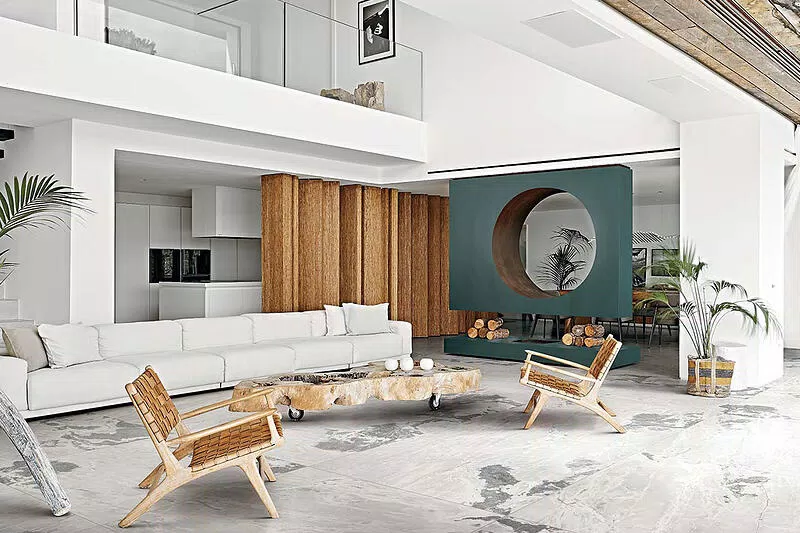 Onyx&more
view the collection
In 2016, Florim re-launched a brand that made history in Italian ceramics: Cedit – Ceramiche d'Italia (Italian Ceramics). Identifying contemporary artists, designers and architects and presenting unique collections with stunning colours.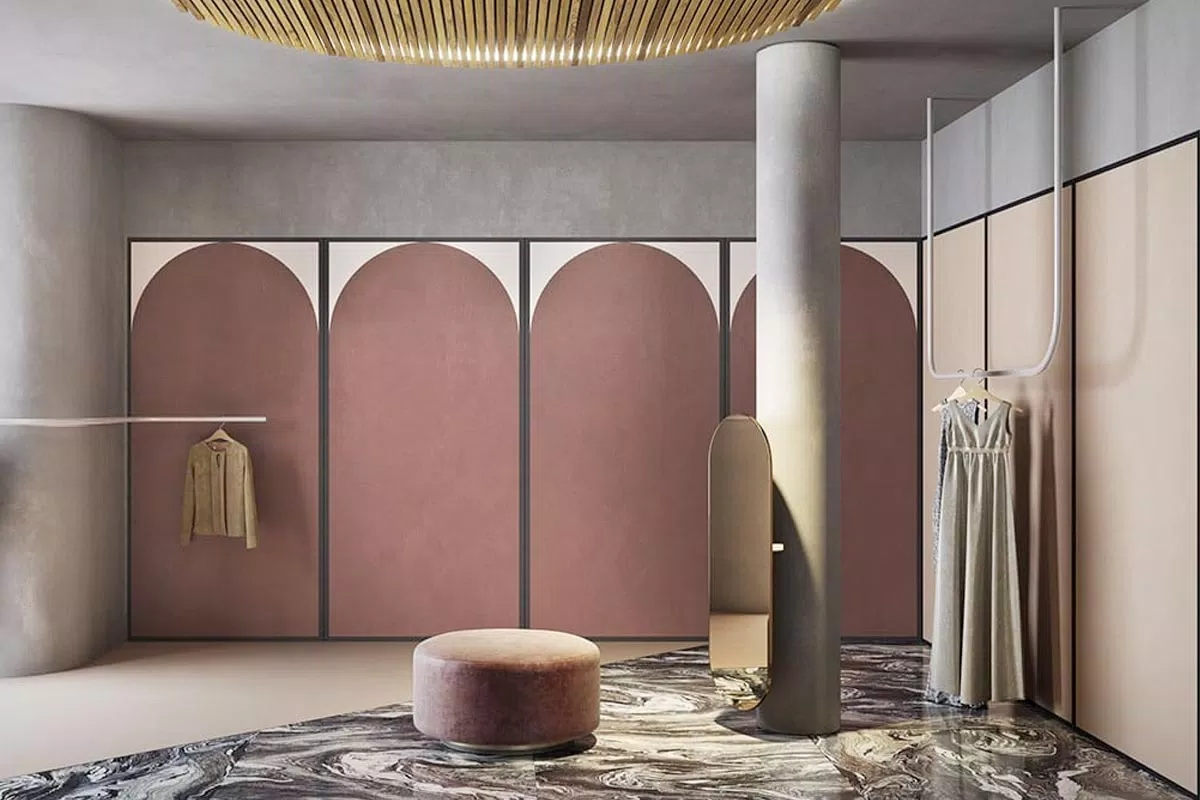 Policroma by Cristina Celestino, collection by CEDIT – Ceramiche d'Italia
view the collection
Architectural design expression rational approach is inspired by natural hues and adapted to large scale both for indoor and outdoor projects.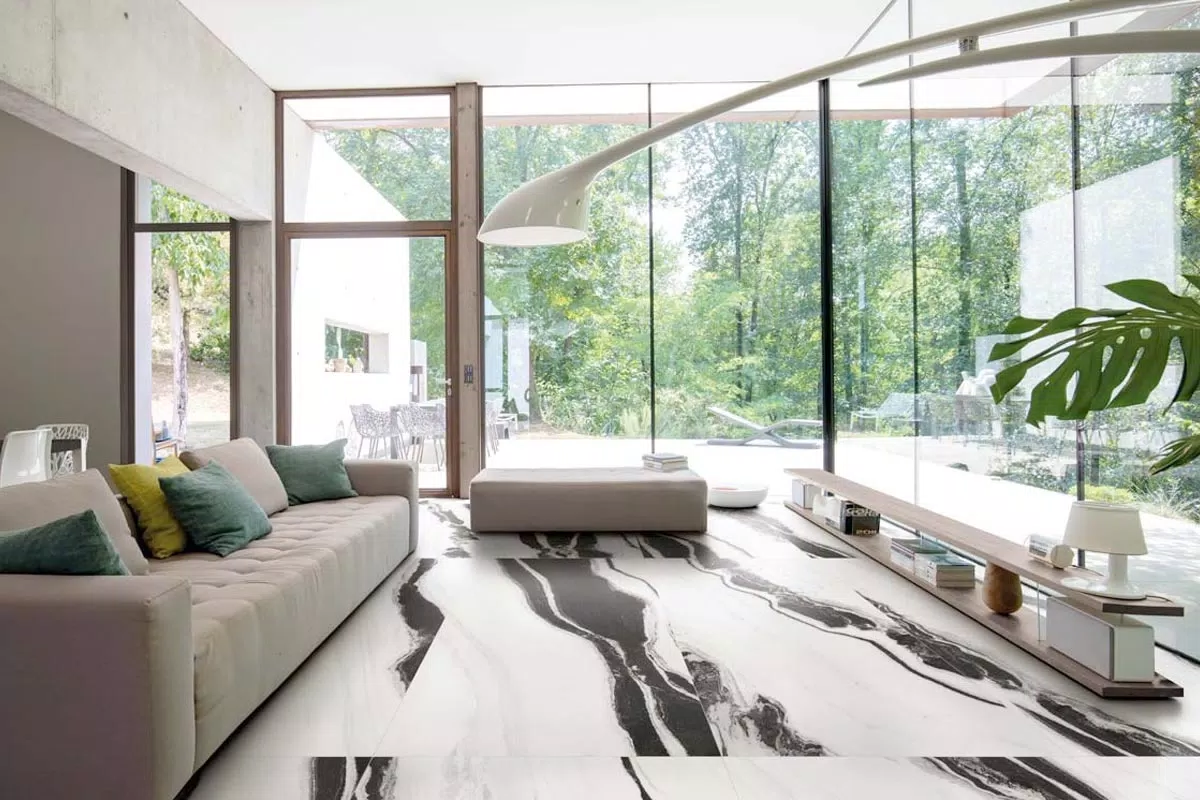 B&W_Marble
view the collection
Contemporary design expression responds to a desire for freshness and versatility.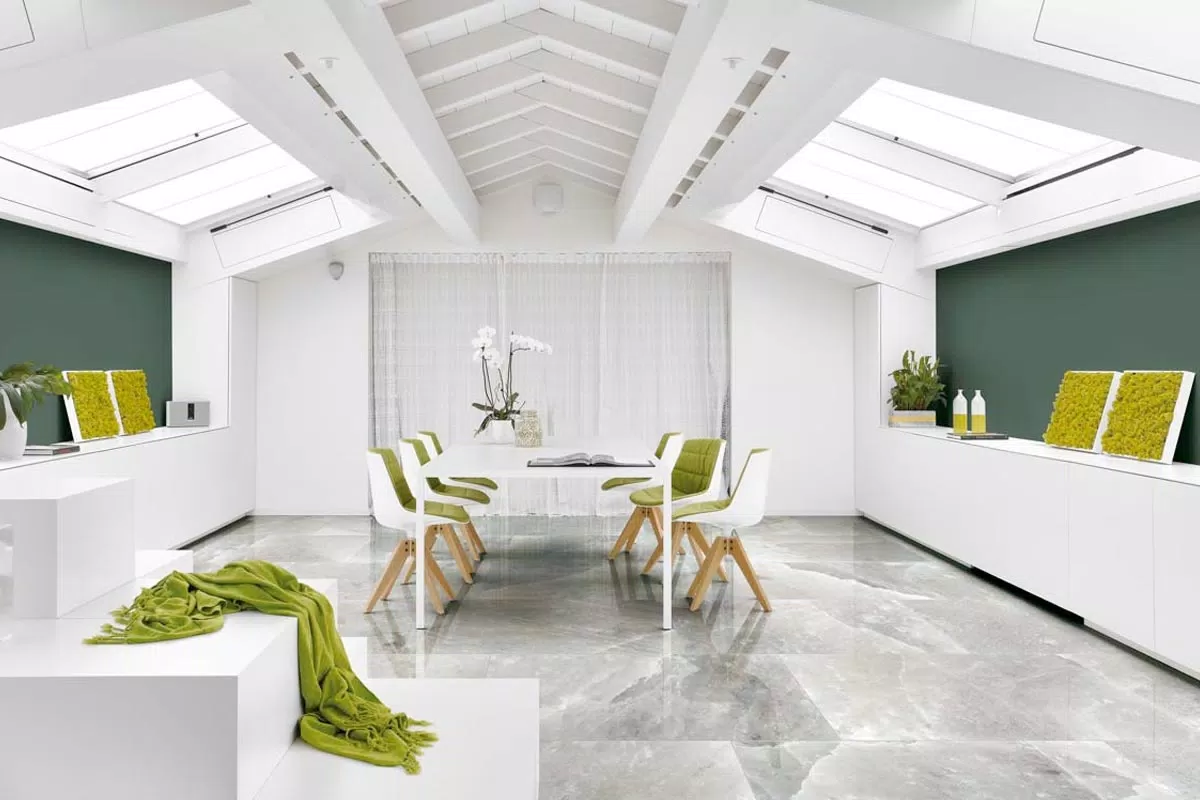 Rock Salt
view the collection
For specific parts of the home we have Florim stone, a line designed specifically with different thicknesses, for work surfaces such as the kitchen countertop and its features, like sinks, parts of the washing area as well as doors and furnishing elements.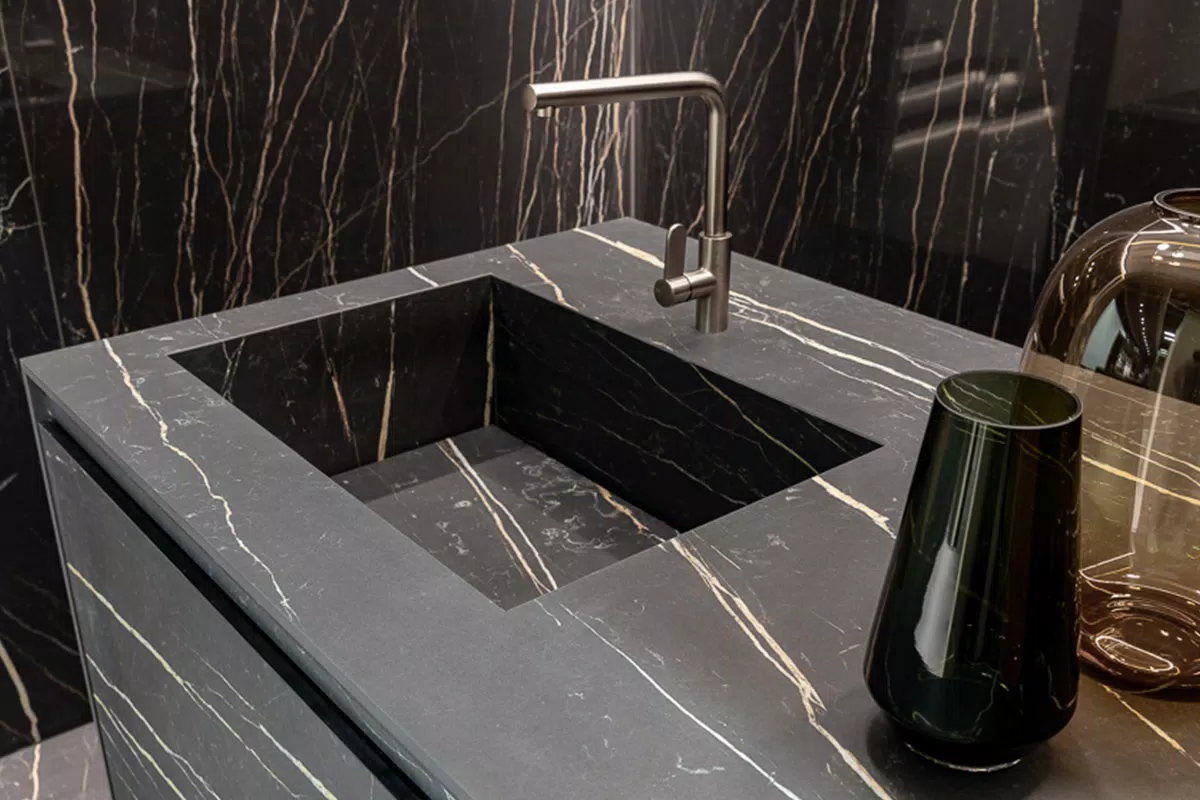 Marble by FLORIM stone
view the collection
Design and porcelain stoneware: Florim's solutions
Especially due to the availability of large formats (at a maximum of 160×320 cm), Florim offers a modern source for construction materials. Porcelain stoneware, for example, is ideal for external applications, where the sudden changes in temperature and atmospheric conditions are bitter foes of maintenance over time.
Compared to marble or wood, porcelain stoneware does not change colour over time and does not need periodic maintenance, which would be necessary quite frequently for a natural material. The reduction in grout line size allows for continuous surfaces in ventilated rainscreen facades or for emphasizing the vastness of a public space. The slabs designed for public spaces or access routes are also available at double thickness compared to the standard, making it more resistant to heavy loads and traffic. The stoneware in the anti-slip variations also adapts well in outdoor spaces such as verandas or swimming pools.
The ease of application is certainly another characteristic that this product is prized for in terms of outdoor use. The stoneware slabs that are 20 mm thick are in fact placeable on a variety of existent surfaces, without the need to create a sublayer. Where the classic placing technique used adhesive on a sublayer, with stoneware slabs they can be placed directly on grass, gravel and sand, also facilitating the flexibility of the space and the possibility of removing and replacing them elsewhere. If the requirement is for an elevated pavement, there are rigid, adjustable supports available that the slabs can be arranged on.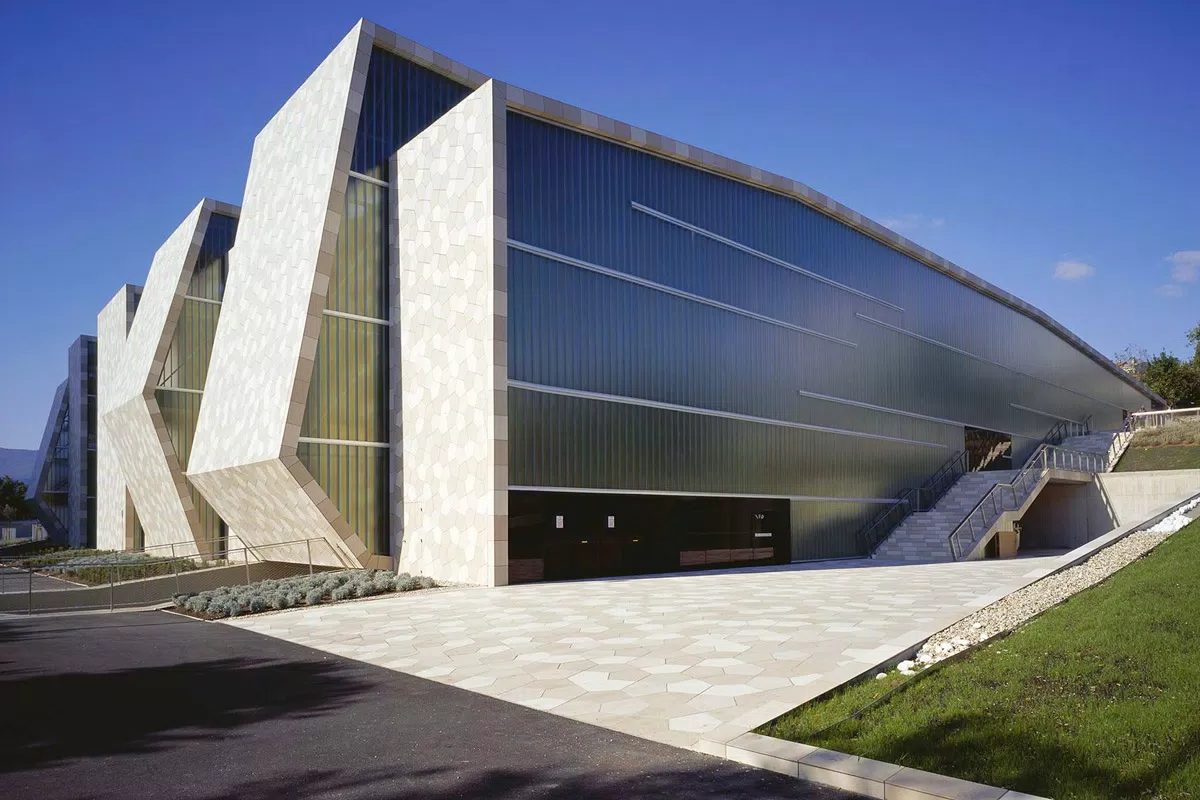 Ventilated Rainscreen Façade by Florim Solution
view the collection
Feel the quality of Florim products with your own hands