In the late seventies, there was the most important turning point in the field of ceramic production: the creation of porcelain stoneware. This led to a radical transformation of the industry.
Porcelain stoneware is different from traditional ceramic in its compositional elements: finely ground and pressed sand is added to the clay, which makes the material less porous, more dense, resistant and flexible. It is precisely its ductility that makes porcelain stoneware a unique product, allowing it to look like materials ranging from metals and fabrics to natural elements. As professionals, is it better to use traditional or porcelain stoneware? Stoneware, especially that of high quality, is the ideal choice in most cases. Let's see why.
Request an appointment with one of our representatives

Porcelain Stoneware vs Parquet
To date, from the point of view of technological innovation, porcelain stoneware has reached such high levels that it can take on the appearance of natural wood – so much so that, to the eye and to the touch, there is almost no difference.
While wood is a delicate material that requires constant routine maintenance (it requires periodic treatments with oils, waxes and occasional sanding, with the consequent costs), porcelain stoneware does not require any extraordinary maintenance. This is because of its impermeability and resistance to scratching.
Furthermore, wood has limitations due to its nature: it is not suitable for environments that are subject to high levels of trampling or humidity. Porcelain stoneware is perfect in both such environments because it is waterproof and resistant to wear.
LVT (Luxury Vinyl Tile), PVC and laminate are also proposed as alternatives to wood. Aesthetically, however, vinyl and laminate are too uniform in their design and do not provide the "rich and varied" appearance of a wooden parquet or porcelain stoneware tiles.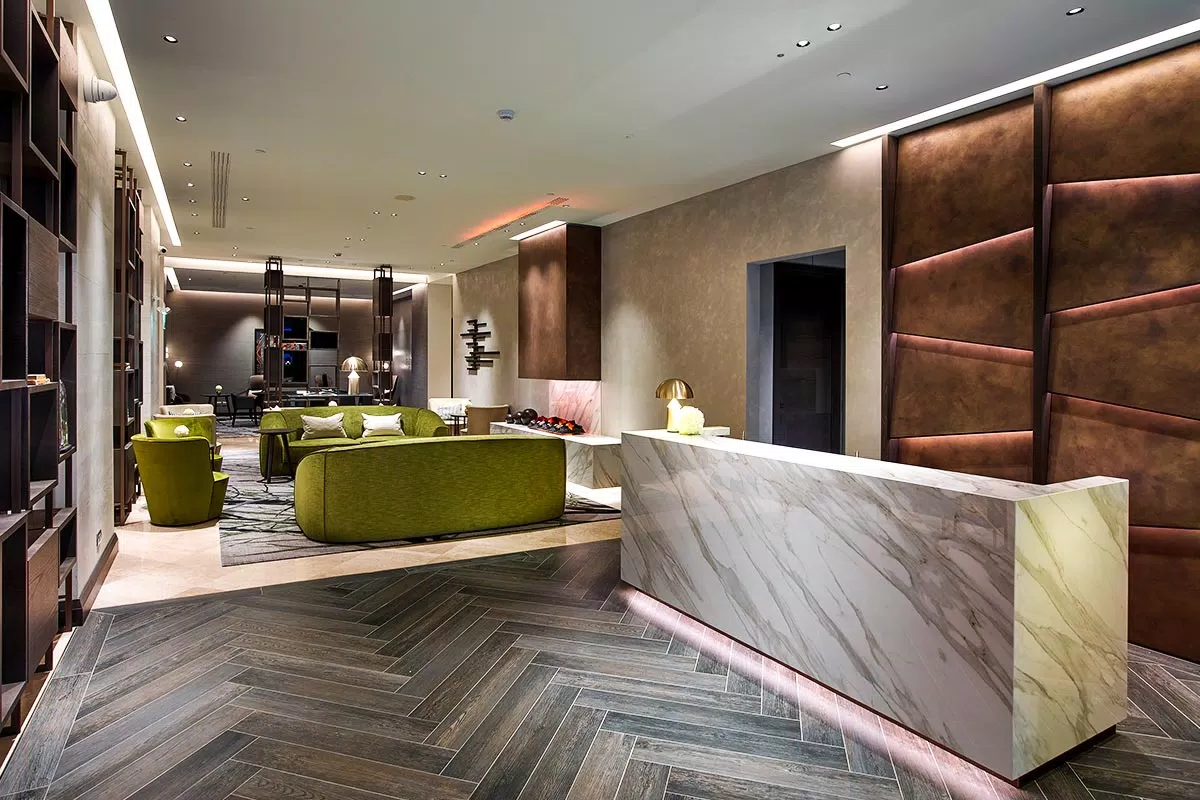 Hilton Hotel Milano
Porcelain Stoneware vs Marble
The highly noted favourable feature of porcelain stoneware is its poor porosity: this makes it resistant to staining and easy to clean and maintain.
Aesthetically, porcelain stoneware is in line with marble: thanks to current technological developments, it is possible to obtain high-quality results that reinterpret the more complex veins of rare and sought-after marbles and guarantee better tone stability. One can create magnificent floors with marble effect mirror-polished porcelain stoneware, providing elegance and brightness to any room.
The lightness of porcelain stoneware also facilitates its processing and cutting and installation. Finally, choosing stone porcelain over marble turns out to be a more ecological solution: the ceramic has a more sustainable life cycle than its "natural equivalent".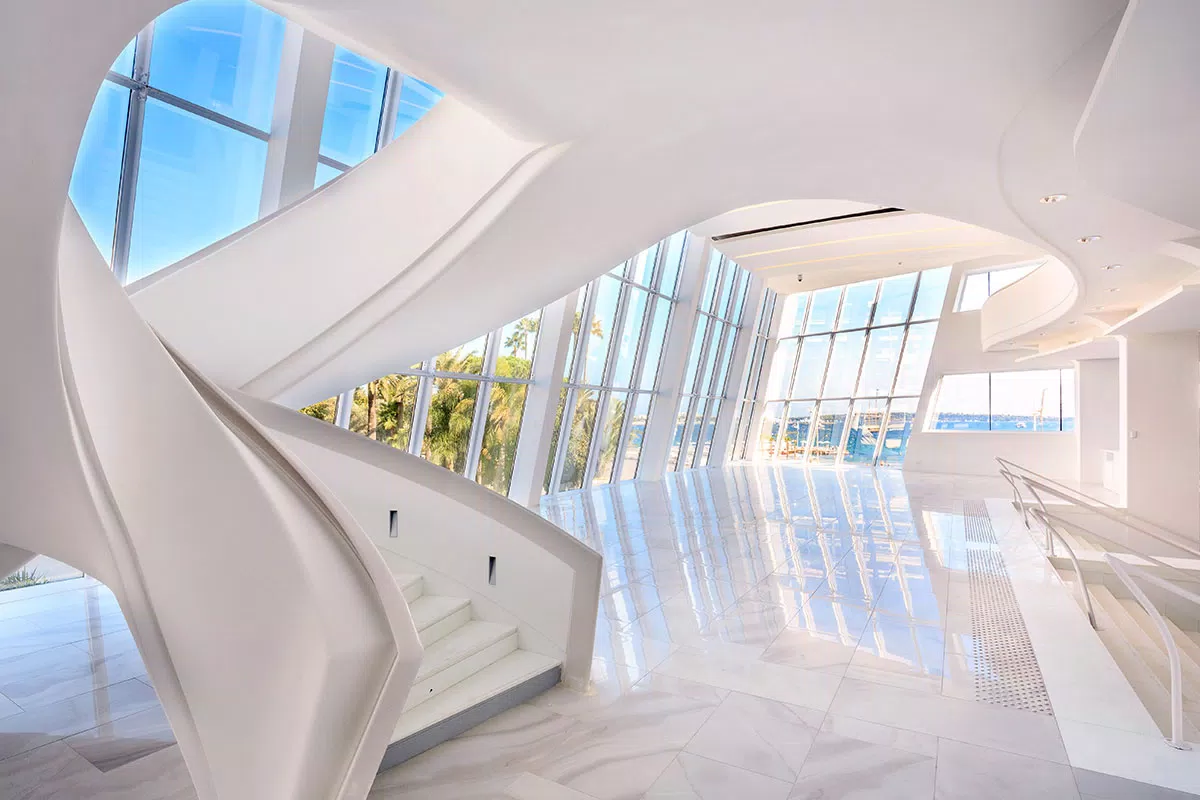 Palais des Festivals de Cannes, Cannes (Francia)
view project
Porcelain Stoneware vs Natural Stone
Porcelain stoneware has many of the technical characteristics of natural stone, including durability, frost resistance, weather resistance and shocks and stress resistance. Indeed, at the same thickness, porcelain stoneware is the more resistant material. The real strength of porcelain stoneware, however, is its wide spectrum of colours with better performance over time.
Moreover, unlike stone, its high conductivity means porcelain stoneware is perfect for internal flooring that is close to radiating heating systems. Another element in favour of porcelain stoneware is its resistance to the attacks of bacteria and moulds, which more easily proliferate on stone.
Not to be forgotten, even in this case, is the ease of installation and handling of porcelain stoneware slabs that are less thick than stone.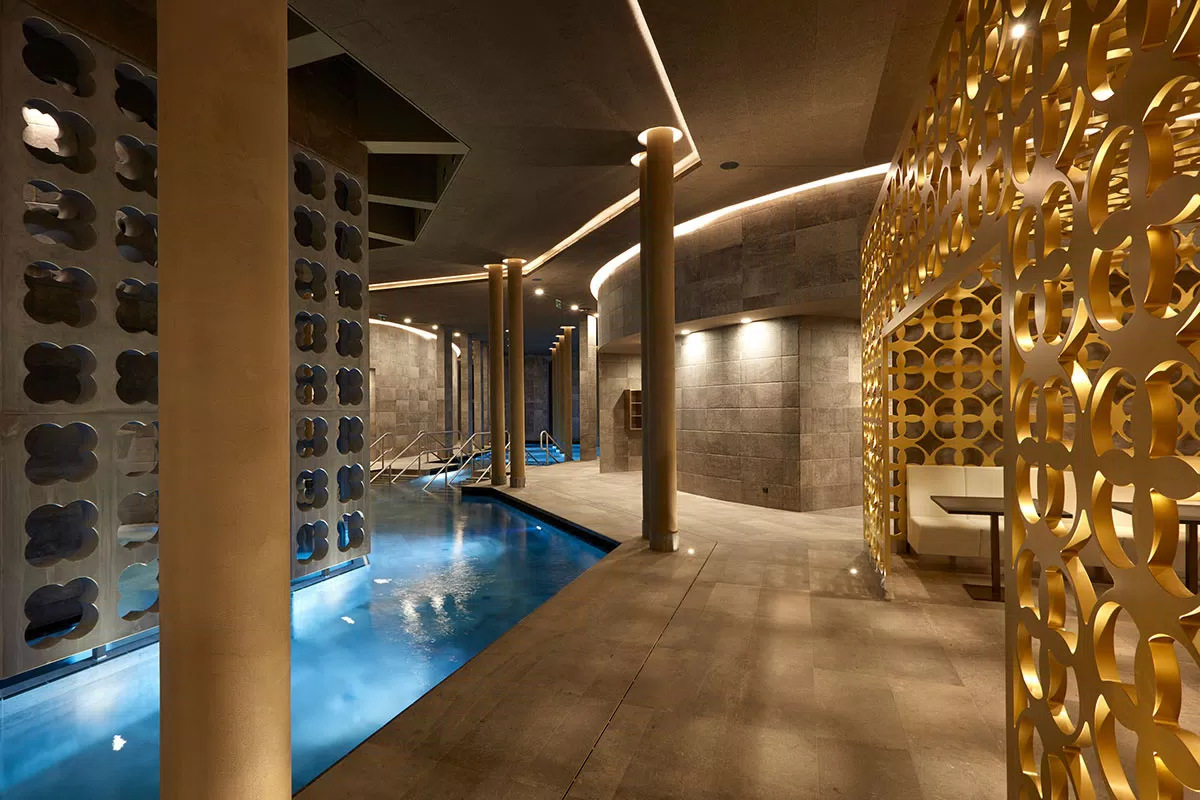 Therme Laa
view project
Porcelain stoneware, therefore, offers the possibility of creating with continuity, i.e. using a single material for internal flooring, service areas, external areas and for representation. All this without sacrificing any area, but presenting for each the excellent technical characteristics and a visual result that becomes an element of great value.
Request an appointment with one of our representatives