"What's more valuable? A kilo of stone or a kilo of gold? It might seem a ridiculous question. But only to a dealer. The artist will respond: for me, all materials are equally precious." With this statement, Adolf Loos, the twentieth century architectural scholar placed the accent on the importance of the materials, which for the architect are like precious stones to a jeweller. With its 50 years of experience in the industry, Florim represents a modern treasure chest where a wide range of aesthetic expressions in porcelain tile can be found, available in large formats thanks to the most innovative production and processing techniques, enabling numerous and original methods of use.
Request an appointment with one of our representatives
Through its products, Florim approaches the world of high-end objects and furnishings offering aesthetic inspiration that contributes to recreating traditional and sought-after Italian design. Not just flooring but also internal partitions, furnishing accessories, or the urban image as a result of its use on building facades. Florim's products enter onto the palette of architects and designers as a design component.
Prexious Collection: a selection of fine marble effects for use on floors and walls; available up to the maxi size of 160×320 cm.
Click here to open the collection
From the smallest tiles for refined spaces, to large and sophisticated slabs of porcelain stoneware measuring up to 160 x 320 cm, the various formats available respond to architectural projects of all scales offering the possibility of using the same type of product in different contexts and finishes, enabling their use both indoors and in large outdoor environments. Florim does not just manufacture porcelain tiles, but expressions of design. The high performance of the materials enables them to be used in any weather conditions, from the scorching surfaces of a Sicilian terrace, to the floors of a fresh and relaxing mountain spa. But what are its plus points? The following list outlines Florim's strengths: porcelain tile, design and much more.
Material
Wood, marble, metal, stone, terracotta, fabric and glass: these are only some of the material effects offered through a manufacturing process which fuses aesthetic precision and durability. The richness of the capacity for expression of Florim's materials is evident through its six brands, each with its own identity, capable of guiding you in choices tailored according to your own aesthetic and design needs.
Through the brand CEDIT – Ceramiche d'Italia, for example, the company combines its capacity for expression with an avant-garde aesthetic. Mindful of this brand's historic collaborations with personalities like Achille Castiglioni and Marco Zanuso, undisputed masters of Italian design that were able to give ceramics character, Florim has asked six auteurs to reimagine and redesign ceramics today. Six special series were born which play on refined chromatism and material textures: Cromatica, for example, is a range designed by Formafantasma. It reinterprets the soft palette shades that Sottsass developed for CEDIT – Ceramiche d'Italia in the 80s by projecting a fresh and contemporary look.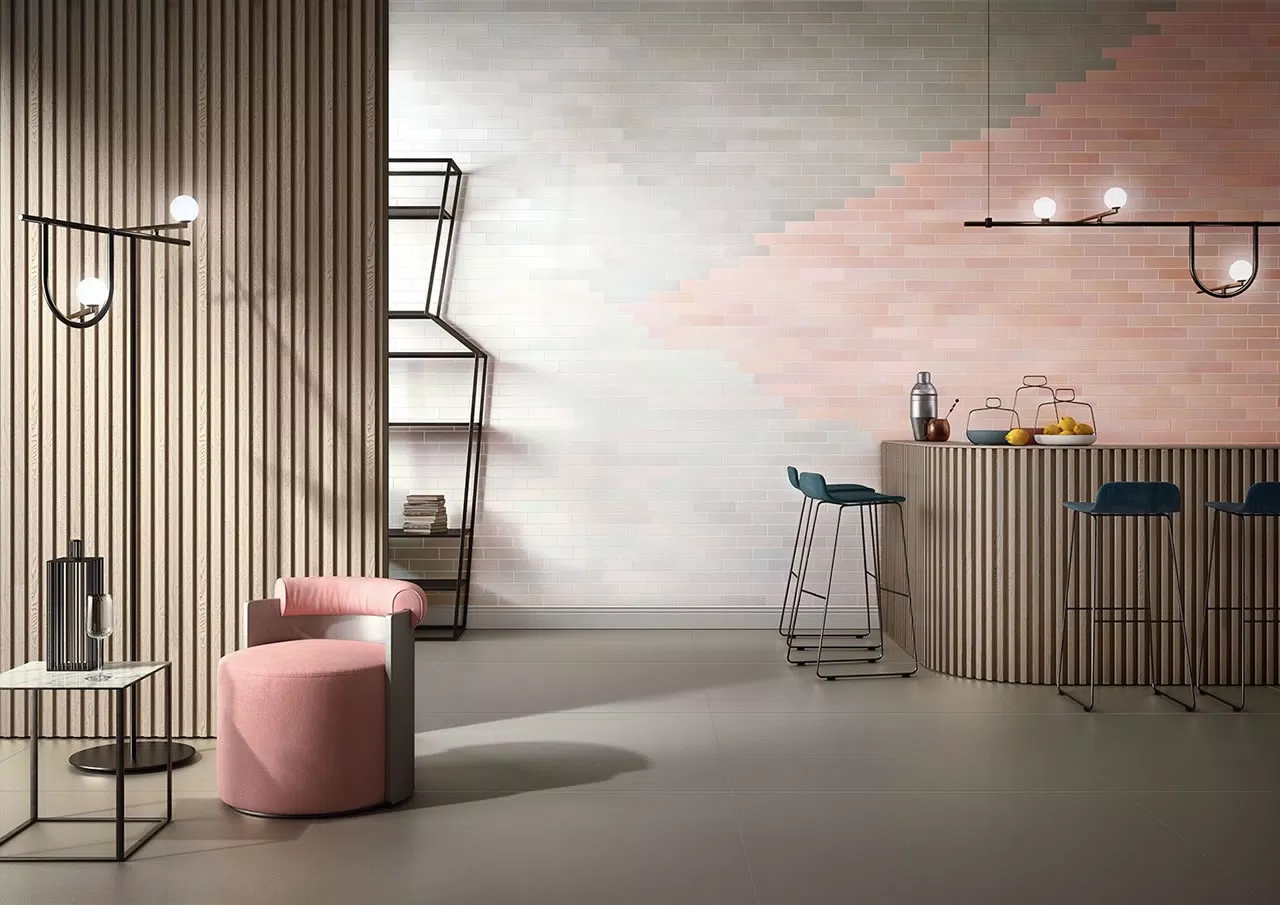 Cromatica collection by Formafantasma, CEDIT – Ceramiche d'Italia
Click here to open the collection
Interior Design
The porcelain tiles are used in many contexts and often combined with each other to bring a rich environment with an extremely high level of quality. Large, prize-winning international architectural firms remain loyal to Florim porcelain tiles and continue to use them in their projects, giving their clients long-term satisfaction thanks to the quality of the materials and ease of maintenance. From the domestic interiors of the Mediterranean region to the large spaces of a Hollywood mansion, the world of Florim ceramics therefore succeeds in responding and giving shape to any design requirement.
Furnishings Full Stop
Florim porcelain tile is a material capable of satisfying your needs, even in terms of furnishings. Porcelain is an easy material to work with as it is possible to easily cut and customise the material: shaping a large table or the lining of a walk-in closet. At this scale of project, the treatment of the surfaces is an important aspect and Florim's different lines are presented in numerous variations in its catalogue, from the pristine shine inspired by the marble to the matte, opaque variations that are ideal for neutral spaces.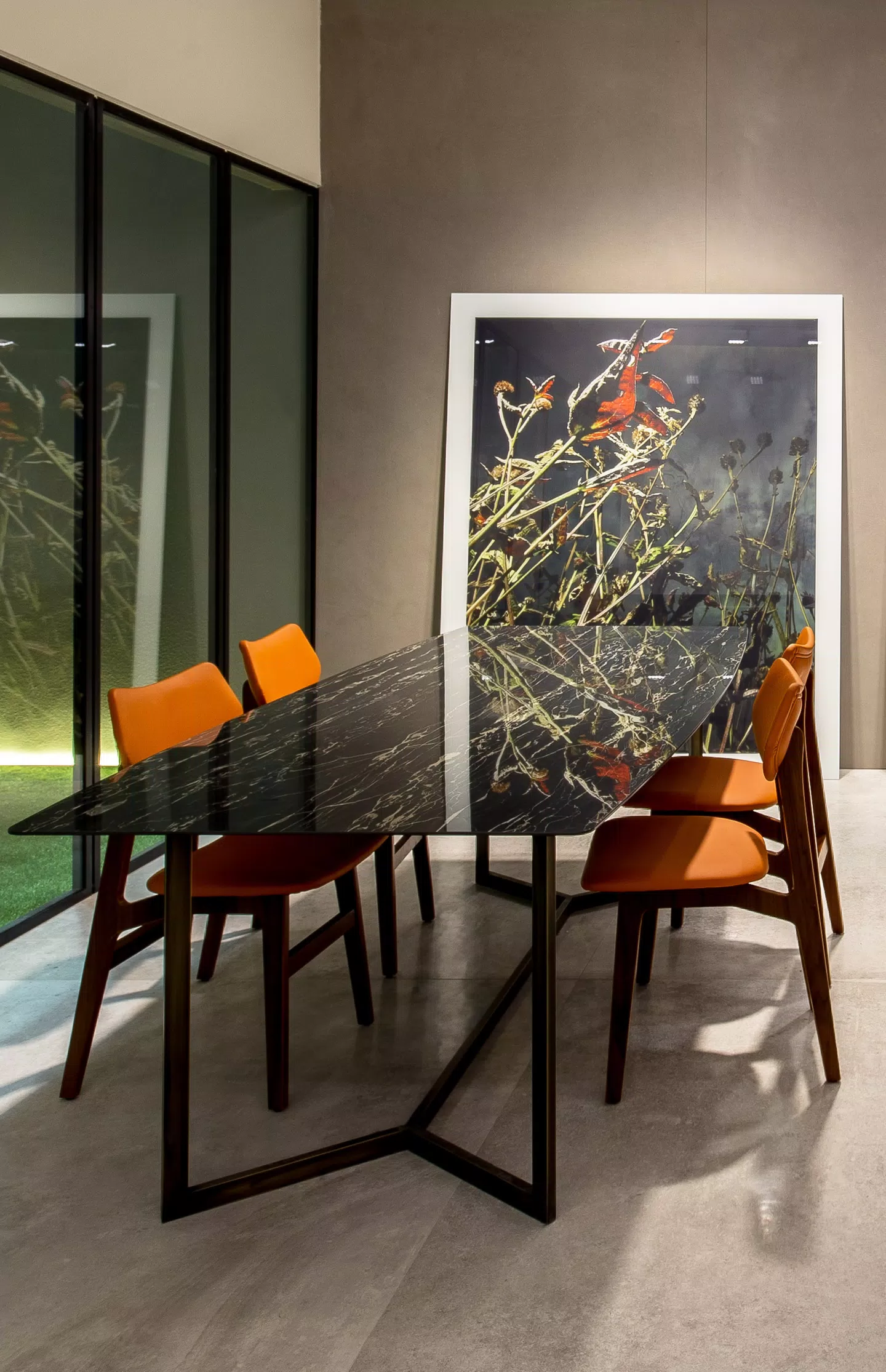 Marble effect porcelain stoneware table
View all Florim furnishings
Exterior and Urban Image
The installation systems for exterior facades respond to different construction types and aesthetic requirements, offering designers a range of solutions capable of embodying sustainable design solutions. Porcelain ventilated rainscreen facades, for example, are an innovative structural system for building facades. For this scale of project, the company organises a dedicated division – Florim Solutions – to support and assist you from design to the construction, combining your aesthetic requests with technological and functional performance: from thermal and acoustic insulation to ease of cleaning over time, from the inalterability of its colour to protection from weather conditions.
The results, demonstrated by hundreds of completed projects, show some modern technological skins which host healthy, safe and well-insulated environments. Schools, hotels, residences, museums, plants and sports centres are only some of the building types dressed in Florim porcelain tiles, as they are capable of combining a strong aesthetic impact and high energy standards.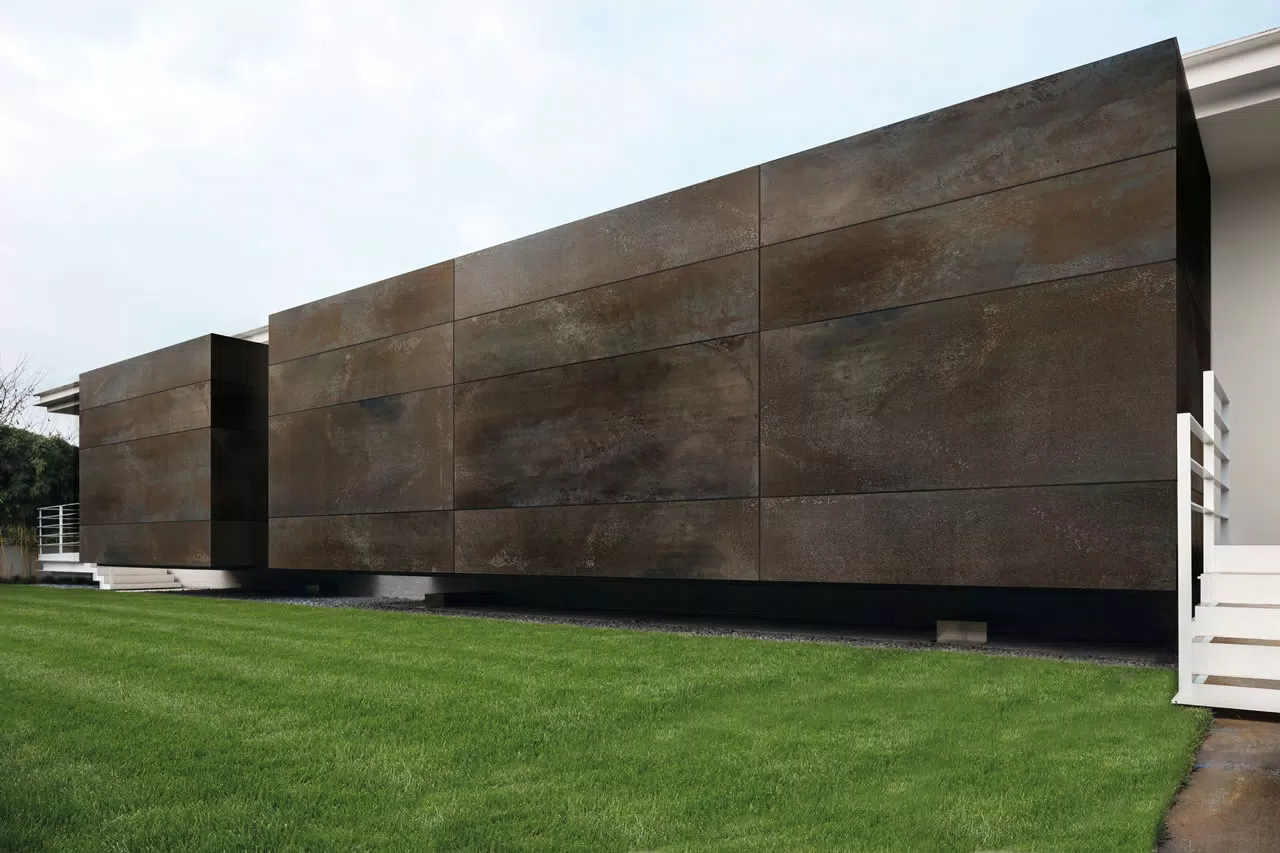 Metal effect ventilated rainscreen facade with the Flowtech collection
Click here to open the collection
Outdoor Design
Outdoor spaces represent the possibility to experience space beyond the domestic walls, and for this reason, they should be welcoming and make people feel at ease. If a terrace constitutes an extension of an apartment's interior, a roof terrace is a bit like an open-air room, a special area influenced by the atmospheric conditions. For this reason, technical performance succeeds in satisfying all requirements through doubling the thickness. Exterior flooring is designed for numerous materials, from gravel and sand to turf, as well as being able to be laid with glued or floating systems.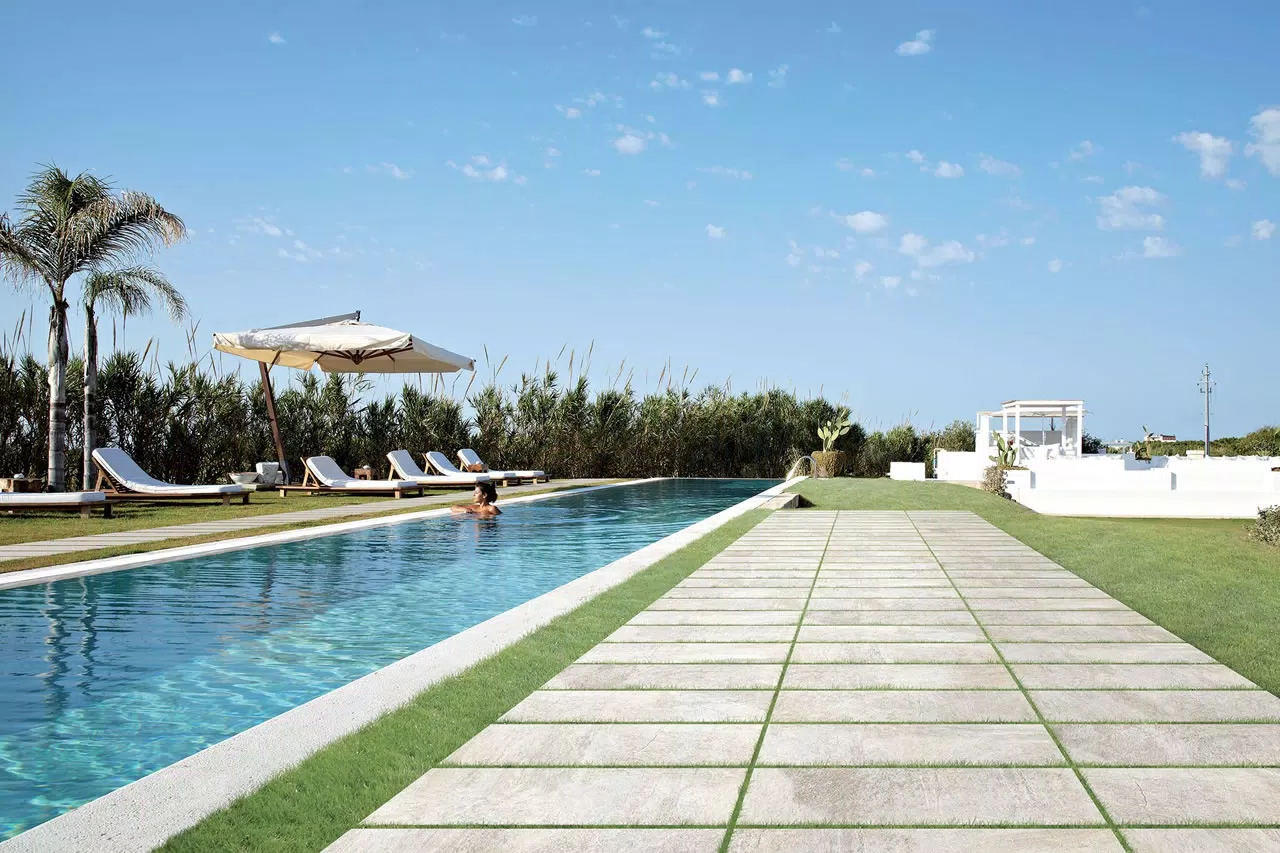 Outdoor flooring laid directly on grass, Walks/1.0 collection.
Click here to open the collection
Sustainability
Today more than ever, energy saving and sustainability merit much attention. Since 2008, Florim draws up an annual sustainability report and has always protected the region in which it operates, which today is one of the six largest ceramic centres in the world; it is also the first company in the ceramics industry to receive UNI EN ISO 50001 certification for its energy saving policies.
Request an appointment with one of our representatives