The world of architecture and contemporary design casually welcomes stylistic influences from past eras: mixing avant-garde solutions with retro elements creates fascinating contrasts and gives interiors a timeless, familiar atmosphere.
The 1940s and 1950s vintage style especially is much admired in the field of design and furnishings, in that with its shapes and colours it evokes the golden era of Mid-Century modernism.
Request an appointment with one of our representatives
Recalling the golden age
The year 1945 signalled the end of the Second World War, and the start of reconstruction. The restoration of peace and the economic boom led to perceive architecture, of houses in particular, as something beyond the strictly necessary: these are years full of enthusiasm, in which the aim is, to quote Ernesto Nathan Rogers, "turn every formal representation of life into the poetic: from the spoon to the city".
Gio Ponti, Marco Zanuso, Franco Albini, Achille Castiglioni, and Luigi Caccia Dominioni, are just a few of the names which have made furnishing design and interior design key elements in the creation of the Italian house, equipped with every comfort and mouthpiece of an unprecedented economic and social rebirth.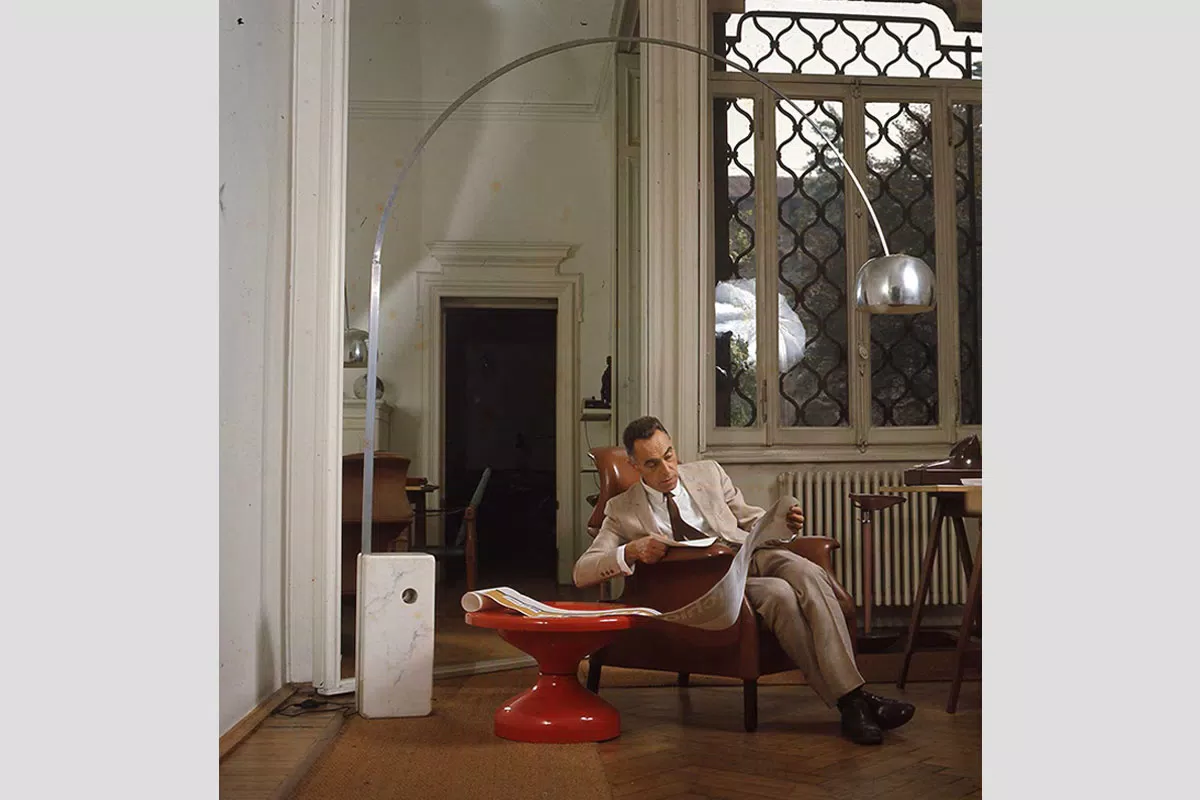 ARCO by Achille Castiglioni – Courtesy of the Achille Castiglioni Foundation
Interior design in the late '40s and early '50s
Design in the reconstruction years features experimentation and the use of a broad colour palette: from pastel tones – yellow, sage green, and pink – through to stronger earthy colours, like orange, brown and red. From hand-made production, we progress to mass production, where decorations and inlays give way to the formal language that is both functional and creative, of pared-back, practical design.
Vintage style reworked for today
Thanks to its iconic lines and its ability to instill good humour, design of the post-war decade never missed a beat, not even with the spread of minimalism. The honest, pure style that epitomises many contemporary projects goes well with the most cheerful and flashy elements of the golden age of design.
For lovers of vintage style, adding some retro details to your home can be a great style choice, but rather than recreating fully-themed environments, it is more effective to select a few details to add that extra touch.
The most interesting mixes are those between vintage and minimal and vintage and industrial, where the contrast between high-tech, industrial elements and the comfort designs of the 40s and 50s becomes something very special.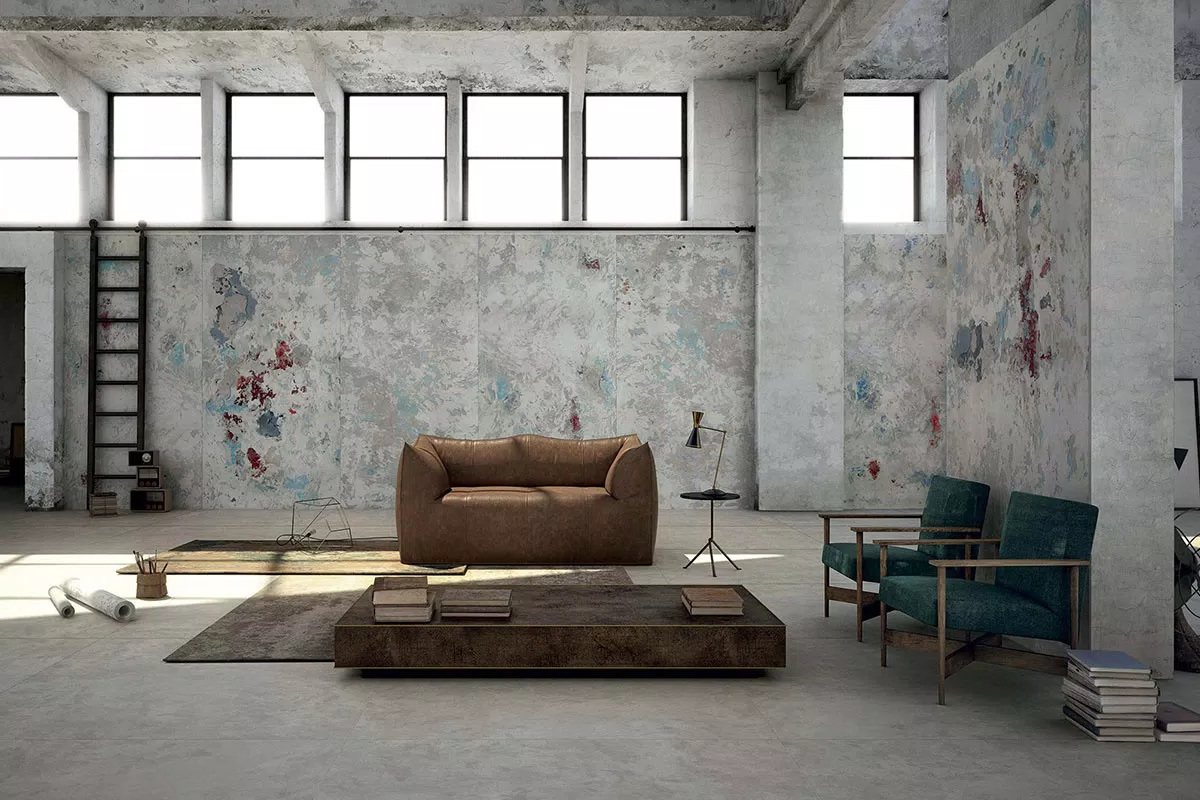 Vintage environment – industrial with flooring and slabs in porcelain stoneware from
the Archeologie collection by CEDIT – Ceramiche d'Italia
view the collection
Vintage flooring in large tiles from the Artwork collection by Casa dolce casa – casamood
view the collection
Bathroom design, however, merits particular mention. Today a real oasis of relaxation, the bathroom has become a space for experimenting with bold design and decoration. So it is no surprise to see today's trend of decorating floors and walls with vintage-style tiling.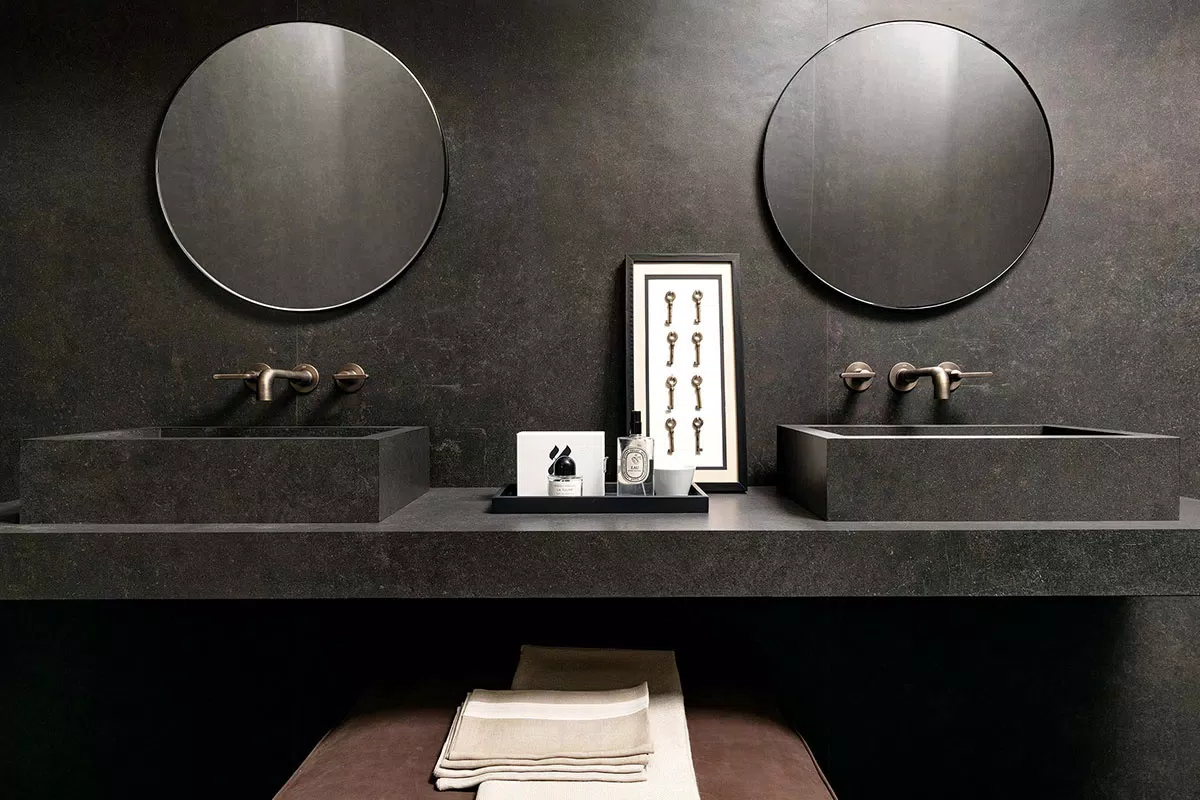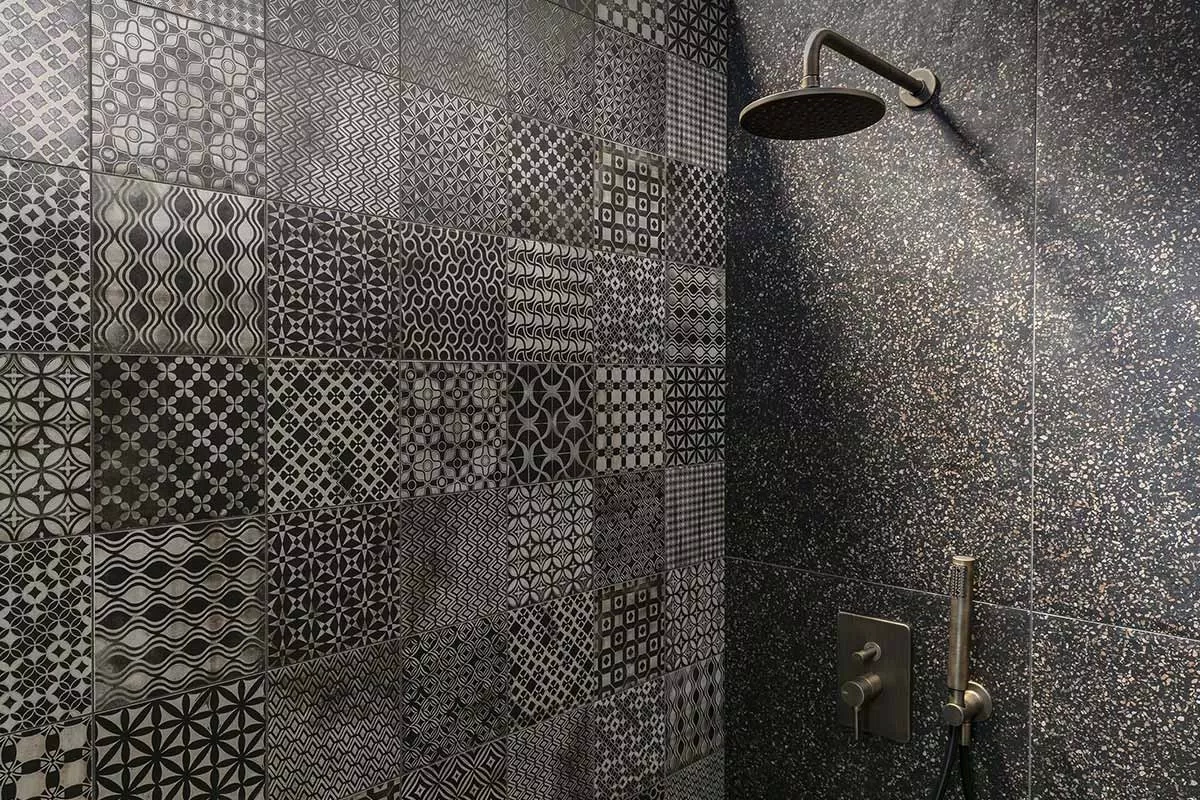 Cementine slabs reworked in contemporary style by the Esprit de Rex collection
view the collection
The vintage is in the detail
What are the must-have elements in a home decorated in '40s/'50s vintage style?
Ergonomic furnishings
Upholstered sofas and armchairs, with the curved shapes devised by interior designers to envelop the person seated on them. A true symbol of the era, the Lady armchair, designed by Marco Zanuso in 1951 for Arflex; dining tables, side tables, smooth-edged chairs in sinuous shapes; domestic appliances with distinctive curved shapes designed to be shown off for all to admire. The famous Smeg fridge of 1950 is just one example.
Lighting and rugs
Lamps and light fittings with clean shapes and curved lines, in wrought iron or with plastic elements. One thinks of the funnel lamp designed by Luigi Caccia Dominioni for Azucena in 1953; rugs with striped and abstract geometric patterns, in bright colours reflecting the joy and energy of the post-war years.
Marble aggregate and tiled flooring
Marble aggregate and cementine stoneware tiles are typical of the '40s and '50s. They come in various shapes: square, mosaic, and hexagonal, for example, with sparing and spartan decoration or in Mediterranean style. They began life at the end of the 19th century – being made of recycled marble offcuts or ferrous residues covered with cement. Common colours are those of natural stone, brown, grey, white, black with reddish touches, and the patterns are usually geometric, monochromatic or floral.
Originals or reproductions?
Where can you find salvaged vintage items? How should 'old' items be handled?
Finding original vintage furnishings and slabs is possible, but it can be complicated and expensive and moreover, the technical and comfort needs of 60 years ago are certainly not those of today.
To meet these needs, furnishing and tiling manufacturers of furniture or tiling provide the public with quality products that are faithfully inspired by vintage style, but updated.
So, for example, for a vintage-style bathroom, today people opt for coloured porcelain stoneware and retro decorations, all made thanks to advances in digital technologies. This is a clever way of taking inspiration from the past (also reinterpreting typical decorative elements of the period such as tiling) without sacrificing the technical superiority of today's and tomorrow's materials.
Then, when vintage inspiration is applied to large oversize tiles, traditional art is transformed into a new design/decoration technique which is both conscious and reasoned.
Take the colour and the small fragments of material in the Artwork collection by Casa dolce casa – casamood, that reinterpret Venetian 'battuto' flooring and the vintage 'terrazzo' floors of the reconstruction years; and then there are the colours of the embossed slabs by CEDIT – Ceramiche d'Italia, that reproduce ancient ceramic slabs giving them a contemporary feel; and again, the textile inspiration behind the large tiles by Rex, which revives the geometric patterns of the iconic 1950s upholstery fabrics.
Artwork collection by Casa dolce casa – casamood
view the collection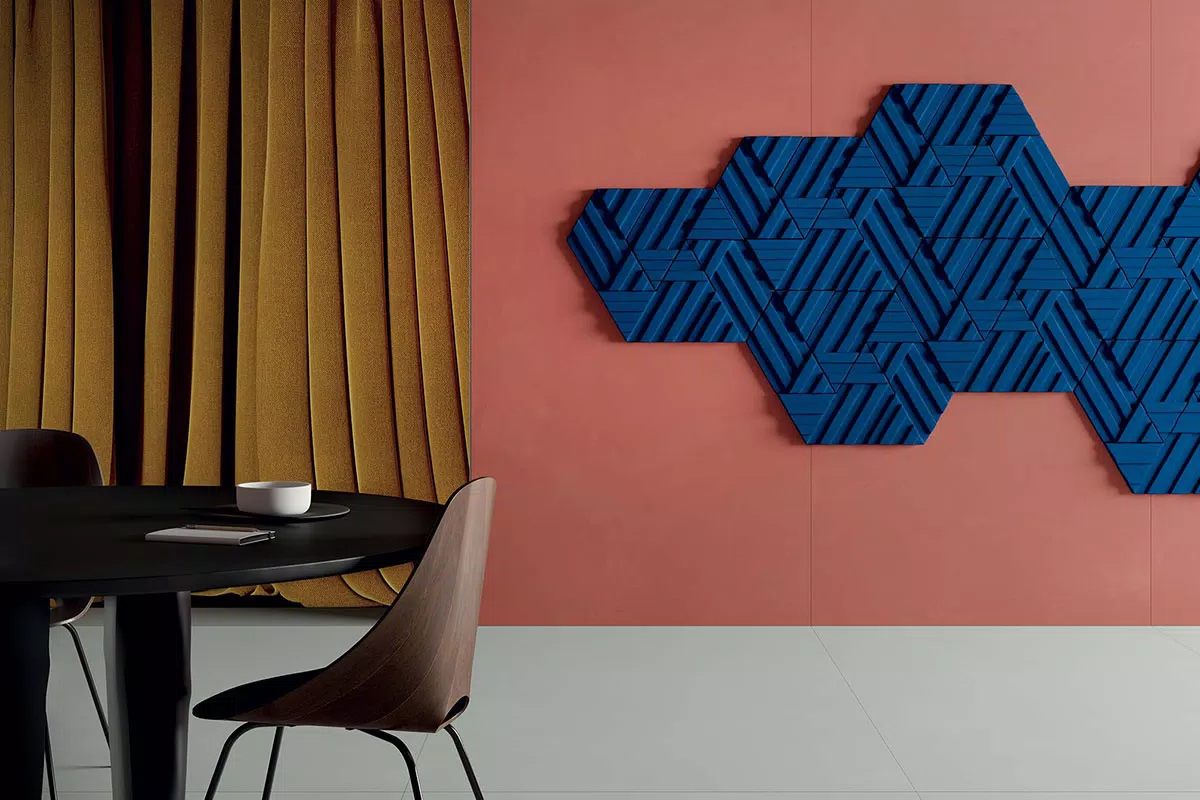 Rilievi collection by CEDIT – Ceramiche d'Italia
view the collection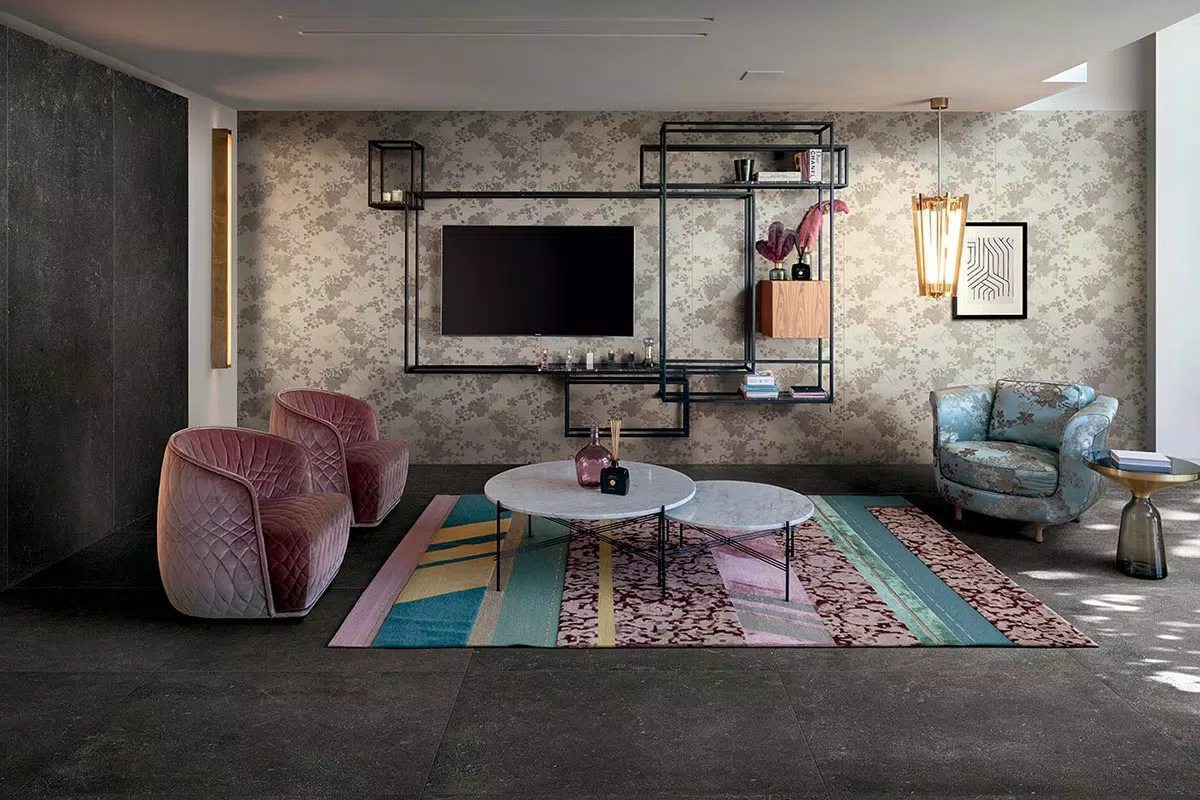 I Filati di Rex collection by Rex
view the collection
Request an appointment with one of our representatives