Health, safety, sustainability: Florim, with the environment in its DNA, stars in projects that respect the world we live in.
Articolo realizzato da:

The protection of the environment from the pollution caused by man, with the consequent impact on climate change, is now viewed as an emergency, a global problem to be solved, with greater urgency than ever before.
Architecture can do a great deal in this area by responding to the demands of environmental sustainability. And this is the role of biobuilding, a subject – or rather a principle – with which Florim, global leader in the production of porcelain stoneware, is very familiar. 
The Group, which has always stood for Italian quality, innovation and know-how, with a special focus on corporate social responsibility, is well aware of the importance of considering the characteristics of a specific geographical area, natural construction materials from renewable sources, and building techniques with low energy and environmental impact, when creating construction and architectural projects.
Request an appointment with one of our representatives
Because the overall aim of biobuilding is to protect the health of a space's users. It is an innovative approach to the architecture and energy organization of living-spaces, which has been gaining more and more ground for a number of years. In fact, it has been calculated that the environmental impact of the construction sector accounts for about 35% of global energy use, and 40% of CO2 emissions.
Biobuilding is one way of dealing with this urgent problem. In this context, the choice of materials plays a key role: they must be selected for their heat insulation and accumulation properties, and must be hygroscopic and free from toxins. The most widely used in biobuilding are cellulose fiber, cork, wood and concrete and expanded clay blocks, while the most avant-garde materials include sheep's wool and fungus mycelium, jute, linen or hemp fiber, and porcelain stoneware.
Porcelain stoneware, specifically, is particularly efficiency since it is manufactured with a high proportion (sometimes in excess of 70%) of recycled material. This is not news to the material's producers or to the cognoscenti: its characteristics – timelessness and resistance to fire, water and weather – make it a material with a profoundly sustainable lifecycle, especially compared to other coverings such as wood, marble or carpet. It has many architectural potentials: nowadays, it is also used as a kitchen worktop, since it is inert, extremely hygienic and resistant to heat, and its design can be completely customized.
For Florim, the creation of a "near zero energy building", also with the aid of porcelain stoneware, is viewed as the overall aim of every new design project. After all, the Florim ceramic product consists of almost 90% choice quality natural raw materials: clays, kaolins, feldspars and sand. Moreover, the finished product packagings, and other typical inputs of the porcelain stoneware production process are extremely environment-friendly.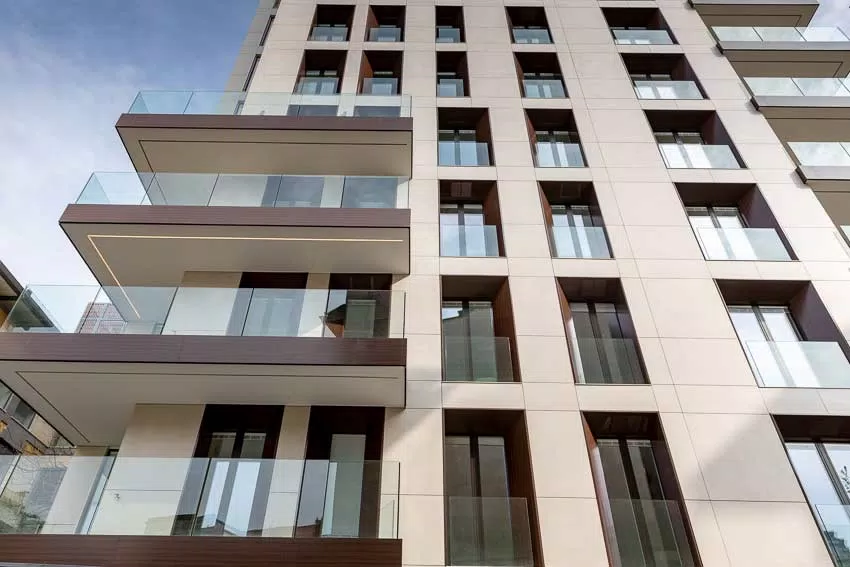 New Tower on Corso Porta Vigentina in Milan
view the project
Thanks to its product's outstanding characteristics, the group has been – and is often – involved in the realization of zero environmental impact architectural projects such as the new Tower on Corso Porta Vigentina in Milan, built using a high proportion of eco-sustainable materials of natural and recyclable origin. On biobuilding principles, the ventilated facade, clad with Magnum Oversize concrete-look porcelain stoneware large slabs, played a fundamental role in the project. The slabs, like those used for the internal floorings and the pavings of the terraces, hold CE, GreenGuard and Leed eco-sustainable certifications.
Another project in which Florim made a major contribution is the Passive House in Cesena, designed by the architect Stefano Pieraccini. This important project adopted the international Passiv Haus protocol, the highest scientific benchmark for near zero energy sustainable buildings, and was the first of its kind in Italy.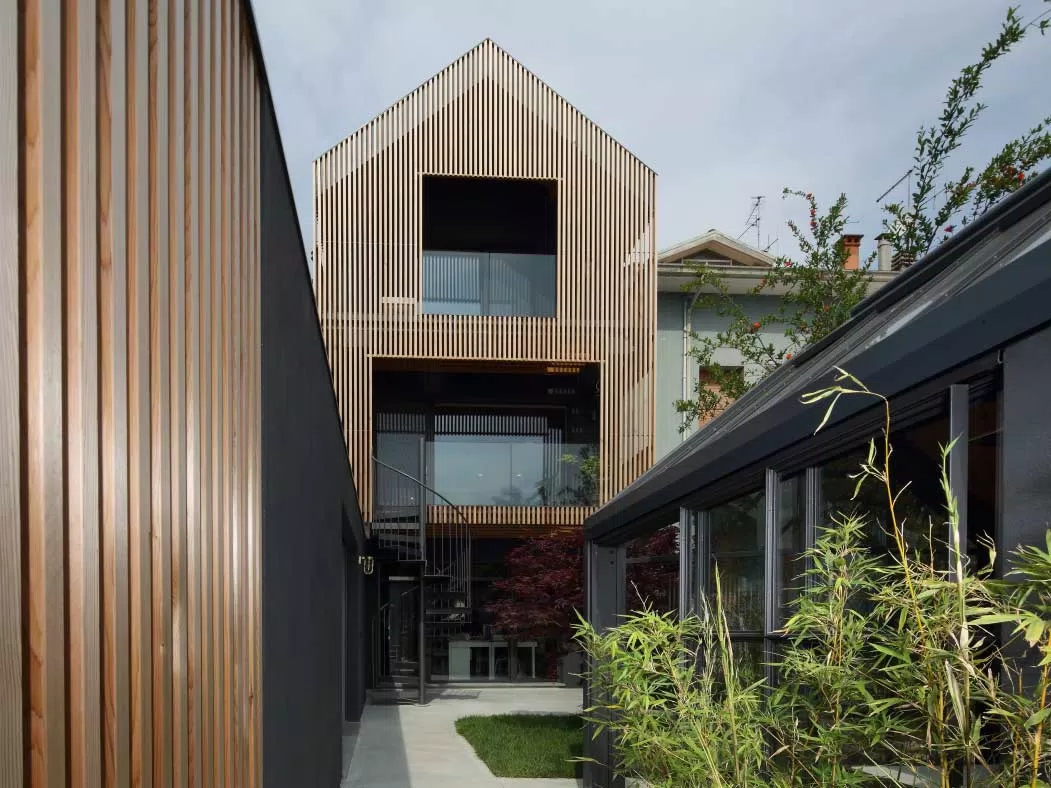 Passive House Cesena
view the project
The building has a combined timber (laminated and XLAM), steel, brickwork and reinforced concrete structure, in which every material operates to best effect, exploiting its natural characteristics. Thanks to this approach, the building's construction cost was kept at market levels, without detriment to the quality factor.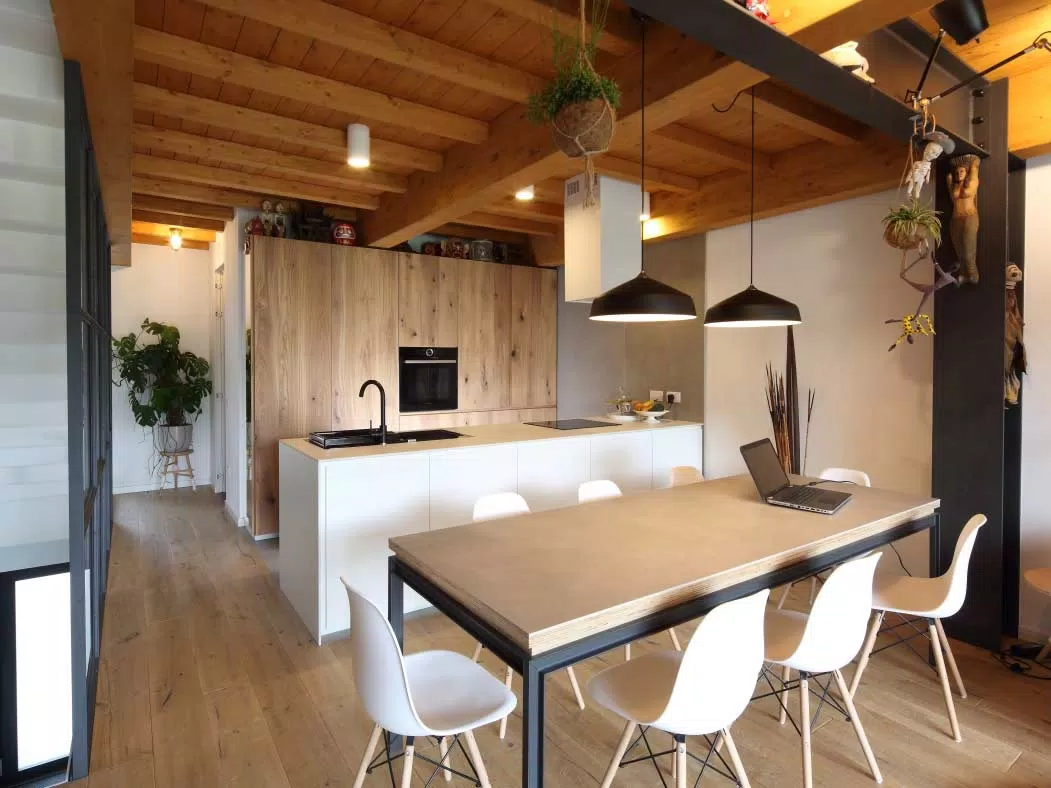 Passive House Cesena
view the project
The project used products of several Florim collections to decorate the interiors of the "passive house". The kitchen countertop was finished in White color – 12 mm thickness of FLORIM stone, a functional surface that combines outstanding technical performances and appearance. The large 120×240 cm size in 6 mm thickness of the Industrial collection, on the other hand, provided a design feature for the living area. The bathrooms were decorated with the Neutra 6.0 series in Ferro (also mosaic), Petrolio and Oliva colors, also in the large 120×240 cm and 80×240 cm sizes.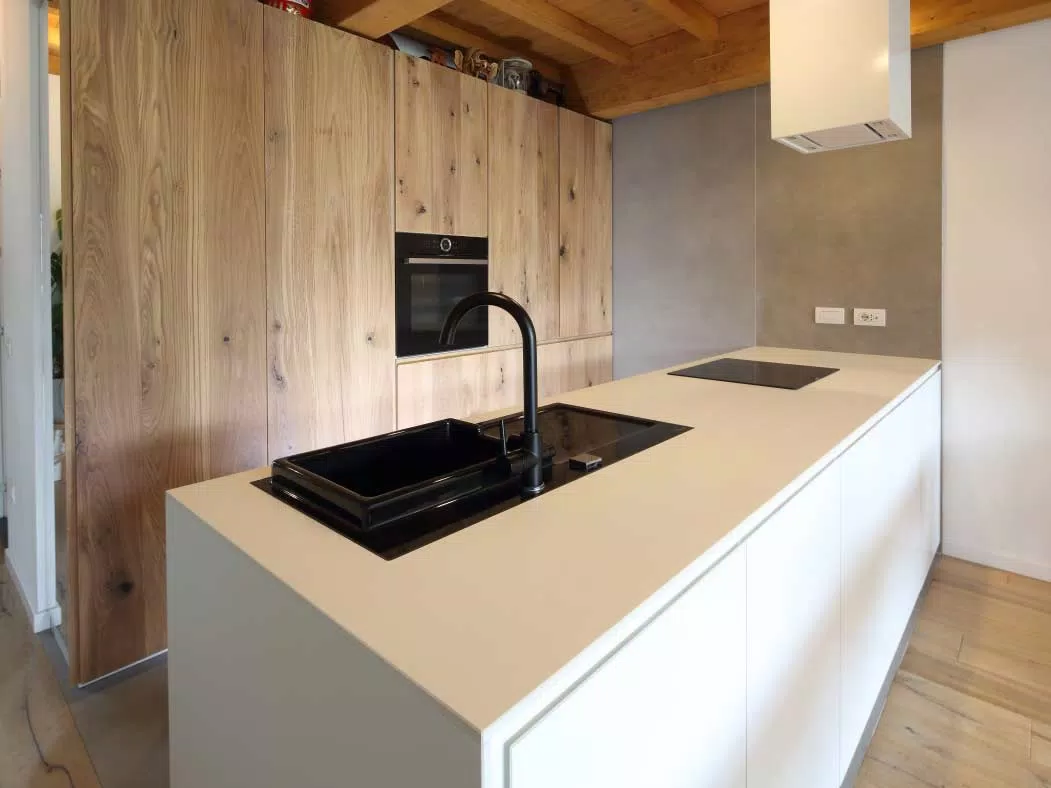 Passive House Cesena
view the project
Last but not least, we must not forget that, thanks to its commitment to the environment and eco-sustainability, Florim was the first ceramics manufacturer in the world to become a Benefit Corporation and to receive a major accolade: EN ISO 50001 certification. This is alongside EN ISO 14001 environmental management certification and many other awards that formally confirm the company's green credentials and the sustainability of all its products. Involvement, with ever-increasing frequency, in biobuilding projects simply comes naturally to Florim, which constantly looks to the future.
Request an appointment with one of our representatives