In recent years, the ceramic sector has been the subject of great growth in terms of overall production and sales due to the export of Italian made products. Success on the market, together with new compositional requirements of architecture and interior design have resulted in record investment in technological innovation of industry 4.0, in favour of large porcelain tile production (no longer just simple tiles), the oversize format of the present and the future.
Request an appointment with one of our representatives
Created in sizes up to 1.6×3,2 m and with a thickness of just a few millimetres using specific manufacturing technologies, large format tiles make new scenarios available for the contemporary project, combining lightness, versatility and technical performance and aesthetics, and revolutionising the way in which surfaces are interpreted
The Advantages of Large Format Tiles
Especially in regard to spaces dedicated to the public, the large format tiles are attractive to both designers and clients. The juxtaposition of oversize slabs enables a reduction in grouting lines between one element and the next, offering unprecedented opportunities to enhance spaces and to make the surfaces easy to clean. This is one of the reasons why they are particularly appreciated in the food service industry. Additionally, they create an elegant optical effect due to their continuity, which suggests a larger and more homogeneous space. Thanks to their light weight, the slabs lend themselves to being used not just for cladding walls, flooring and pools, but also for other furniture items such table tops (tables, bars, kitchen countertops, etc.) and ventilated rainscreen facades.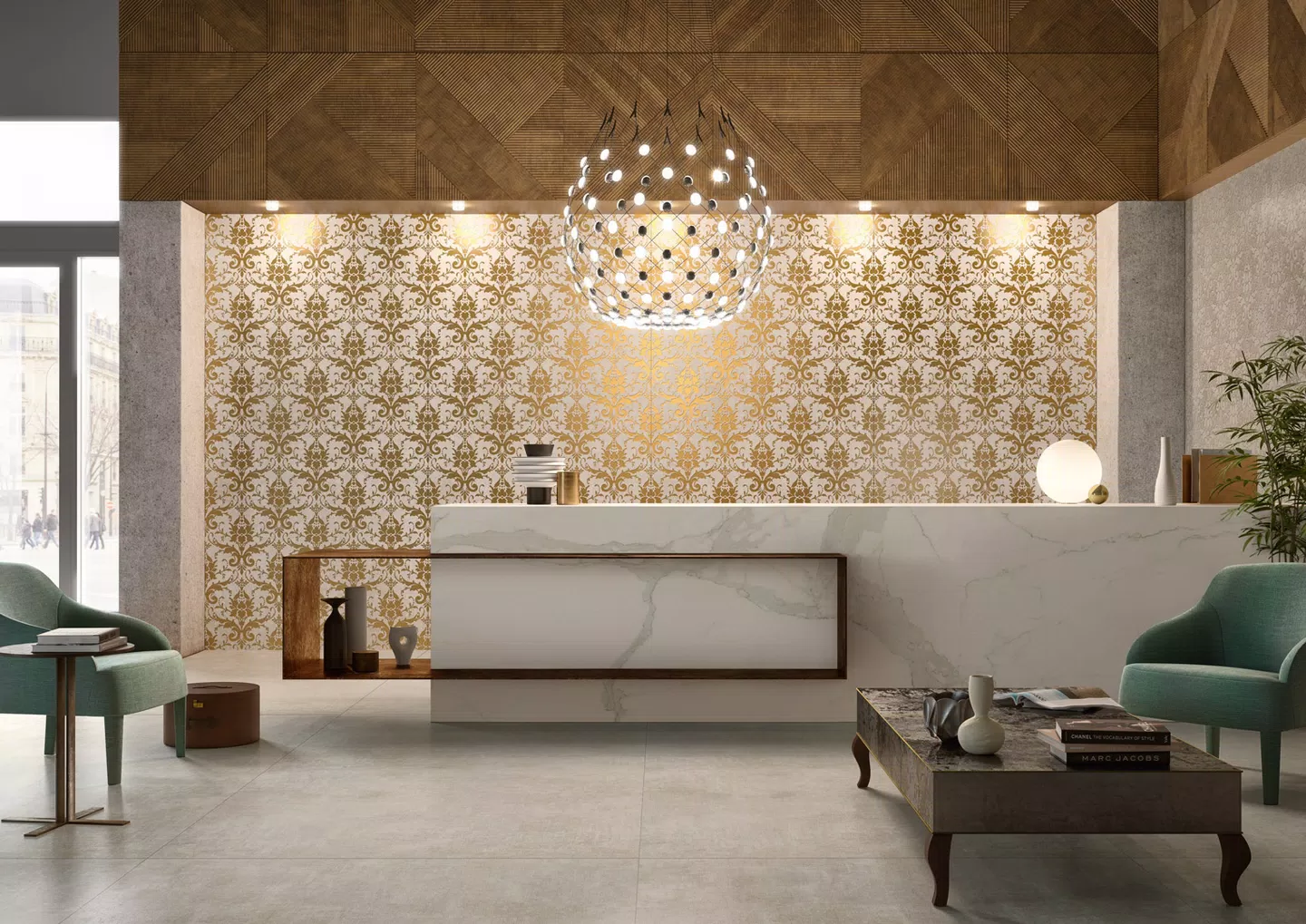 Example of application of large porcelain floor and wall tiles in the HO.RE.CA industry. (Tesori Collection by CEDIT – Ceramiche d'Italia)
Click here to open the collection
Modern digital printing production methods have largely contributed to the success of large format tiles being able to give ceramic material the appearance of any other natural material, correcting or emphasising some of their aesthetic aspects. Thanks to the possibility of digitally decorating large format tiles, they have a graphical freedom to produce varied tones, colours, shades and effects. In the case of large, marble effect slabs, for example, the veins are continuous to infinity, something which could not be obtained with natural marble.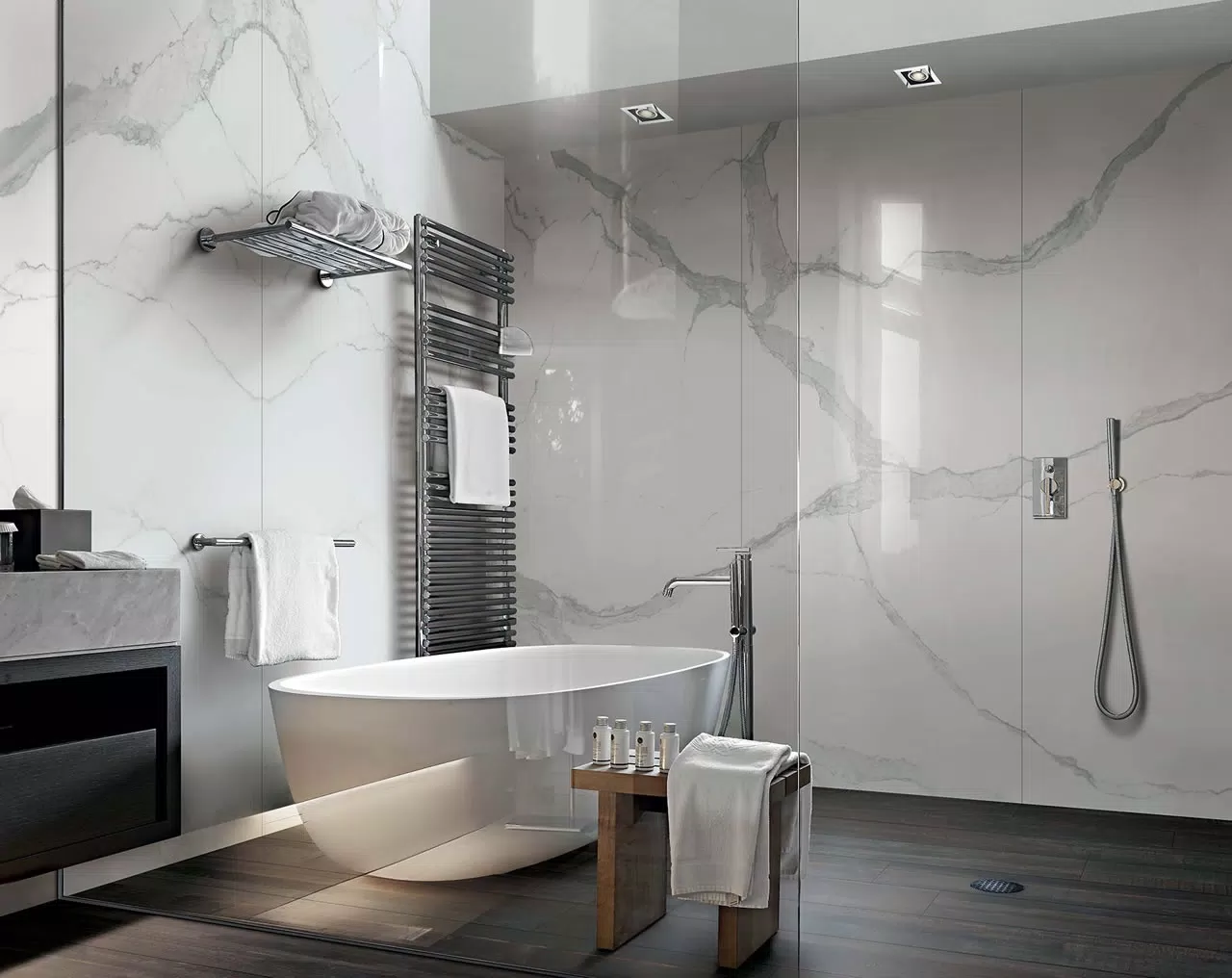 Marble inspiration with continual vein from I Classici di Rex collection
Click here to open the collection
Myths to Be Debunked Concerning Large Format Tiles
Large format porcelain tiles combine the quality of the aesthetic finish with the compactness of ceramic material and do not present, in spite of their large size, any critical issues with regard to handling or transport, cutting (or perforation) and installation.
1. Transport and installation
It should be noted in the first instance that its large surface area and its reduced thickness result in a low weight / m2 ratio: compared to a slab of stone or marble of the same thickness, porcelain stoneware is almost always lighter and can be moved more easily. For handling, it is advisable to use suction cups and take a few small precautions: make sure the back of the slab has been well cleaned and apply a double adhesive coating (back + support) to avoid air gaps.
2. Cutting
The technology used to manufacture large format tiles enables a strong and flexible product to be obtained, capable of supporting cutting and perforating being carried out with the appropriate tools. Additionally, in the case of sharp or irregular edges, these can be refined with sandpaper or diamond hand pads.
3. Strength
The 6 mm thickness of the large format tiles is the ideal solution for maintaining resistance to breakage (1350N) and to flexion (52N/mm2) similar to traditional porcelain: the reduced thickness does not make the slab more fragile, but more flexible, ensuring the typical resistance of porcelain to perforation, impacts and tractions.
4. Installation
The best manufacturers offer training services on how to easily handle and install large format tiles in complete safety. Installers can operate professionally using the acquired techniques and by equipping themselves with the appropriate tools.
5. Aesthetics
The large format tiles aids the reinterpretation of natural materials, offering a design product that is dedicated to contemporary architecture's specific needs, constantly in search of compositional solutions that will best enhance projects and enable designers to operate with maximum freedom of expression without sacrificing the technical/functional performance of the porcelain materials.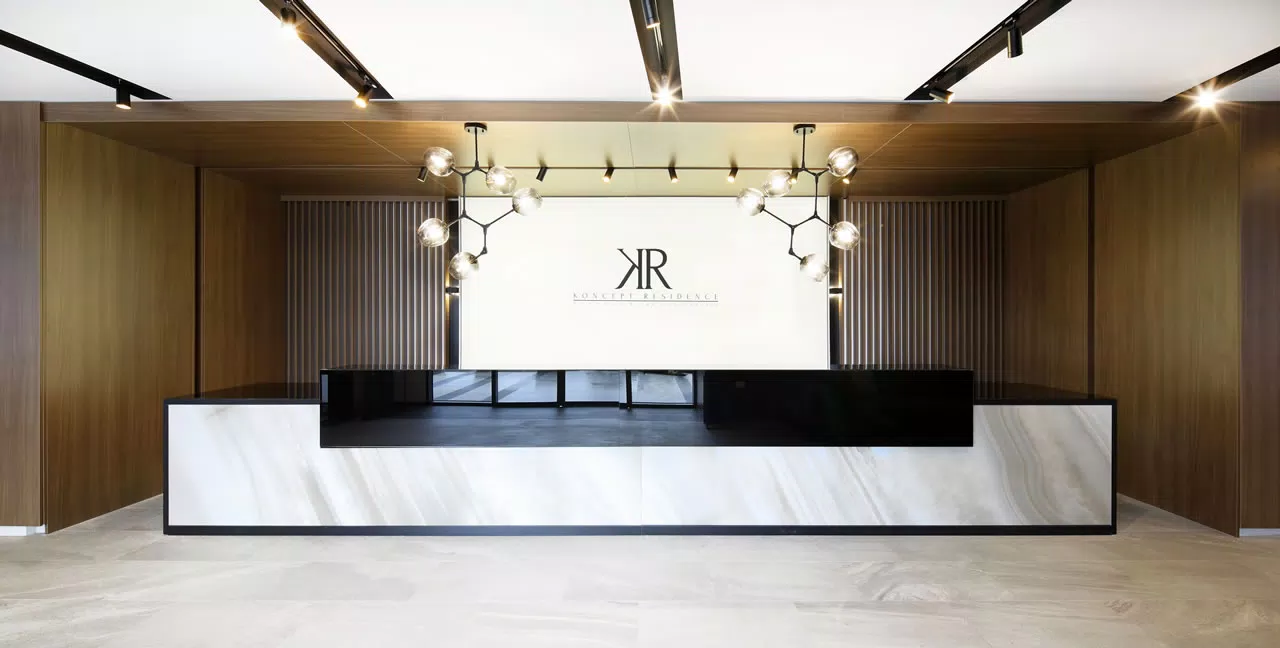 Hotel Koncept Residence by Studio Kota (Sarajevo): porcelain tiles were used as flooring and as covering for the hotel lobby desk.
View project
Request an appointment with one of our representatives
When to use porcelain stoneware in large sizes
Thanks to the most advanced technological and industrial processes, the porcelain stoneware industry has significantly developed its field of application in recent years; use of the large format has undoubtedly been extended. A 1.6×3.2 metres slab is like a one-size-fits-all for both exteriors and interiors. It is perfect for cladding a building facade and for covering a kitchen counter; it can be used for projects ranging from small to extra large.
Furnishings
As regards interiors, large porcelain stoneware offers an excellent combination of aesthetic and technological performance. In kitchens, it is possible to use a single type of covering material for countertops and back walls, as well as for details such as the sink, the cooker area and the covering of a peninsula or table.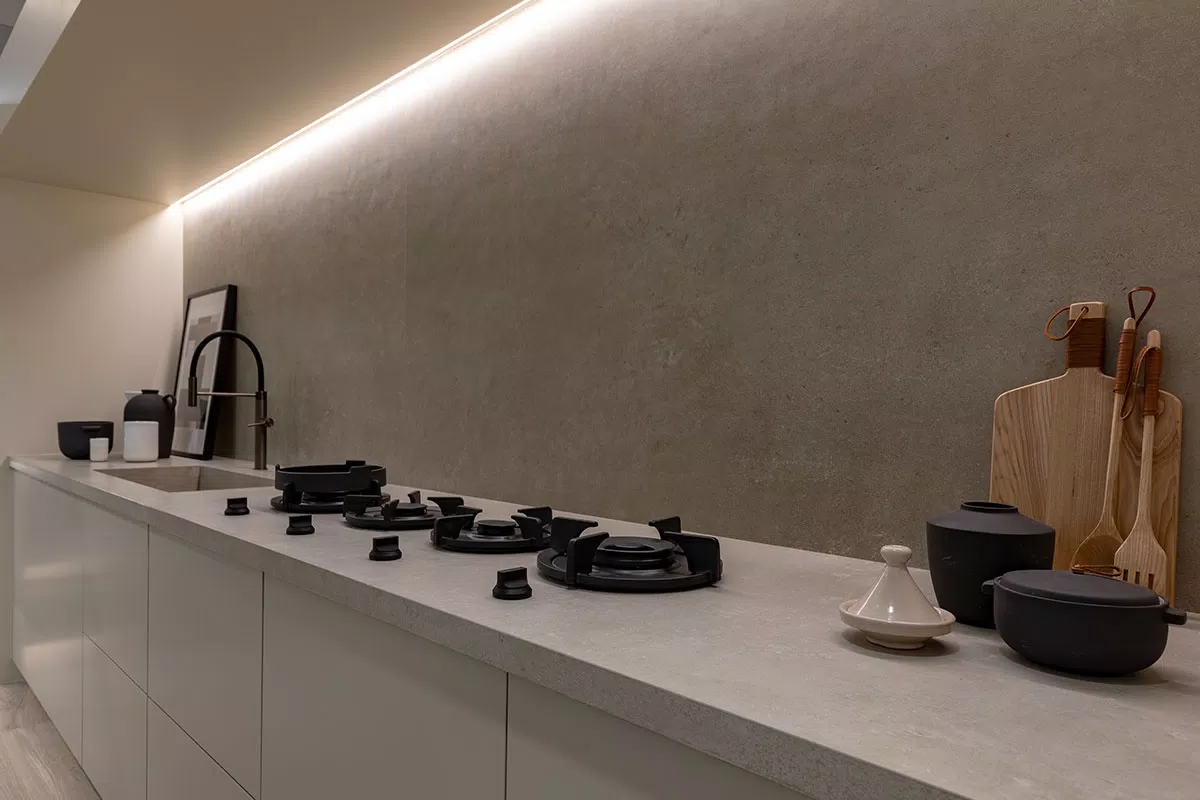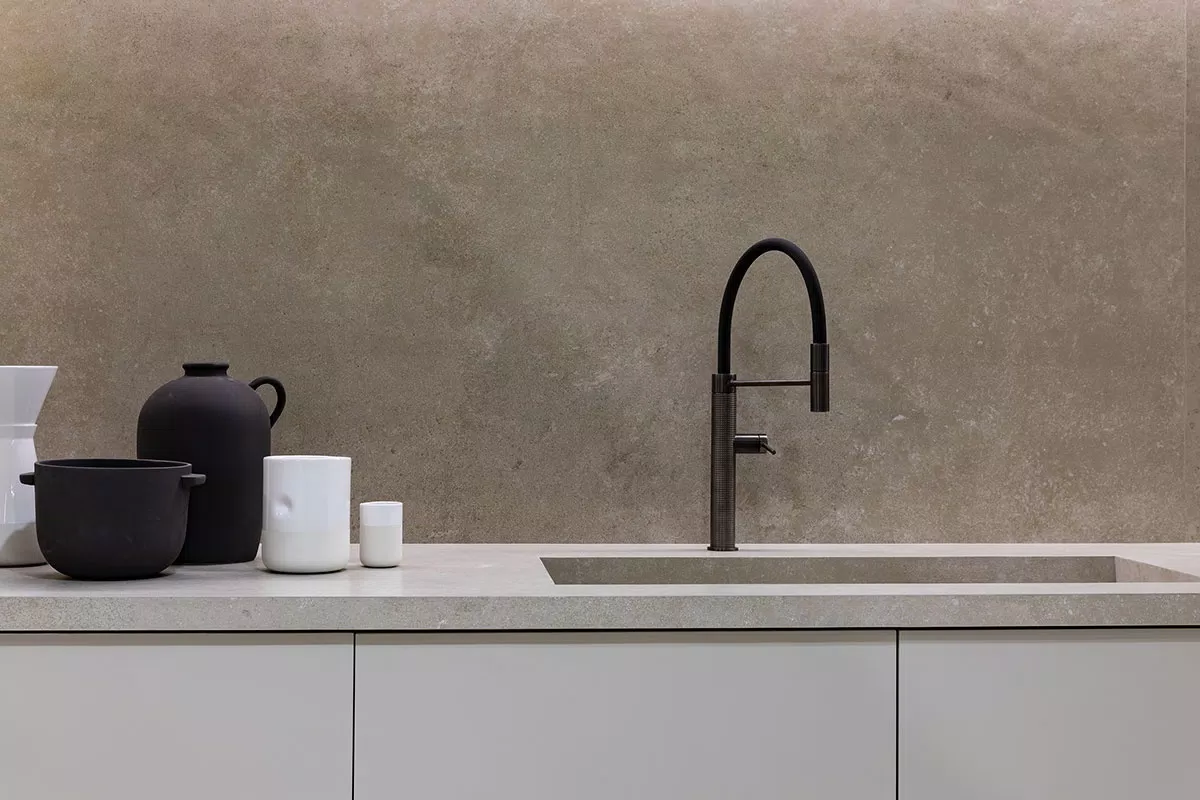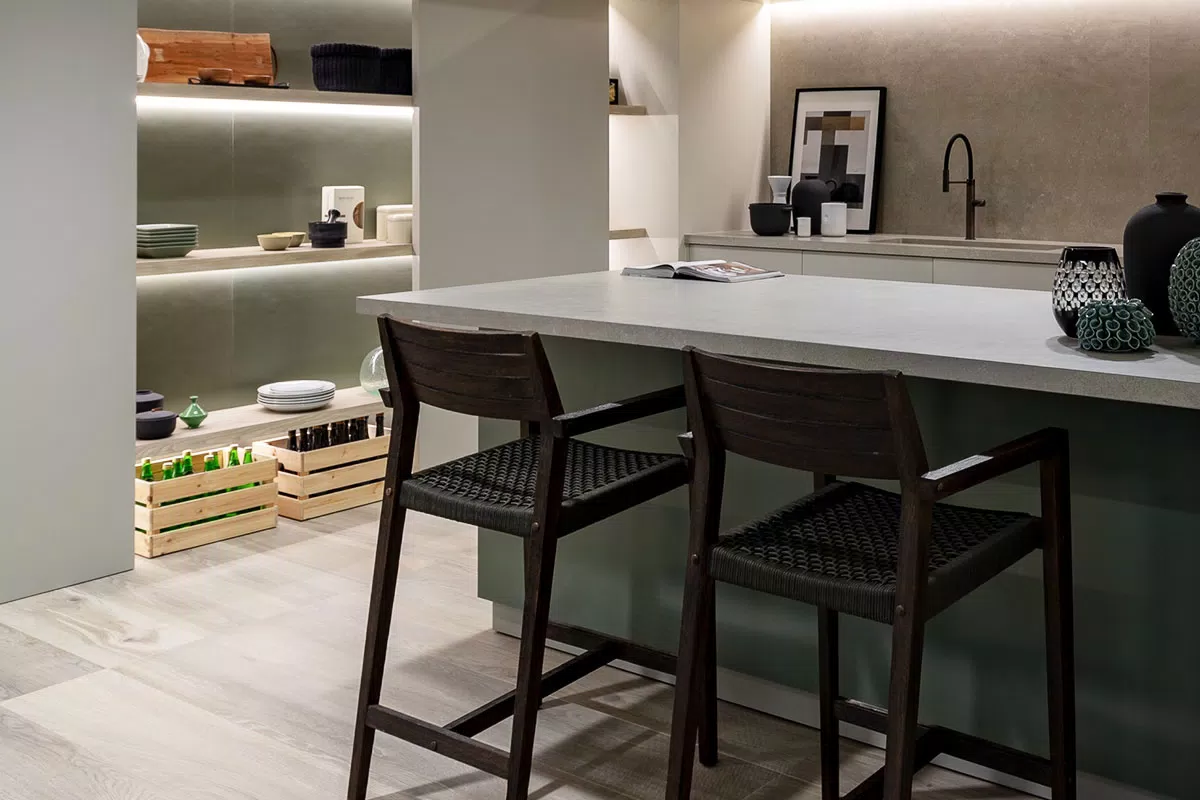 The large stoneware slab has a clean, uniform appearance due to the absence of joints. It has excellent technical properties, is is highly resistant to staining and is easy to maintain over time. Stoneware also boasts aesthetic and technical qualities as a coating for decorative elements: the headboard of a bed, bedside tables, shelves, the top of a fireplace, etc.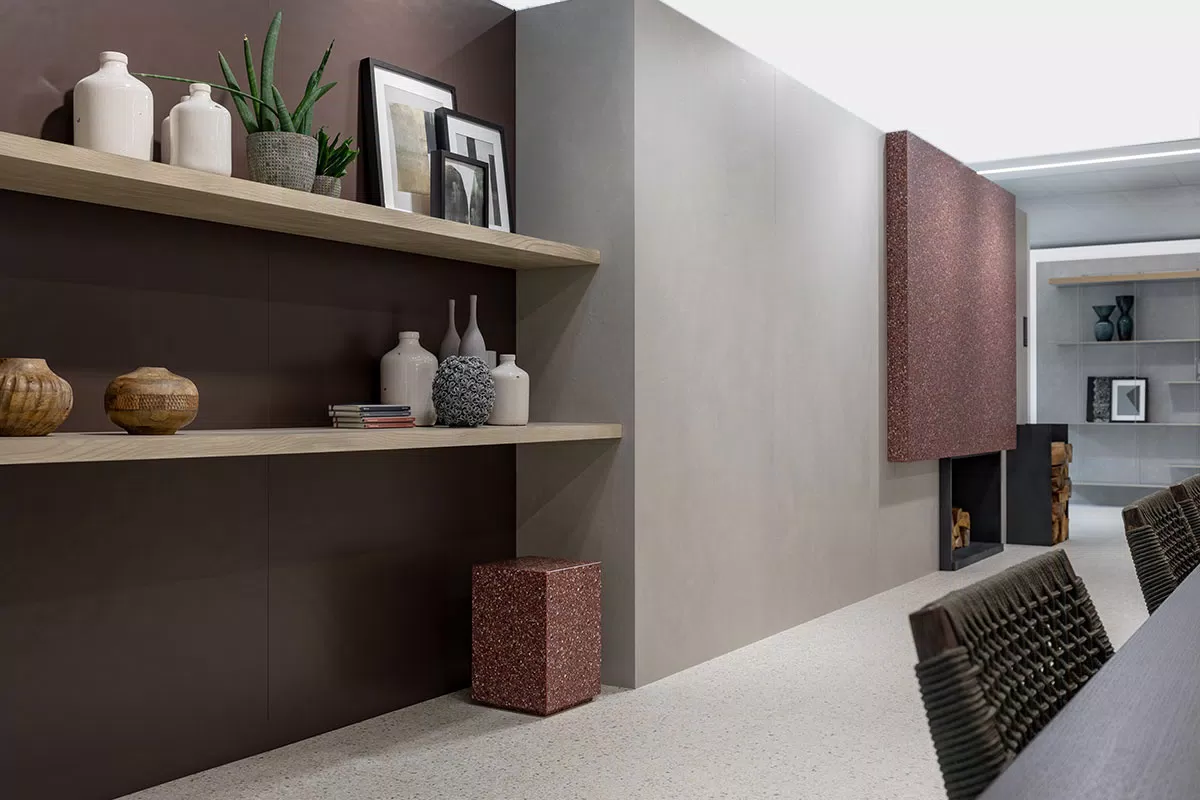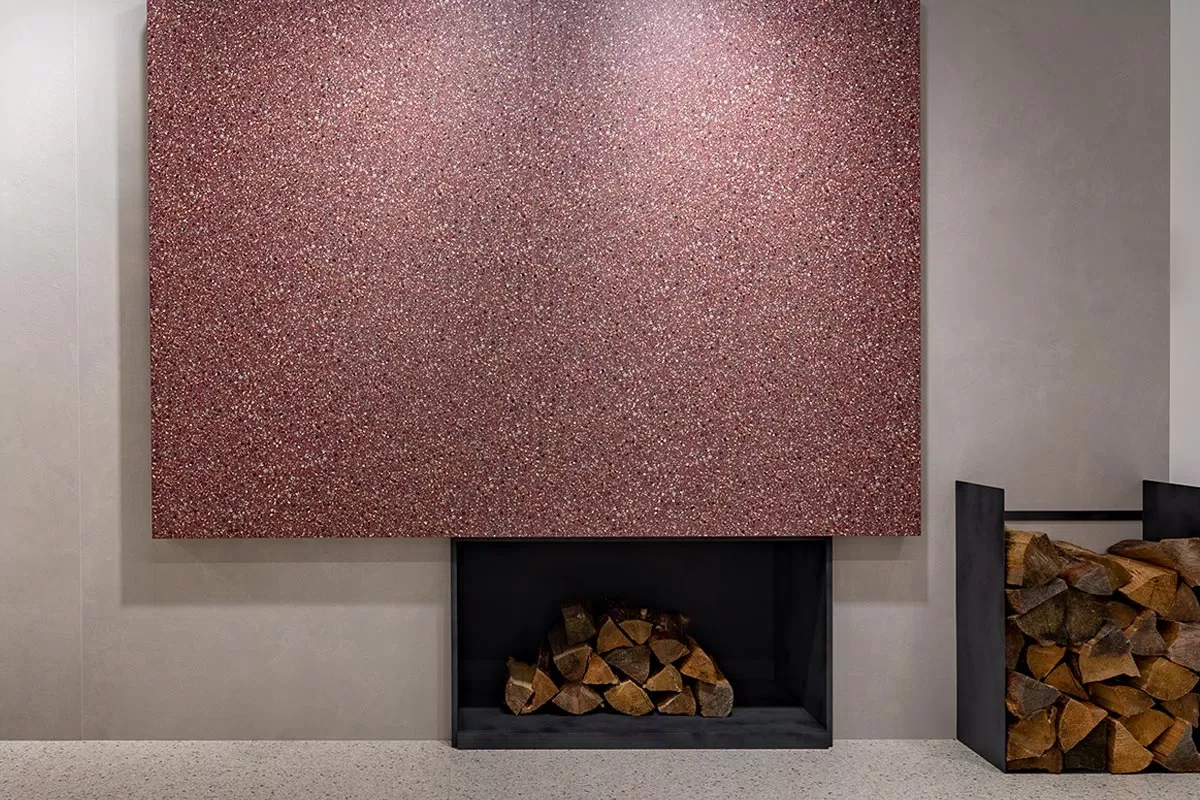 Cladding for buildings
Italian architecture of the 50s and 60s welcomed ceramics as a second covering material for giving buildings character and identity. Among the best examples of the period are the pure volumes of stoneware destined for the residence of Luigi Caccia Dominioni; the building was covered with small clinker tiles in shades of brown and blue. Small clinker tiles established an era. In the same way, today, the large ceramic slab offers new possibilities for cladding facades with a wide range of finishes and colours: from classic stone and marble effects to representations of metals and fabrics. Besides responding to aesthetic needs, large format tiles also offer technological solutions: the ventilated rainscreen facade system makes it possible to increase the energy performance of a building to which large slabs are applied.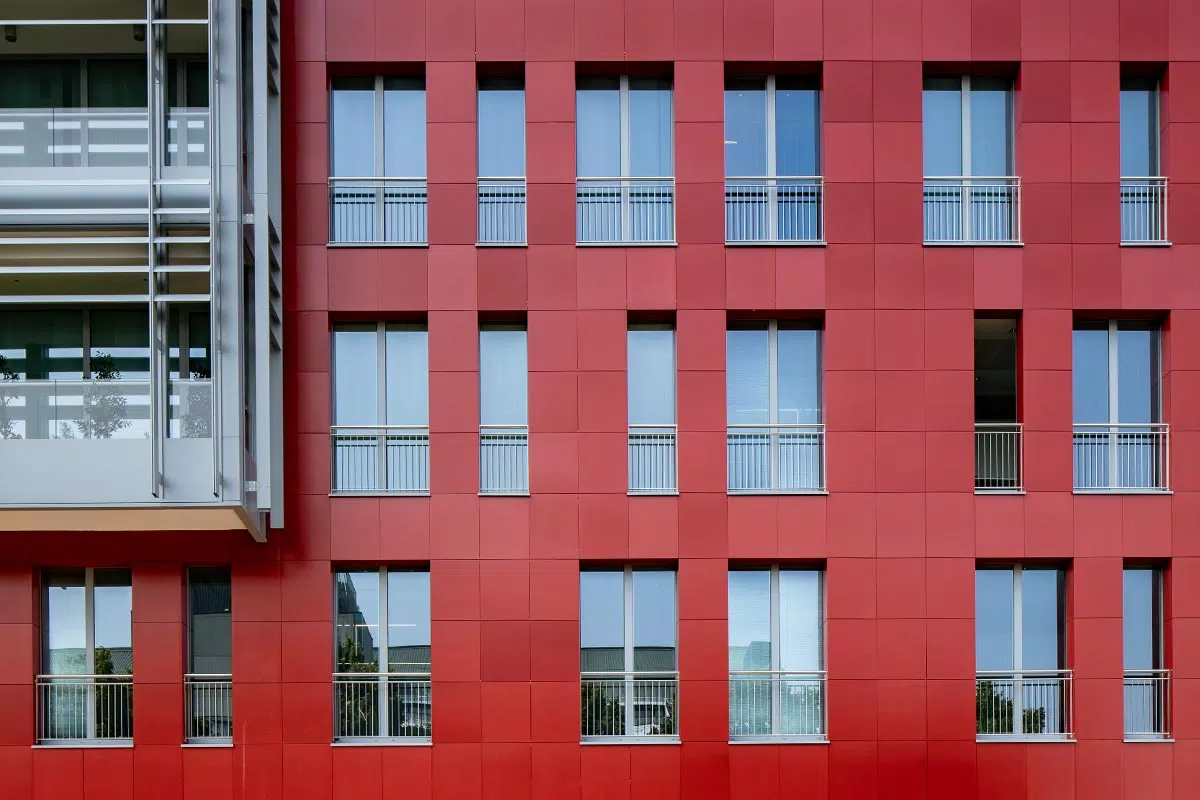 Ventilated rainscreen facade designed by the Florim Projects Division for the Children's Shelter – Vidas
view project
Porcelain stoneware for interiors and decorative applications
Large stoneware slabs are increasingly applied to interiors thanks to the creative ability of architects: some applications prove unexpected even for producers themselves. This is possible thanks to the aesthetic and dimensional characteristics of stoneware: slabs are a few millimetres thick and their size varies from a few centimetres to several metres long. Stoneware offers endless graphics and material effects – ranging from marble to wood, from glass to cement, from corten steel to resin – allowing for classic and other more daring and extravagant combinations. The size of the slabs is a feature that enables stoneware to be applied instead of paint or wallpaper: the large slabs measure up to 3 metres on the long side, thus allowing the floor to ceiling covering and embellishment of of entire walls, without a single joint. Using different surfaces – for example glossy, natural or bush-hammered – it is possible to introduce slight and elegant variations on a single material.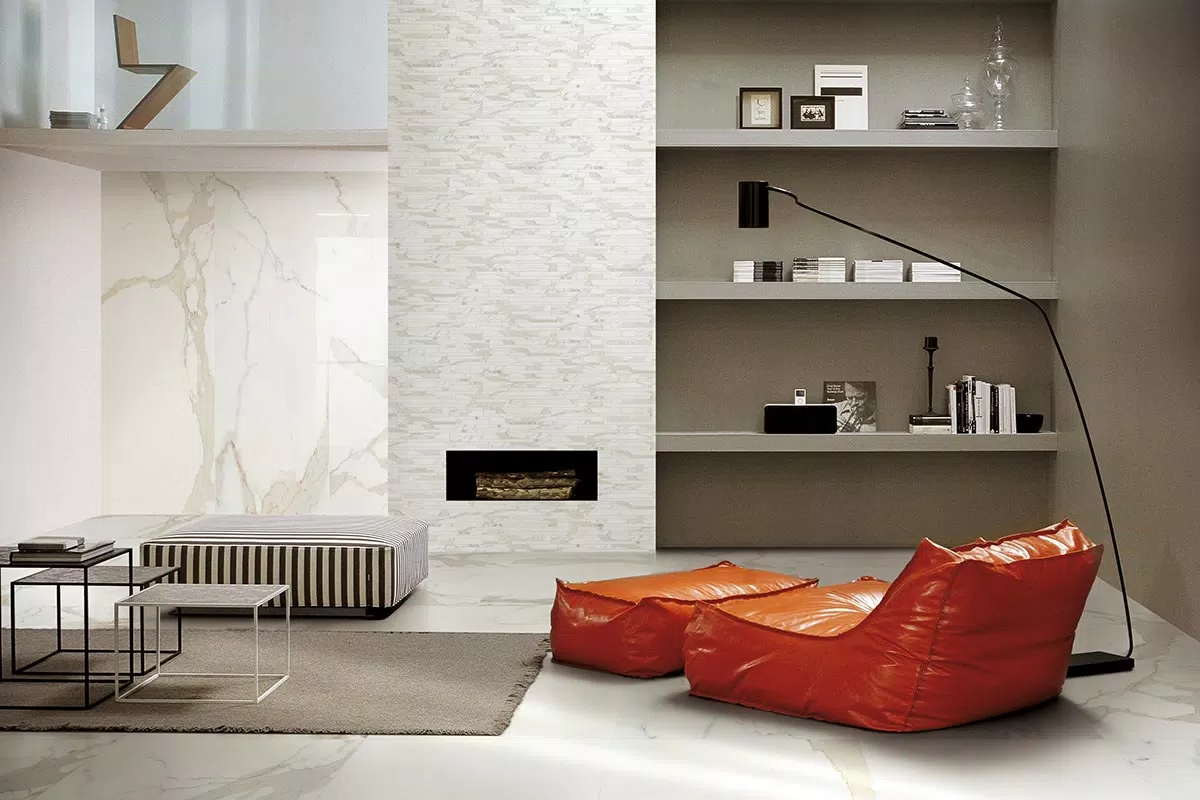 Floor with natural surface and wall with glossy coating from the Antique Marble of Cerim collection
view the collection
Worktops
Undoubtedly, worktops must be scratch and stain resistant, easy to clean and durable over time. Thanks to its technical properties and the variety of textures and finishes it offers, large-format stoneware is widely used on kitchen and bathroom counters, living room and study tabletops and in open-plan offices for large meeting tables with multiple workstations.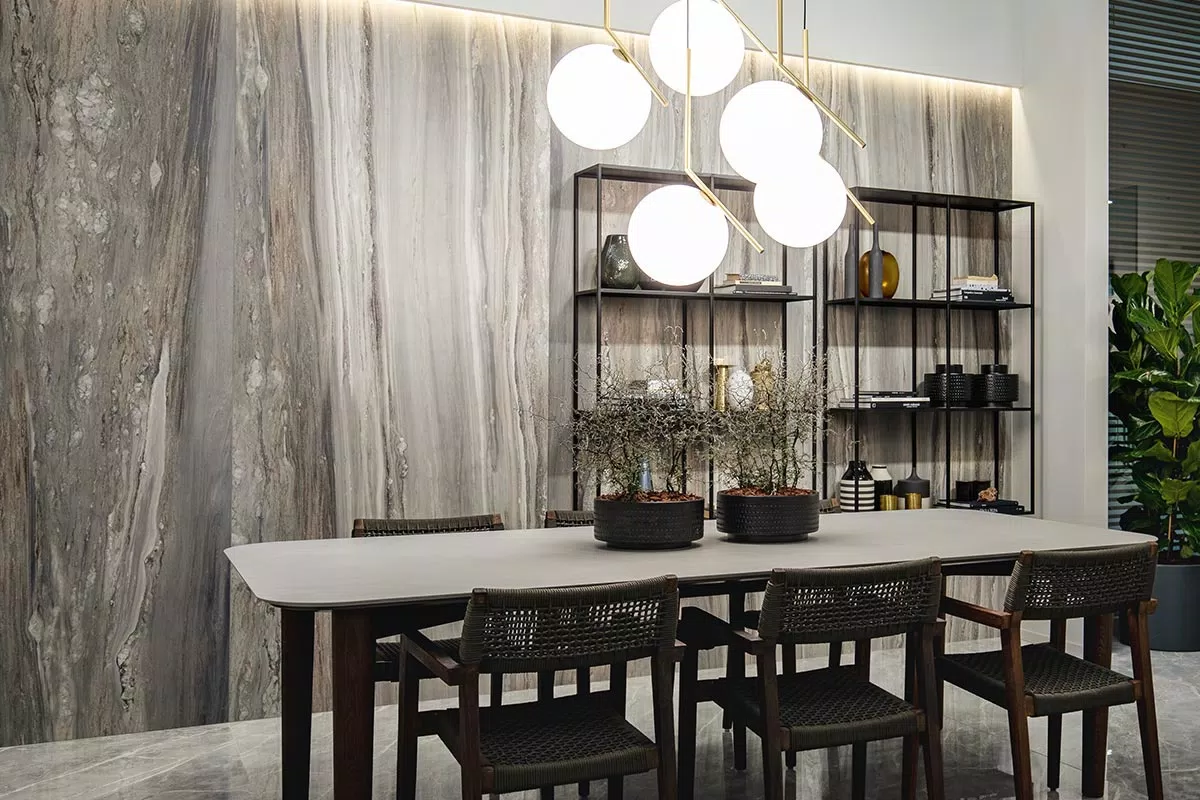 Table with top made from a single porcelain stoneware slab
The Florim oversize formats
Florim's large slabs have the advantage of being available in multiple formats and, above all, they come in graphic variations in the same collection and / or colour. For the designer, this means going beyond the standard and having at their disposable 1.6×3.2 metre slabs that are different from each other.
Florim offers the widest range of designed stoneware large format tiles on the market. Inspired by natural materials, the process of creating a slab and an entire line is founded on the wealth of decades of knowledge.
Not only large formats but a set of modular sizes from which to compose a prefigured design. Architects can use a variety of possible formats in order to the meet requirements of space. They can achieve absolute continuity on a surface and significantly reduce cutting and joints. With ceramic tiles ranging in size from 3×3 cm to 160×320 cm, it is possible to juxtapose and compose design surfaces by, for example, experimenting with joints and creating lines and geometry for greater customization.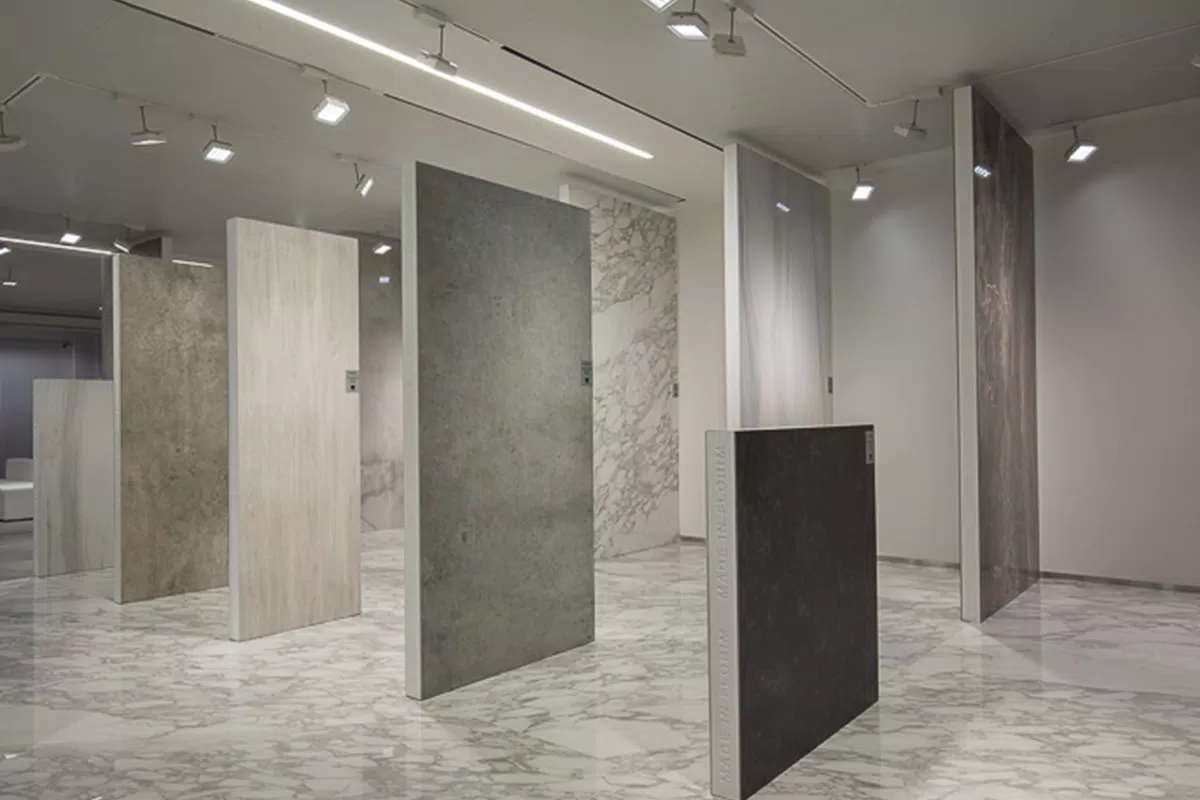 Display of large Florim Magnum Oversize slabs
learn more
Colour coordination
The large format tile represents not only continuity and homogeneity but also new opportunities and variations. Combining different colours is a design strategy that is facilitated by the use of a single type of material: porcelain stoneware. With a single thickness but with different formats, aesthetics and surfaces, it is possible to use dozens and dozens of designs inspired by diverse materials. By combining, for example, representations of marble with those of wood or that of resin to that of metals, it is possible to create contrasts that, because of their diverse technical characteristics, would not be possible using the original elements. Moreover, using original materials would incur an increase in costs due to the need of different specialized installers.
Metamorphosis by Archea Associati | Marco Casamonti for CEDIT – Ceramiche d'italia. Collection of surfaces inspired by metals.
Go to collection