The statistics speak for themselves. Today, more than half of the people on the planet live in an urban context – this is a significant number – 3.5 billion people who, by living in cities, will spend a considerable amount of their time in outdoor spaces. "Every day we walk through the streets, across squares, stop in parks and garden without being aware of the importance of design in these spaces, or that of public spaces"; says Frederica Rijkenberg of the Dutch studio B+B, getting to the heart of the matter. By high traffic areas, we are referring to many types of outdoor spaces: from the small, restricted squares of the Italian old towns to large public areas, covered private spaces, pedestrianised urban areas, and very busy areas.
Request an appointment with one of our representatives
1 – High-performance Design and Aesthetic Comfort
Designing a highly trafficked area means thinking at length about how to satisfy many requirements; functional, environmental, the type of traffic (when present), safety, each of which, in turn, must be able to withstand the test of time. In this sense ease of maintenance is a fundamental condition so that a project is effectively robust and durable, as well as aesthetically pleasing. The choice of materials to be used plays a fundamental role in this respect since, on the one hand, they must satisfy qualitative standards and, on the other, provide aesthetic comfort that can make the people using the space, be it public or commercial, feel "at home".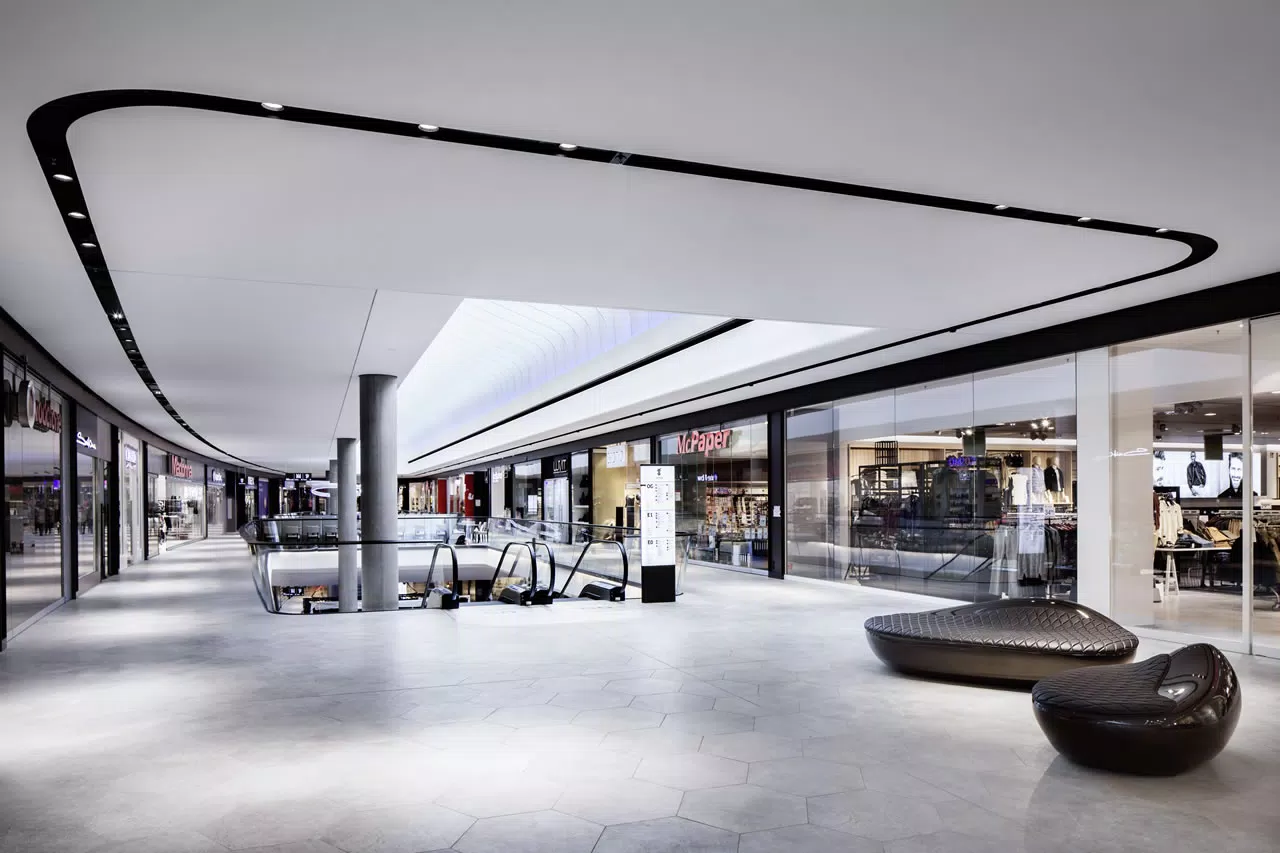 Das Gerber (Designer Ippolito Fleitz Group): an example of a building that houses shops, offices and apartments and that manages to combine technical needs with aesthetic comfort – Stuttgart (DE)
View project
2 – Towards Sustainable Spaces
One of the points of the United Nations' 2030 Agenda is dedicated solely to the subject of outdoor spaces. In objective 11 "To make cities and human settlements inclusive, safe, lasting and sustainable" the goal is to "provide universal access to safe, inclusive and accessible public green spaces, for women, children, the elderly and the disabled in particular". For a project that is in step with the times, we can therefore consider inclusion, safety, durability and sustainability as some of the necessary requirements for this space to meet current needs and be capable of predicting those of the future.
Returning to the importance of the quality of the project materials: among the most sustainable, durable and functional, is porcelain tiles for exteriors which are made up of many recycled compounds and offer extreme high-performance, as well as contributing to the chain of reuse.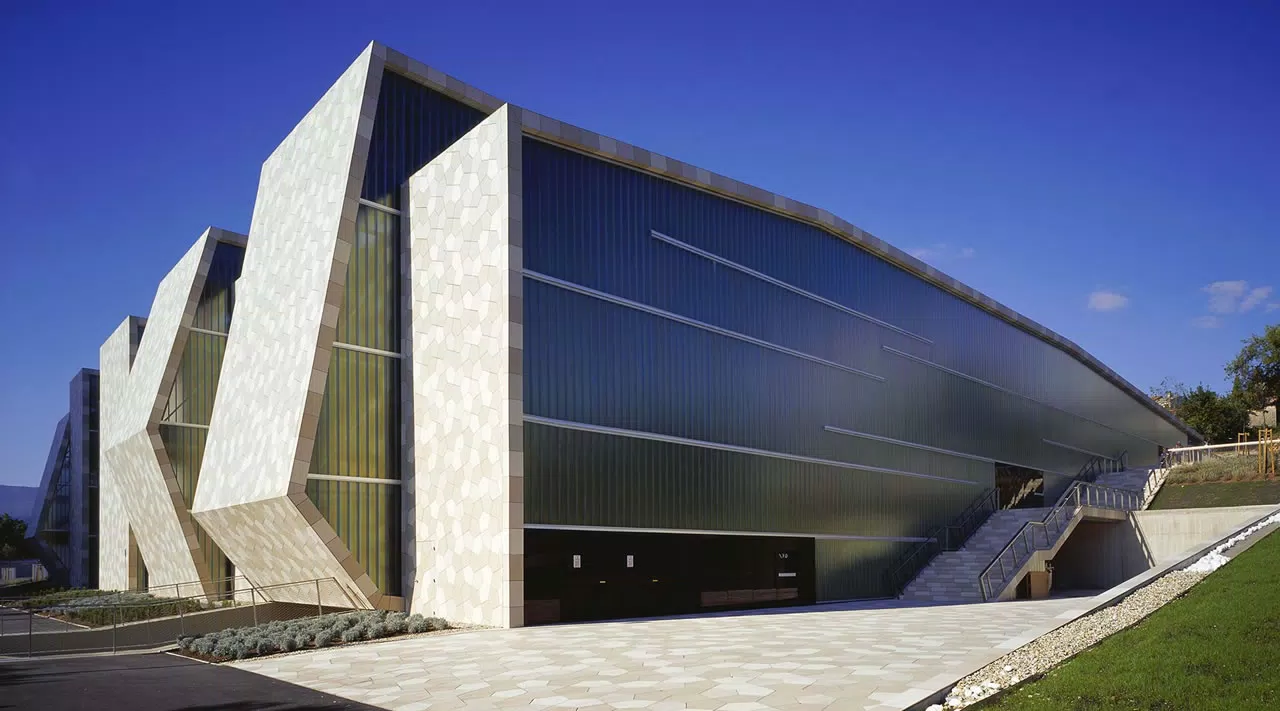 Zamet Centre: the facade was made in porcelain stoneware for exteriors to ensure that, in addition to functional performance, there would be excellent aesthetic integration with the urban neighbourhood – Rijeka (HR)
View project
3 – Contrasting uses
Internal/External: Visual Continuity
It has already been demonstrated that the most exceptional material for the design of outdoor and high traffic areas is the one that responds to high qualitative standards while offering a refined and highly variable aesthetic, capable of relating to both historical and more innovative contexts.
Porcelain stoneware for exteriors is a much used material because it can adapt to any type of outdoor environment: from surfaces in continuous contact with water, such as swimming pools and jacuzzis, to gardens, squares and vehicle routes. Its variable thicknesses and composition make it highly resistant to loads, chemical agents, smog and various climates, as well as ensuring high safety standards through its anti-slip properties. Not to mention the limited maintenance required over time.
Outdoor spaces do not mean just stone but wood and cement for example, materials that are not comparable to stone-based products in terms of performance. With porcelain tiles for exteriors it is, on the other hand, possible to combine aesthetics and performance in order to achieve the same texture as wood and the coolness of cement, but with superior characteristics compared to stone. A consistent flow between interiors and exteriors can also be achieved thanks to the choice of a single type of material, available in various finishes and treatments depending on your needs.
Night and Day
Every trafficked area faces some kind of dualism. On the one hand, daytime is characterised by the inevitable presence of natural light, whereas nighttime requires artificial light. Day and night therefore constitute two worlds lived by different users, depending on their work or routine. During the design phase it is essential to keep in mind that, by its very nature, this space is characterized by contrasts. At times, only a very few people pass through the area. On the other hand, at times such as rush hour, thousands of people will pass through it. The designer needs to be aware even of such matters as the unpredictable variation of atmospheric agents or the passage of heavy loads.
4 – High Performance Aesthetics
Durability and quality are therefore decisive characteristics when choosing materials. Outdoor design does not therefore just concern walking surfaces. Although being one of the principal features, the flooring material must relate to other aspects: illumination, the possibility for components through which utilities can be inspected, the presence of plants and greenery in general, the ability to also be used those with disabilities. The material (or materials) that defines the space must, in fact, give rise to a comfortable environment. Furthermore, all these aspects must be considered together with the material's ability to provide the type of aesthetic enhancement that recalls both tradition and modernity.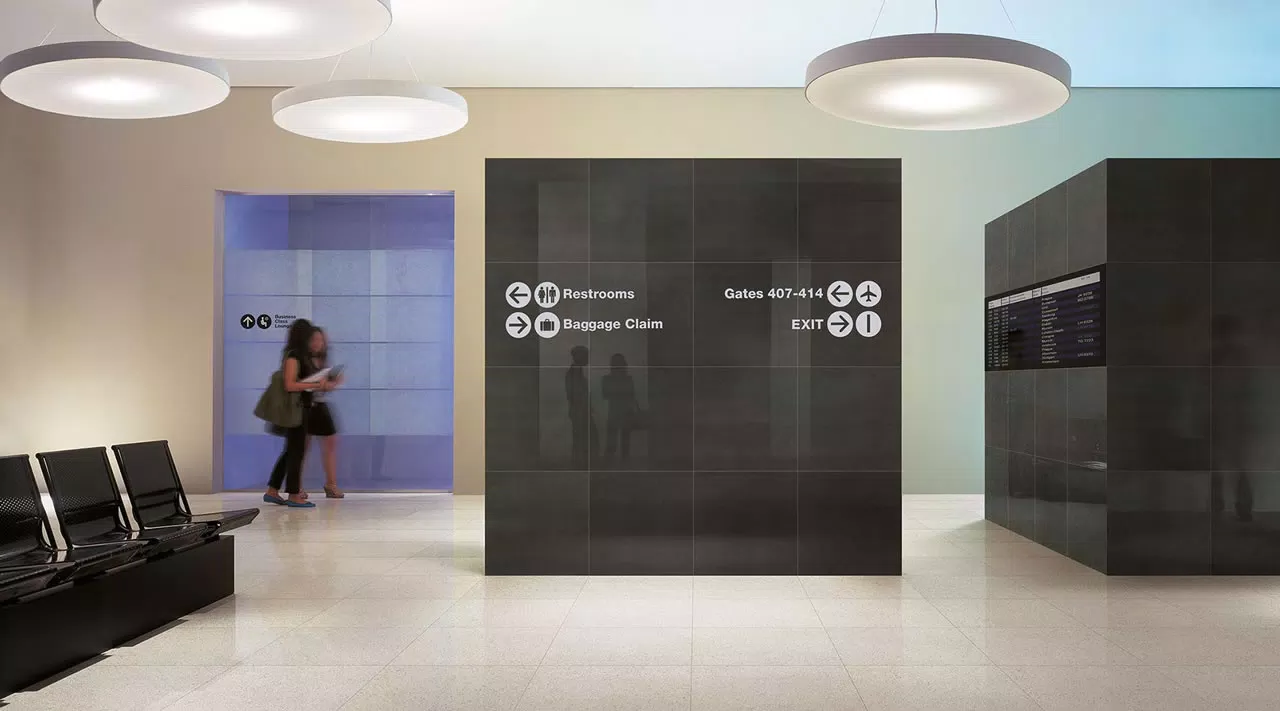 The use of porcelain stoneware as a floor and wall covering in one of the highest traffic level environments: the airport.
Click here to open the collection
The variety of materials offered by porcelain manufacturers meets many varied design needs. Restoration and conservation projects are an ideal context for the use of porcelain stoneware, as it is possible to restore the same traditional atmospheres and hues. By contrast, contemporary public spaces are a place where experimentation and avant-garde are common; the blend of different textures and patterns offers people a space that is in line with the most modern aesthetic tastes.
5 – Security
An important aspect to consider when designing public spaces is that of safety. Security is a fundamental and essential requirement that guarantees peace of mind to all those using the spaces themselves. Walking, working and, more generally, living in a safe environment should be everyone's right. To make that possible, the designer must take the utmost care in choosing materials that are to be part of the space.
Its technical characteristics make porcelain stoneware a particularly resistant product. This is due to its raw material being baked at very high temperatures. Stoneware is both a safe and a high-performance material. Indeed, porcelain stoneware surfaces for public spaces are made to meet specific design requirements, including that they be anti-slip.
To be classified as such, anti-slip porcelain tiles must meet precise safety features in accordance with the principal regulatory methods in use. There are varying degrees of slip resistance based on the diverse places the material will be used. Consequently, porcelain stoneware is also confirmed as a particularly suitable material for use in the design of high-traffic public spaces.
Request an appointment with one of our representatives