A focus on the sustainability of processes and products and the digitization of data: these are the factors that are leading architecture towards a new, promising, high-tech scenario.
"The next normal in construction" is the title of the 2020 report published by McKinsey & Company, which confirms that the crisis has accelerated the remodeling of the sector, as a shared set of clear paradigms are accepted across the board: circular economy, decarbonization, importance of people's health, digitization, the interdisciplinary approach, and services.
The study also confirms that the construction ecosystem, the world's biggest industry, represents 13% of global GNP, but that in the last two decades its productivity has only grown by 1% per year. Therefore, the production chain that leads from design to maintenance needs to tackle several new challenges: the integration of sustainability requirements; pressure on costs; a skills shortage; the use of new materials; fresh industrial approaches; digitization; and the entry of a new category of players who seem destined to transform the value chain.
Request an appointment with one of our representatives
A new paradigm shift
After years when the main considerations were environmental sustainability and digitization, today the focus is on Design For Manufacturing and Assembly, abbreviated to DFMA, which is catalyzing the attention of the construction sector and industry. It is leading to a higher degree of integration with design, with specific skills in digital transformation, also introduced into the Real Estate sector. Today, the digitization of buildings is reaching beyond Building Information Modelling (BIM) to embrace the "Digital Twin" concept. This is a virtual model of the building, which contains all its characteristics and assesses all its environmental and other behaviors throughout its lifecycle. Already used for large projects, this modelling technique is being more and more widely adopted.
The lifecyle sustainability of ceramics
Starting from the first driver of the future, sustainability, we can safely claim that the achievements of the ceramic surfaces industry have been outstanding. The sector embraced the strategies of the circular economy many years ago, economizing raw material and energy resources and prioritizing the recycling and reuse of scrap and waste material. Porcelain stoneware is a material with high thermal transmittance, one of the best possible options for underfloor heating systems; compared to other products, it retains very little heat, optimizing the heating system's energy use. For example, when large-size stoneware slabs are used for building envelope solutions, especially in ventilated systems, they boost energy performances, while providing a high degree of protection for substructures and excellent compositional flexibility.
Stoneware's versatility makes it ideal for installation both indoors and in outdoor spaces.
Porcelain stoneware does not absorb water and is immune to frost and other types of extreme weather; it does not burn or produce toxic or harmful gases or fumes in case of fire or exposure to flames.
Their outstanding resistance properties enable ceramic coverings to retain their visual appearance unchanged for many years. Top-quality porcelain stoneware is fired at temperatures over 1200 °C, and the ceramic pigments used derive from natural elements: this also guarantees the stability of surfaces and textures, which do not alter even if subjected to ultraviolet radiation.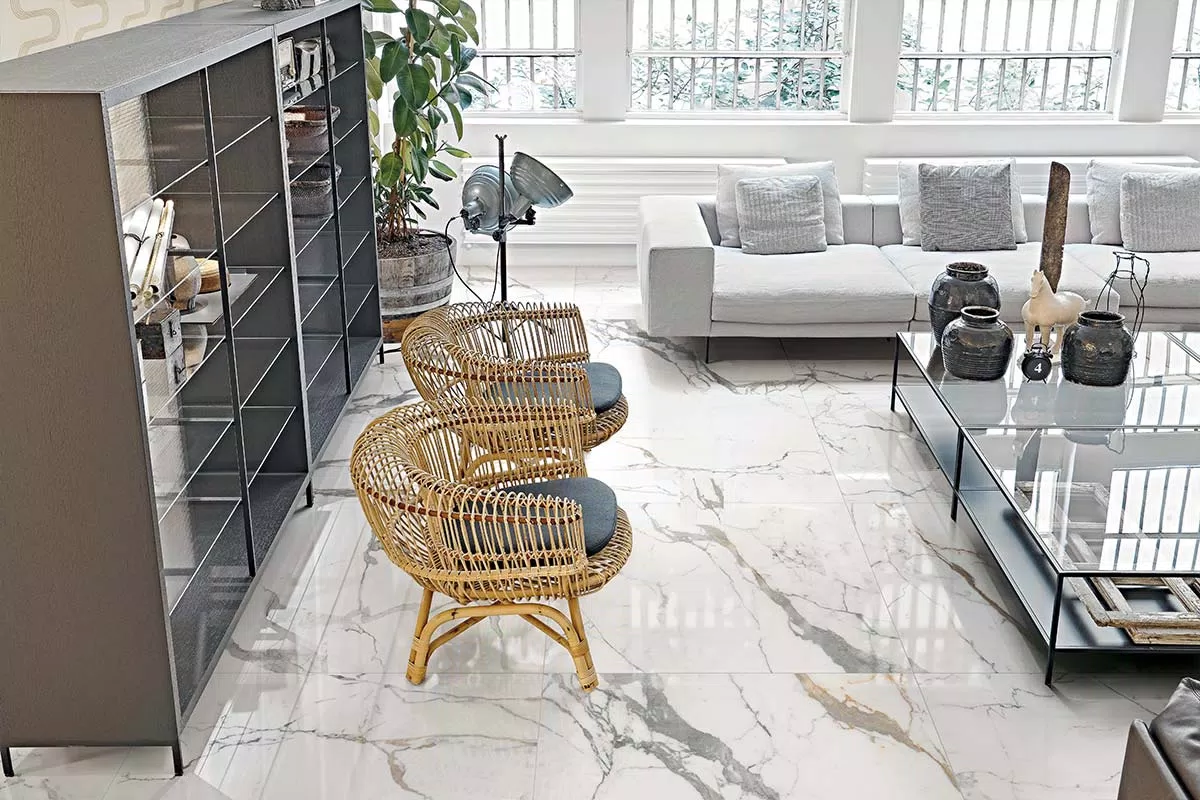 Les Origines de Rex
explore the collection
In view of this resistance, the material is unscathed by cleaning procedures, which in most cases only require a cloth wet with hot water and an ordinary detergent. Due to its specific production process, porcelain stoneware is impermeable to liquids of all kinds – oil, wine or coffee in the kitchen, or perfumes, nail lacquers and creams in the bathroom – and also withstands ammonia-based chemical cleaners, and the most intensive room sanitization cycles.
Stoneware coverings are amongst the healthiest building materials that can be used, since they are completely free from organic toxic substances, such as volatile organic compounds, (VOC), formaldehyde, PVC and other petroleum derivates. Its compact, non-porous, absolutely impermeable surface does not retain mites, bacteria, fungi or molds, often the cause of asthma and allergies.
Porcelain stoneware is one of the most environment-friendly options available for architectural surfaces. All phases of the production process are managed with respect for the environment, from raw material quarrying through to industrial production, which complies with the highest energy and water efficiency criteria, and disposal, since the material is completely recyclable and can be used as an aggregate.
For facade solutions, ceramics love BIM
Ceramics are also future-friendly with regard to digitization.
BIM (Building Information Modelling) is an integrated approach to building design that enables architects and professionals to produce a three-dimensional digital representation of the physical and functional characteristics of a given building. This procedure allows information of use in every phase of design to be integrated in a single 3D model, enabling advance assessment of all points generally considered later, such as choice of materials, cost analysis, and building operating factors.
The benefits are faster development of the design phase, better highlighting of incongruencies, remote work on the project by all those involved – architects, system designers, contractors and subcontractors – and real-time control of construction costs and times.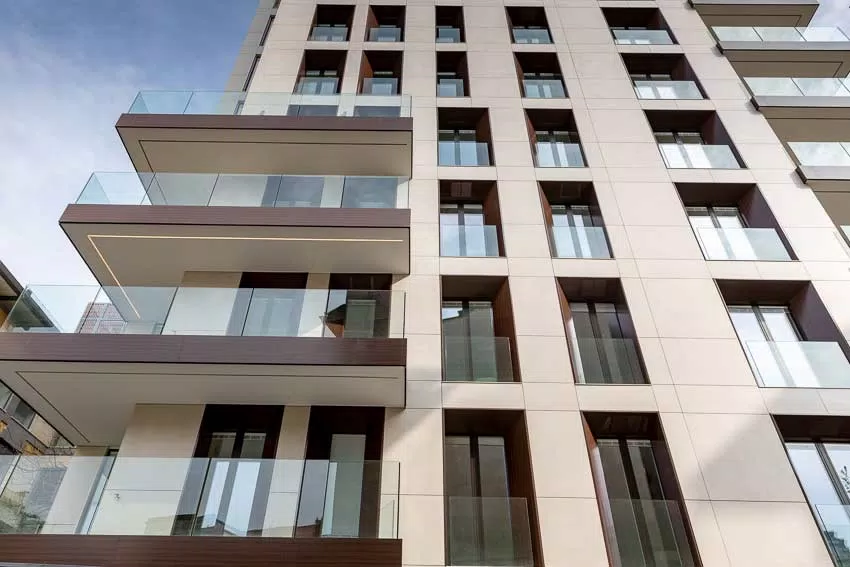 Ventilated facade – Porta Vigentina
view the project
BIM is bringing innovation to the building industry, on the one hand persuading suppliers in the sector that they need to adopt it to increase their competitiveness and be convincing partners for international customers and general contractors, and on the other giving architects and designers more decision-making power over the choice of materials and products, which they will select right from the initial stages of the project's creation. To support architects in making their choices, many companies are transforming their product catalogues into BIM product families, so that investors or architecture firms can immediately perform simulations with objects and finishes in their models, prior to their inclusion in the call for bids.
Therefore, Florim has developed the BIM objects of the main ventilated facade systems: S1 Magnum, S4/S4 Light and V2. A leading-edge, certified system that meets the needs of anyone wishing to upgrade existing building stock to restore its efficiency, or engaged on the construction of a new building which must comply with the highest efficiency parameters.

For further information https://www.florim.com/en/downloads/
Request an appointment with one of our representatives