Mies Van der Rohe, father of the most important works of the last century and of the motto "Less is more", would certainly be happy to know that the spatial continuity that he studied as part of his projects would be widely experimented with today. The visionary architect conceived and constructed his buildings as continuous and fluid spaces. The Barcelona Pavilion, one of his most famous projects, is organised as a continuous route between the interior and exterior spaces that communicate with each other. By not having any closed rooms, only juxtaposed walls, the materials he used emphasise this continuity.
Request an appointment with one of our representatives
Today, a comparable aesthetic can be achieved, a complete visual continuity with extremely high technical performance that drastically reduces the building's maintenance costs, simultaneously arriving at improved performance. Today, Mies Van der Rohe's vision is still a benchmark for contemporary architecture: on the one hand due to its conception of fluid and continuous space, and on the other for its skillful use of materials.
Inspired Technology
The most advanced technology on the market enables exceptional results to be achieved, particularly with porcelain tile. With digital decoration, the porcelain slabs become surfaces inspired by an array of materials, from the natural, such as marble and wood, to the industrial, like metals and cement. Working digitally, the research and development process can work on the imperfections of the materials it is inspired by. In addition to its extremely high aesthetic quality, technology enables never before seen sizes to be achieved.
The sizes reach up to 160 cm x 320 cm, enabling its use in wide spaces without interruption. Think of a hall in an hotel for example, where the quality of the materials must take the high flow of people into account, requiring faster and more efficient cleaning: the choice of a large slab, its performance and capabilities, as well as the reduced time required for maintenance, makes its the ideal choice. The combination of expressive capacity and technical and functional performance enables a perfect solution for designing continuous surfaces and broadening its use into other project contexts. Porcelain stoneware is a "ready-made" material, ready for use and installation and this leads to a significant reduction in site time. In relation to natural materials, it does not have to be sourced and it does not have the processing costs of stone, for example, making it the ideal choice for large scale construction operations.
Large porcelain slabs from Rêves collection
Click here to open the collection
Horizontal and Vertical: the Two Dimensions of Living
The specific characteristics of large format porcelain tile can be an advantage not just for flooring, but also for walls. Large format tiles allows there to be no horizontal grouting, resolving a single band into a single vertical composition. Porcelain slabs can be applied to any space in the home, enhancing both large walls and small spaces, making synergy and chromatic juxtaposition with the furniture possible and providing desirable and unique environments.
The bathroom is definitely one space in the home where large format tiles can fully express itself; just think of the continuity that can be achieved between the floor and the ceiling and with fittings such as the bath and shower. The interiors sector for bathrooms has looked for some time at a soft, minimalistic aesthetic that enhances the construction materials and furnishings: the bathroom is conceived as a small domestic spa. Needing to guarantee its use over time and its practicality for day to day use, architects are always looking for the most practical materials possible, without having to compromise on aesthetics. Large format tiles that reinterpret marble, stone and onyx offer the perfect balance between aesthetics and function.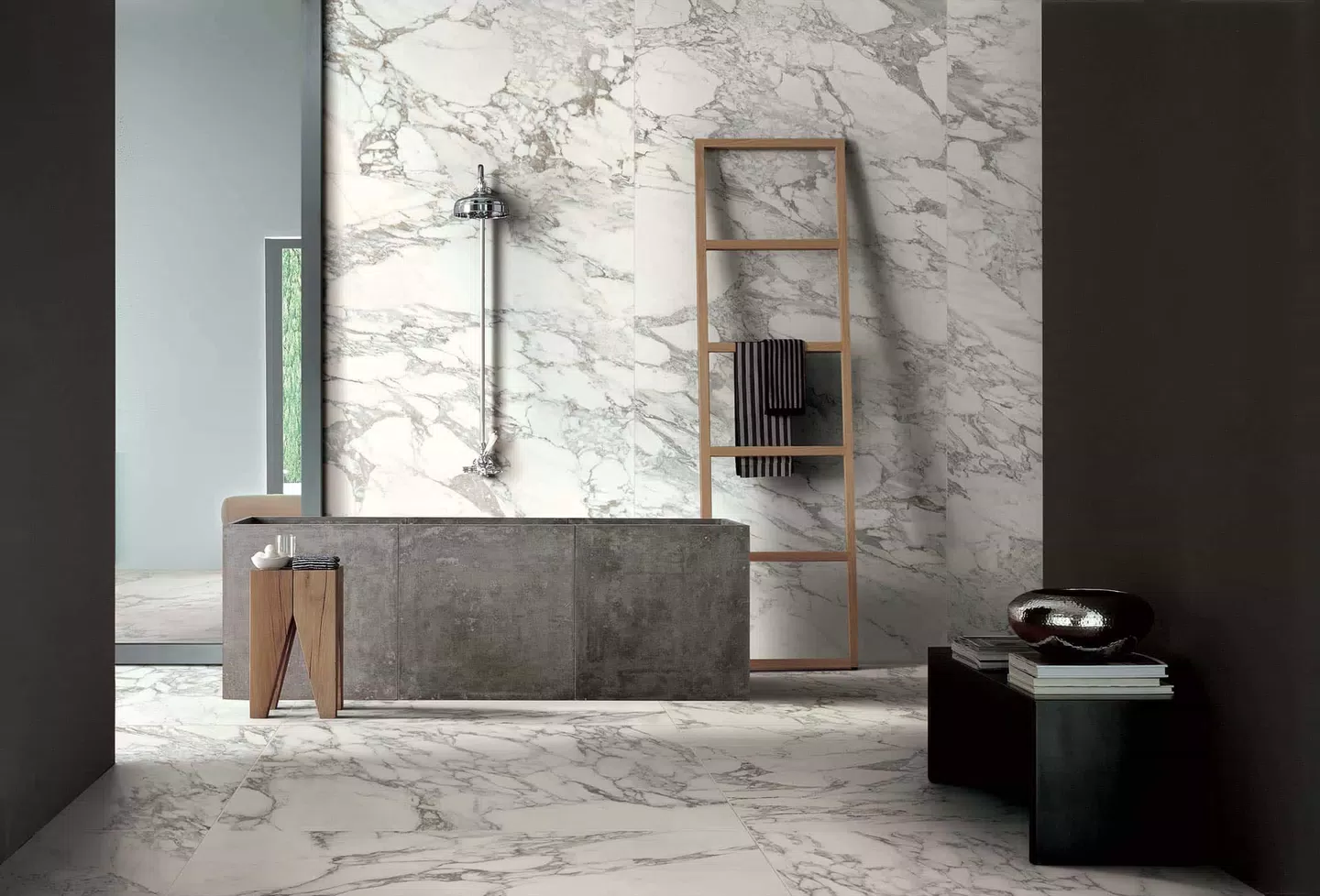 Elegant bathroom interpretation from the Stones & More 2.0 collection
Click here to open the collection
Another domestic environment for experimentation is the kitchen: here, medium and large format tiles can be unique pieces for covering peninsulas and kitchen countertops.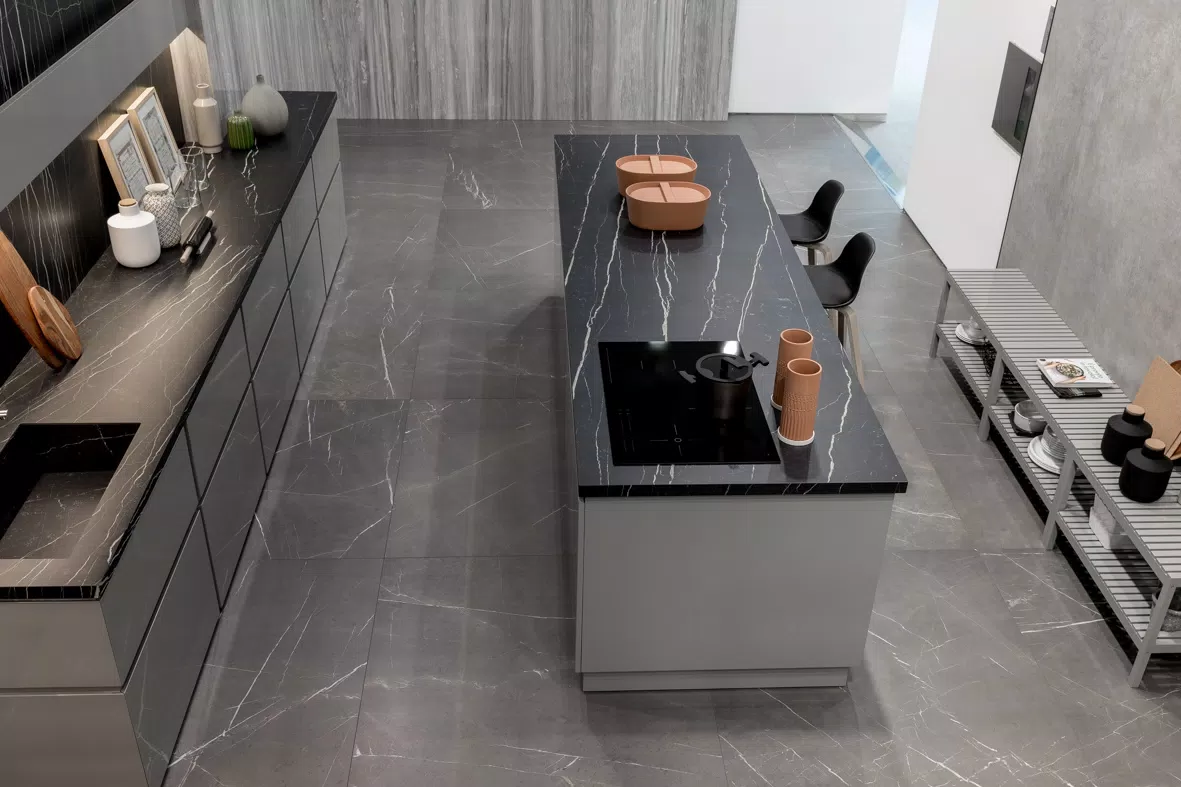 Kitchen top from the Marble collection by Florim stone
Click here to open the collection
S,M,L,XL
One of porcelain tile's values is its chameleonic range of uses. Large public and private spaces require different strengths and skills from the designer in comparison to interiors. The choice of flooring for a shopping centre certainly depends on the available sizes and a very large size slab can enhance spaces and reduce breaks and fragmentation. Porcelain stoneware is a material that can emerge from the building, forming a direct connection between interior and exterior, creating a fluid space. Ceramic's resistance to the outdoor environments is guaranteed and significantly greater than other materials.
Urban Aesthetic
Today, a building's design is a complex mechanism that must ensure compliance with performance and environmental standards on the one hand, and offer an image of urban quality on the other. For this scale of design large format tiles can be interesting in terms of having a continuous surface. Slabs are firmly anchored to a metal frame which supports the entire facade, allowing a high degree of insulation and which is extremely easy to maintain. The ease of installation for the facade systems greatly reduces the possibility for error, easily visible on a cladding layer.
Large format tiles are, therefore, a choice that can respond to all scales of project and of offer the ideal solution for the requirements of contemporary living, which is always in search of high performance combined with a design aesthetic.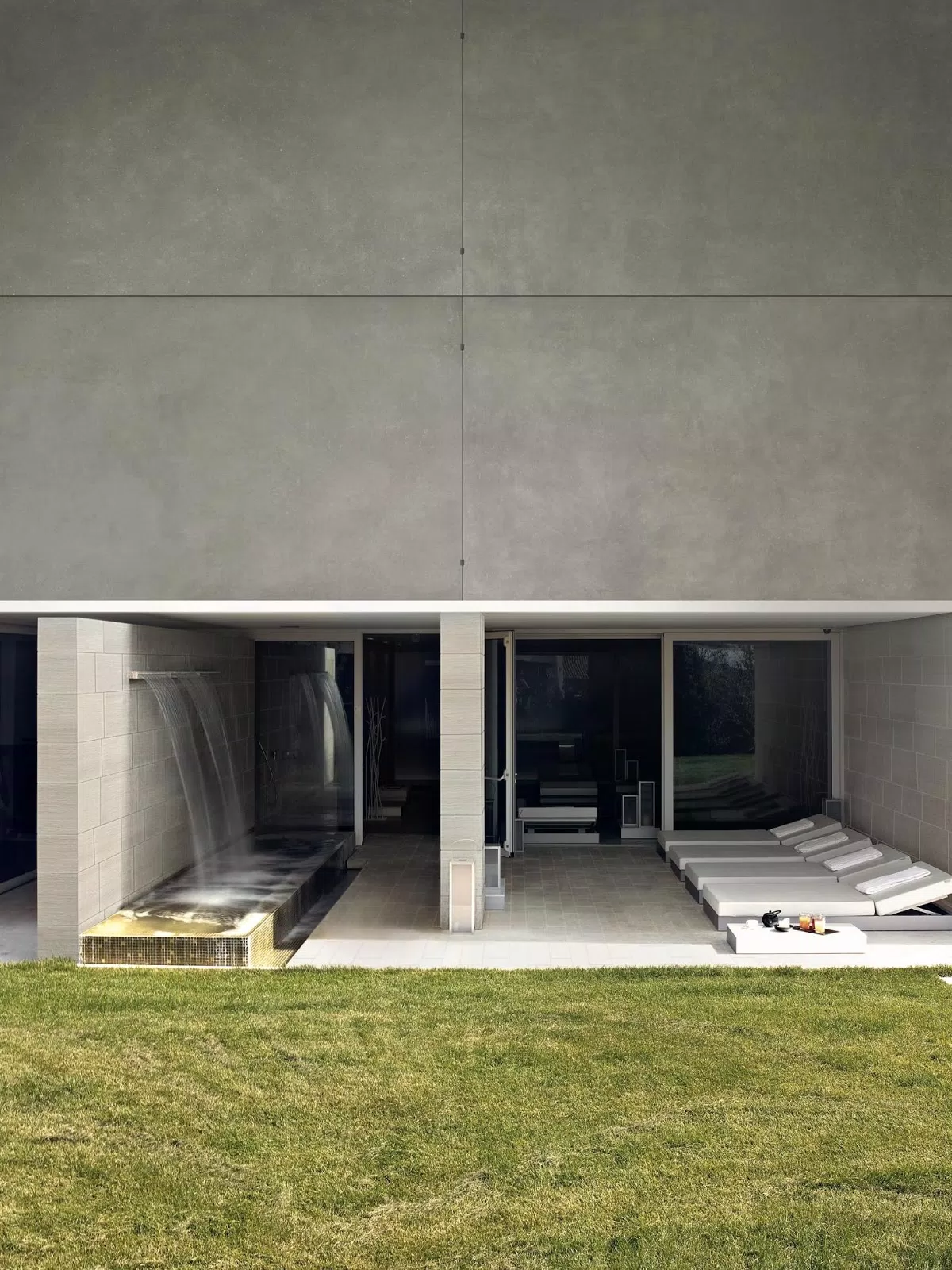 Large format tiles from the Industrial collection applied to facade
Click here to open the collection
Request an appointment with one of our representatives