With the growth of the internet, physical retail spaces have for many years, come under various attacks. If, at the outset, online shops were presented as medium/low end, today almost all luxury brands have platforms that enable online shopping, thereby duplicating the sales space and subverting the client/vendor relationship. The power of the web has enhanced the value of the physical sales space which, for many brands, is the cathedral where the client can come into contact with the product, being welcomed into an environment designed to the smallest detail.
Request an appointment with one of our representatives
Experimental design has offered new solutions capable of making the store a place of communication and nothing more, a tangible carrier of the brand's values and style. The purchase of a product is not, in fact, closely linked to a visit to the store: it can be made online at a later time. If the retail space is well designed, the client will return home with a feeling, and this is important at the purchasing stage.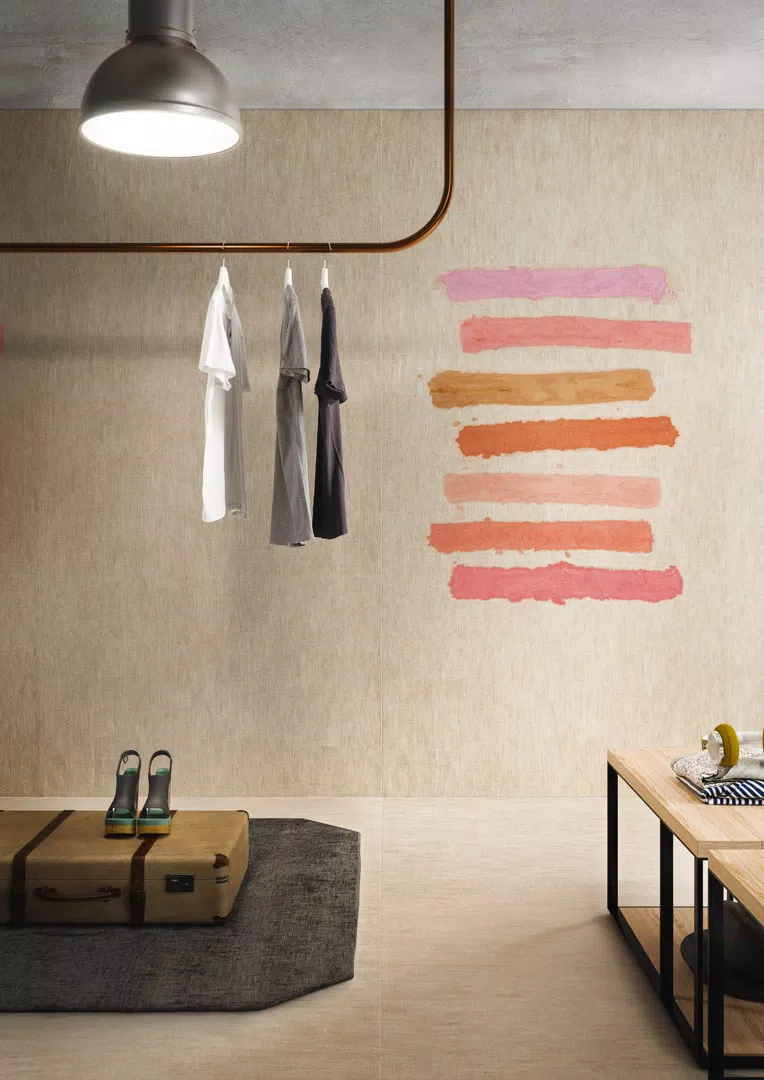 Porcelain stoneware floors and walls from the Euridice collection by Giorgio Griffa, CEDIT – Ceramiche d'Italia
Click here to open the collection
The luxury retail sector, more than any other, has greater tools for innovation and daring, both in terms of the material used and for technological innovation. In spite of the forces used to construct high-end concept stores, after a few years of use many luxury sales spaces undergo redevelopment and restructuring, in step with the changes in online communication in order to tantalise the client with something new. For these reasons, businesses in the sector prefer not to use unwieldy materials, asking designers to identify equivalent solutions from the aesthetic point of view, but which offer higher performance. For many years, porcelain stoneware has played a role in luxury retail as it provides high aesthetic quality in addition to offering extreme practicality and flexibility. The possibility of using it with overlapping loose-lay systems is an extremely important characteristic, since it can provide a highly flexible space.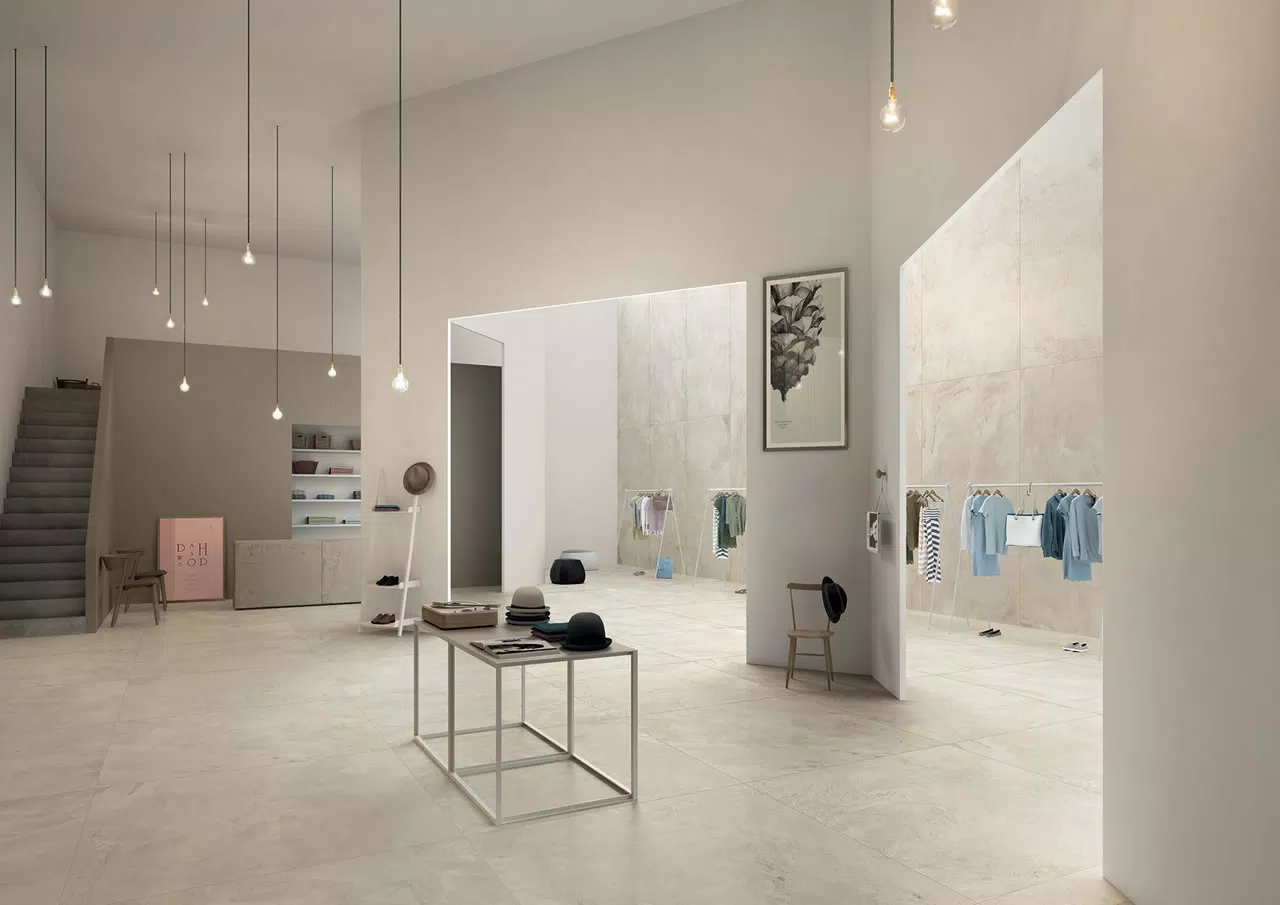 Porcelain stoneware floors and walls from the Styletech collection/ by Floor Gres
Click here to open the collection
Expressive Materials for Spatial Quality
Research into quality materials for the luxury sector is a very important aspect for architects. On the assumption that you are designing a store for a prestigious clothes brand, the valuable fabrics of the tailored clothes and the fine leather goods need to be displayed at height in an environment that can enhance and emphasise them. Architects are increasingly suggesting porcelain tiles to their clients as a perfect combination of aesthetics and function. The positioning of a luxury brand marries extremely well with a material capable of adding value to the shopping experience.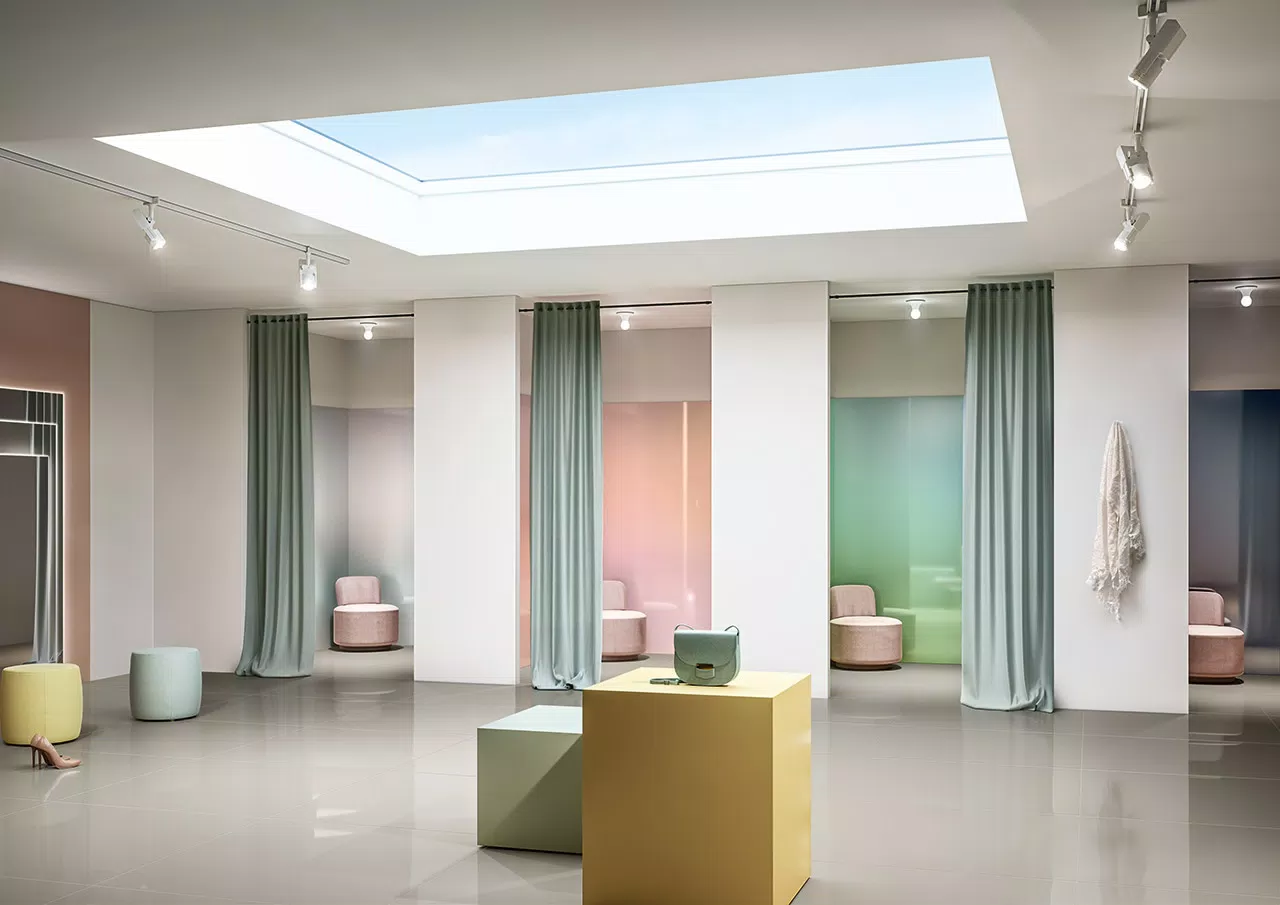 Porcelain stoneware floors and walls from Cromatica collection by Formafantasma, CEDIT – Ceramiche d'Italia
Click here to open the collection
Elegance and Cleanliness
Two of the greatest qualities of porcelain stoneware concern aesthetics, on the one hand, and its physical characteristics on the other.
Digital decoration techniques together with careful graphic design have reached a very high level and many materials such as marble and wood can be perfectly translated onto a slab.
Research into production process has advanced to such a point that very large slabs measuring up to 160×320 cm are available.
Porcelain stoneware floors and walls from Matrice collection by BRH+, CEDIT – Ceramiche d'Italia
Click here to open the collection
A luxury commercial space needs to be constantly impeccable, unalterable and easy to maintain: marble and wood are certainly good materials, but cannot remain as such over time due to their nature, as they are subject to wear, absorption and alterability. As an alternative, porcelain stoneware can cover a luxury space and remain identical from the grand opening onwards, providing quality aesthetics, ensuring great endurance in addition to being easy to maintain.
Materials, Colours and Light: Special Affinity
The architect designing a luxury retail space is like an alchemist who, thanks to a range of special ingredients – materials, furnishings, light and space can, through an intelligent design concept, bring to life an architectural project that will be the central setting for its content. Combining different materials in fact allows similarities to be constructed both as a result of different textures and from the point of view of the materials.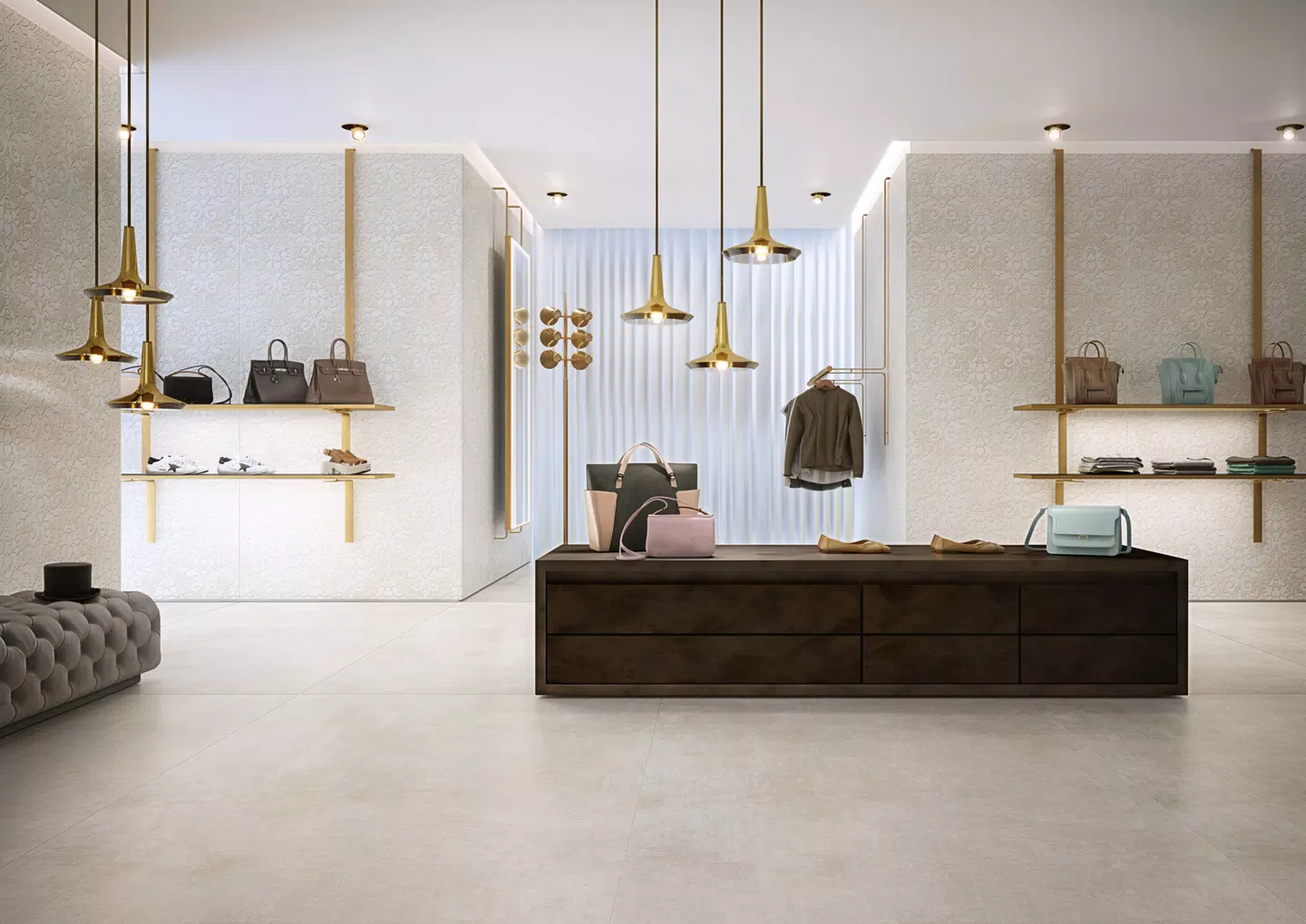 Porcelain stoneware floors and walls from Tesori collection by Matteo Nunziati, CEDIT – Ceramiche d'Italia
Click here to open the collection
The atmosphere of a discreet and cosy showroom could, for example, be achieved by combining porcelain tiles inspired by a warm wood or by earth-coloured stone, possibly inserting contrasts by using porcelain stoneware that interprets strips of burnished metal. Space for creativity!
Request an appointment with one of our representatives