When surface patterns do not match a building's structure, they are often perceived as a disturbance or distraction.
Designers are well aware of this, and appreciate the continuity of lines and simple shapes that ventilated facades are now able to provide, together with high efficiency standards which deliver impressive savings in buildings' operation.
Upgrading building envelopes is the most effective way
The energy improvement of buildings generates immediate benefits such as lower environmental impact, greater productivity, a higher property value, a longer building lifecycle, and lower energy consumption, which also means less exposure to changes in energy prices. Long-term benefits include a longer building lifetime, energy savings and lower operating and maintenance costs.
Request an appointment with one of our representatives
A building's system can be modified through refurbishment works or as part of scheduled maintenance to minimize the costs of the property asset, with actions on these aspects:
improvement of the performance of the building's envelope (insulation, doors and windows, screening etc.) and dispersive structures;
replacement of obsolete system components (HVAC, lighting, etc.) with more efficient models with lower environmental impact in terms of emissions;
changes to energy supply contracts;
use of renewable electricity and thermal energy;
correct management of natural lighting and ventilation as well as passive cooling, to limit the use of HVAC systems and artificial lighting;
introduction of systems which modulate and control the building's electrical loads and consumption, and estimate environmental impact;
optimization of the management and use of water resources (drinking, rain and waste-water).
Upgrading of the building's envelope is often the most effective action and makes a major difference to efficiency values and savings in the operation of a building.
Multi-material solutions for surprising effects
In facade solutions, ceramics are able to work in synergy with the many architectural materials (high-performance plasterwork, metals, recomposed and artificial stones, etc.) to create combinations in line with the trends required by the international public while ensuring the performances envelopes are required to guarantee in terms good building energy balances.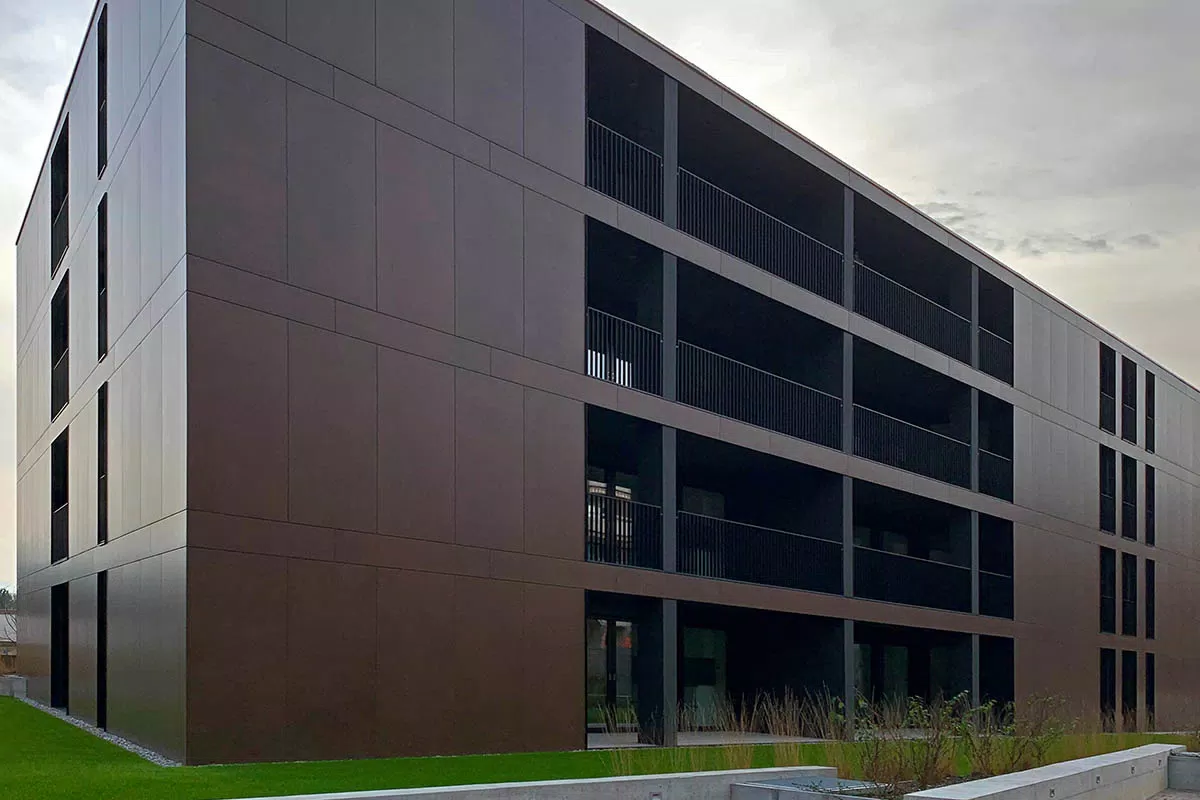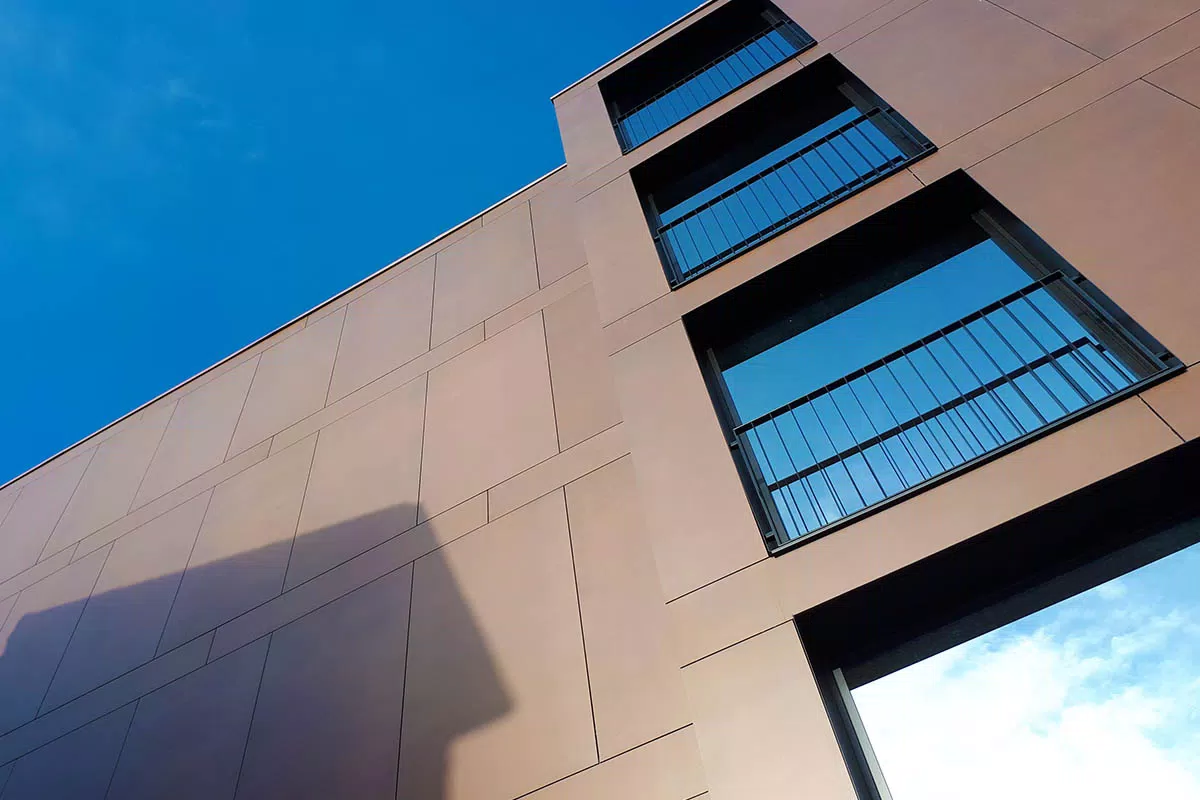 Agno Facade – Lugano, CH
view the project
From insulated metal surfaces to vertical gardens, from the new generation of concretes to new paints, from treated to composite timber, through to ceramics. It all depends not only on the results required but also on the substrate, which may be all-important when it comes to "facade renovation". For both new builds and refurbishments, the building's finishing process is always carefully designed, considering a large number of parameters, starting from the context within which the building stands.
In fact, the materials used for a facade must guarantee construction flexibility, durability, resistance to UV radiation and rain, fire and frost, easy maintenance, repairability and reliable structural performances.
The flexibility of the material and the installation system will be particularly important when constructing facades with unusual geometrical forms, a common practice, also in scattered architecture.
Mono-material identity and versatility
Technological innovation and architectural design are increasingly working in harmony, and a building's envelope is one of the points where they come together. A cladding must protect and contain, but also express a strong design and construction identity.
Materials such as concrete, steel, ceramics and glass have helped to transform contemporary facades, which often opt for a single-material surface effect.
Tubettificio Pedercini – IT
view the project
One of the current construction trends links a growth in the physical size of cladding systems, with the development of larger and larger and slimmer and slimmer materials and components. And ceramic ventilated walls confirm this tendency.
Porcelain stoneware slabs are often chosen as cladding for ventilated facades because they are lighter than natural stones, more resistant and easy to maintain and clean. In terms of appearance, stoneware can also be used to customize fronts and projecting features (balconies, porches, canopy roofs, etc.) in widely varying ways, thanks to a large selection of colors, the different types of material inspirations – including wood, marble, stone, concrete, metal and fabric-look surfaces – and the large range of sizes available on the market.
The benefits of a ventilated ceramic cladding
The term "ventilated facade" refers to an innovative method for constructing the building's envelope. The system consists of an external cladding made up of discontinuous elements mounted on the wall of the building by mechanical or chemical-physical means. A ventilated facade includes a cavity between the external cladding and the wall large enough to accommodate an insulating "jacket" while also enabling a level of natural air circulation which will depend on climate and design data. In new builds but also in the restoration and refurbishment of the existing building stock, a ventilated facade with porcelain stoneware slabs is a solution which guarantees a number of factors of vital importance for the durability and sustainability of the buildings we live in, whether public or private:
it protects the masonry structure;
it provides energy saving;
it eliminates cold bridges;
it eliminates surface condensate;
it enables very striking architectural effects;
it maintains its appearance and technical characteristics over time.
Multiple solutions for every intended use
For construction works on any scale, the reduction of energy costs and the materials' durability, as well as their easy care procedures, are essential factors in determining the project's profitability. Being able to count on a certified "turnkey" solution like Florim Solution ventilated facades greatly simplifies the design and construction process and speeds it up while guaranteeing the results. A qualified staff accompany design firms and general constructors in all phases of projects' development, to decide the best solutions, suited to the architectural form, on a case by case basis.
Terraced homes at Palazzolo sull'Oglio
Simple, clean lines inspired by Nordic architecture clad the facade of this residential complex at Palazzolo sull'Oglio, near Brescia. The 20×120 centimeter listel tiles embrace the building's first floor and add harmony and variety to the entire complex, with a more industrial flavor. What's more, the facade's attractive appearance goes hand in hand with the impressive technical performances of the Florim ventilated facade system, which ensures unbeatable convenience and ease of maintenance.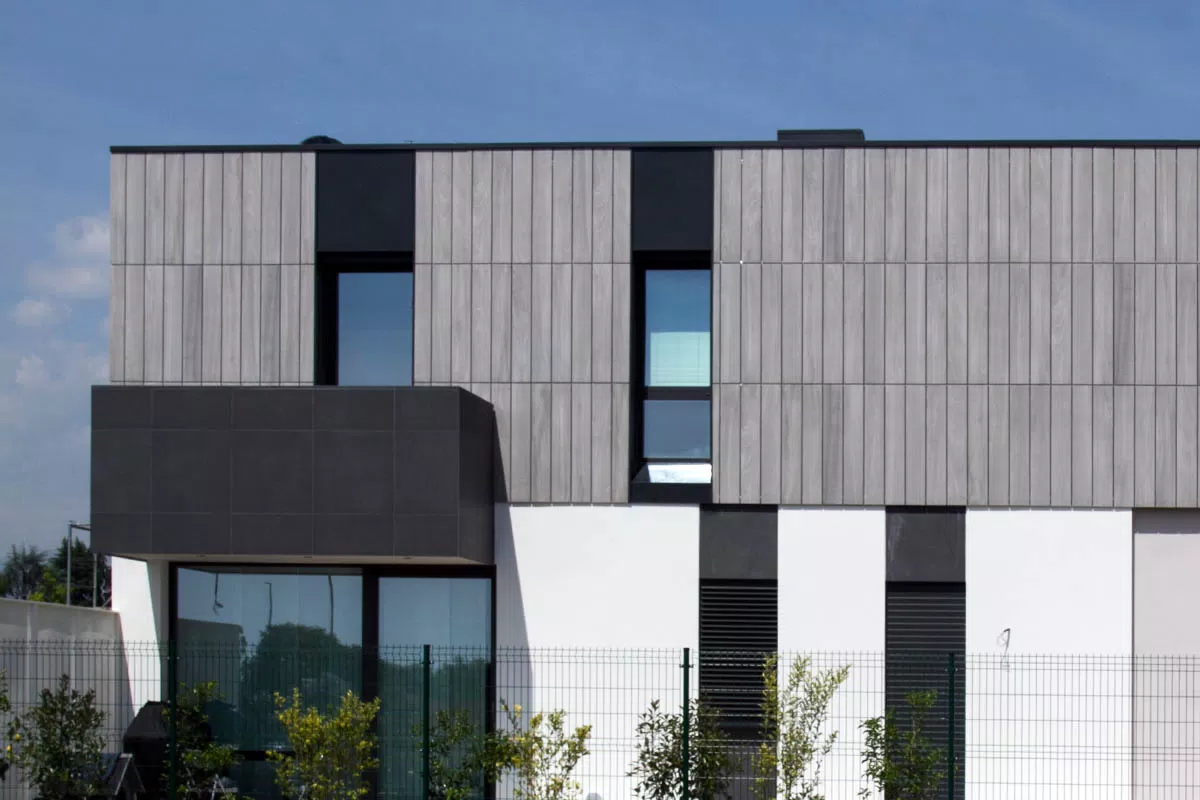 Residential complex with ventilated facade – IT
view the project
The ZIP residential complex at Vienna
The original ZIP complex derives its name from the fact that its external cladding, with its projecting shapes covered with porcelain stoneware, not only protects the walls thanks to the technical characteristics of this Florim Solutions system but also rather resembles a zip fastener.
The buildings, in the Brigittenau district of Vienna, house a community center, different types of apartments, a leisure area and a rooftop garden. The structural interlocking of the ceramic slab-clad walls, combined with innovative use of volumes, the various functional areas and the materials used, all make this a people-friendly building.
The ceramic slab ventilated facade provides an excellent external cladding, achieved through careful design of the layers of the building envelope.
Complesso Zip – AT
view the project
School buildings are the spaces expected to undergo the most change in the coming years. Teaching methods are evolving, so buildings must evolve with them, not to mention the need for larger, more flexible spaces. So whether it is a retrofit of an existing building, a new build or an expansion, an efficient, certified cladding solution can be a choice that gives architects great freedom of expression but also guarantees construction times and costs for the public authority making the investment.
A school for Broni
The ventilated facade of the school at Broni, constructed in porcelain stoneware, gives the building excellent resistance performances over time while ensuring indoor thermal comfort.
The two different sizes (40×180 cm and 26.5×180 cm) were installed vertically and mounted using the Florim S3 concealed system. On the one hand, this facade system provides an impressive, high-impact appearance, while on the other it enables the building to be clad with complete safety, considerably reducing its maintenance and heating costs.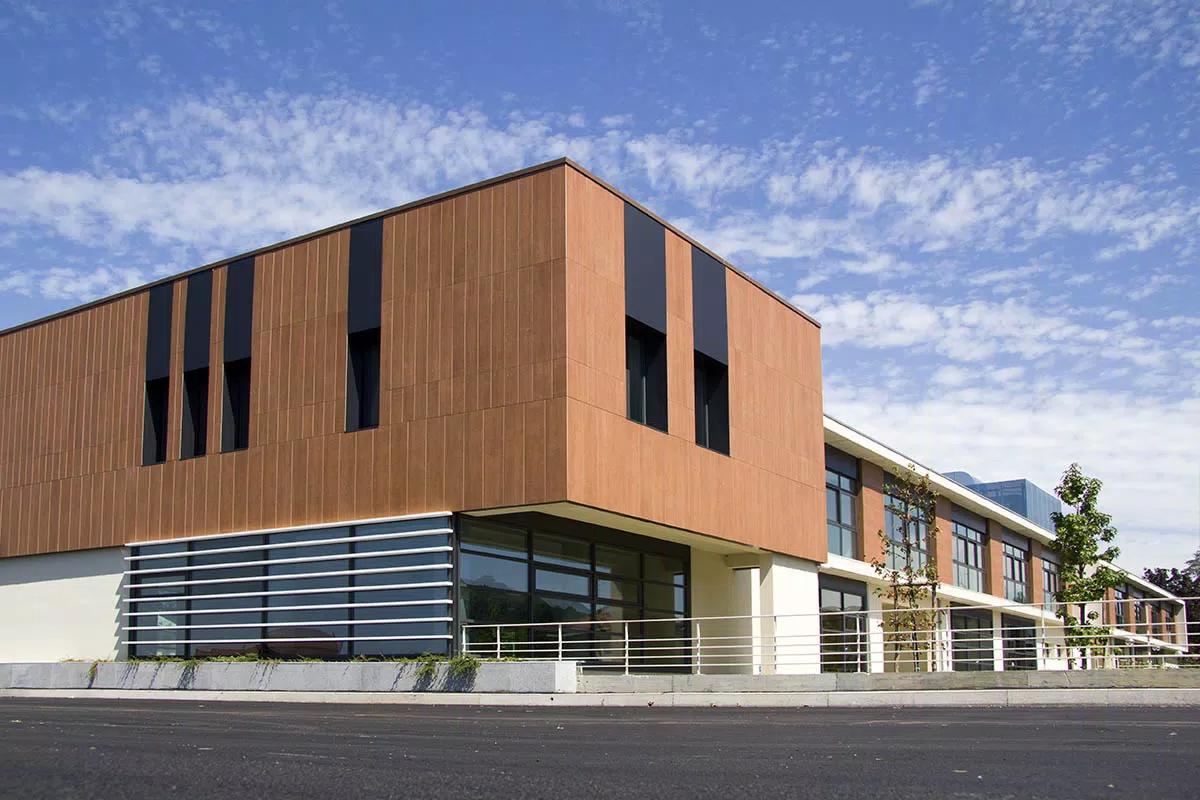 Broni School – IT
view the project
Gli spazi per uffici saranno quelli che nei prossimi anni subiranno maggiori modificazioni. Si sta lavorando ad una più elevata flessibilità delle planimetrie, all'inclusione – nelle torri per il terziario – di funzioni ancillari (retail, sport, ristorazione ecc.) che ne rendano l'utilizzo più versatile e per un pubblico più ampio. Un fattore di successo per il posizionamento di questi spazi sul mercato è il loro corretto costo energetico e di facility, che deriva dalle scelte costruttive operate in fase di retrofit dell'immobile, anche sui sistemi di facciata.
Business Tower at Porta Vigentina
In the exclusive context of Corso Porta Vigentina, this modern tower is the outcome of a project which used natural and recyclable materials with low environmental impact. The single tower was entirely clad with a ventilated facade created using Magnum Oversize large slabs, a choice that combines an attractive appearance with excellent technical performances.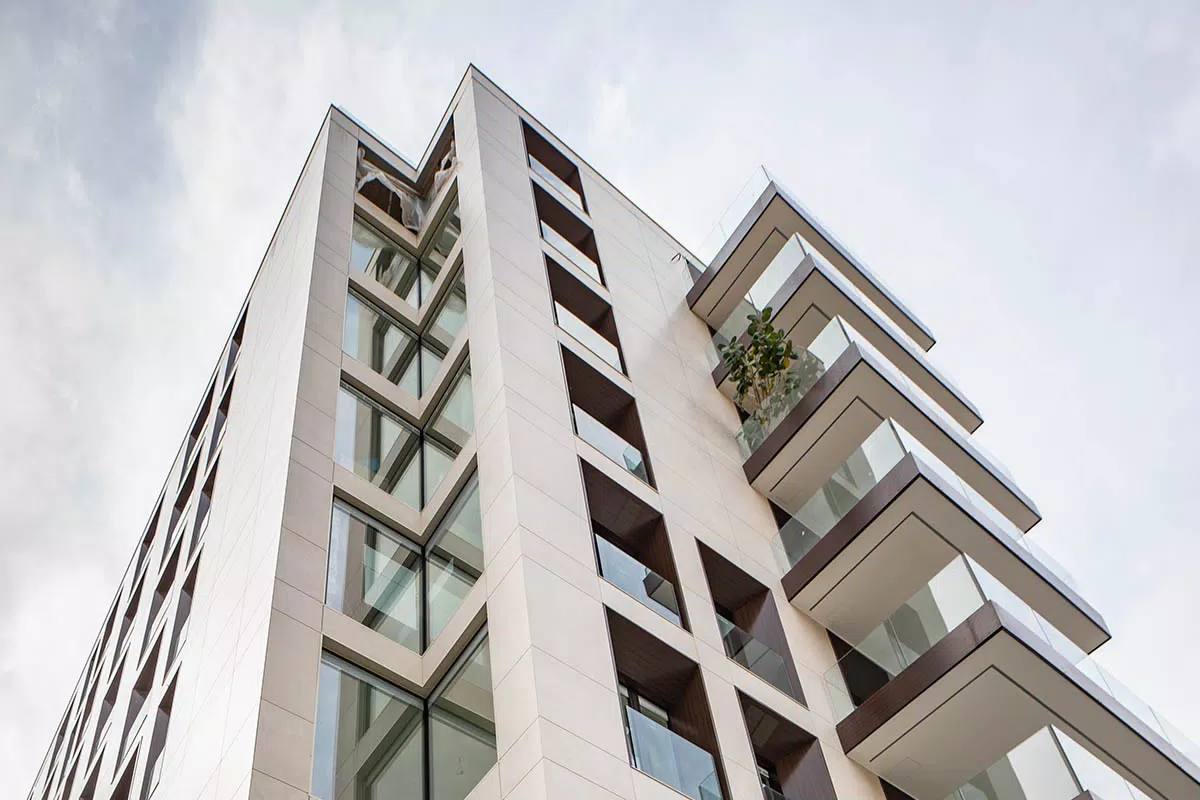 Porta Vigentina Tower- IT
view the project
For businesses, it is becoming more and more important to reduce the operating costs of their buildings, as they are having to meet higher and higher costs in other areas and want to invest in research and development of their products and services, the real driver of competitiveness on the domestic and international markets. Being able to renovate their office buildings and production plants is a unique opportunity to make major savings, generated by the technical solutions adopted during the design phase.
A new research location for Datalogic
The large Magnum Oversize 80×240 centimeter size clads this impressive ventilated facade of the research center of Datalogic, one of the top producers of digital scanners for manufacturing, logistics, transport and retail chains. The building alternates large glass walls with Industrial collection porcelain stoneware surfaces, giving variety to the entire architectural complex. The product chosen combines unbeatable technical performances with a beautiful concrete-inspired appearance, for a look of immaculate solidity.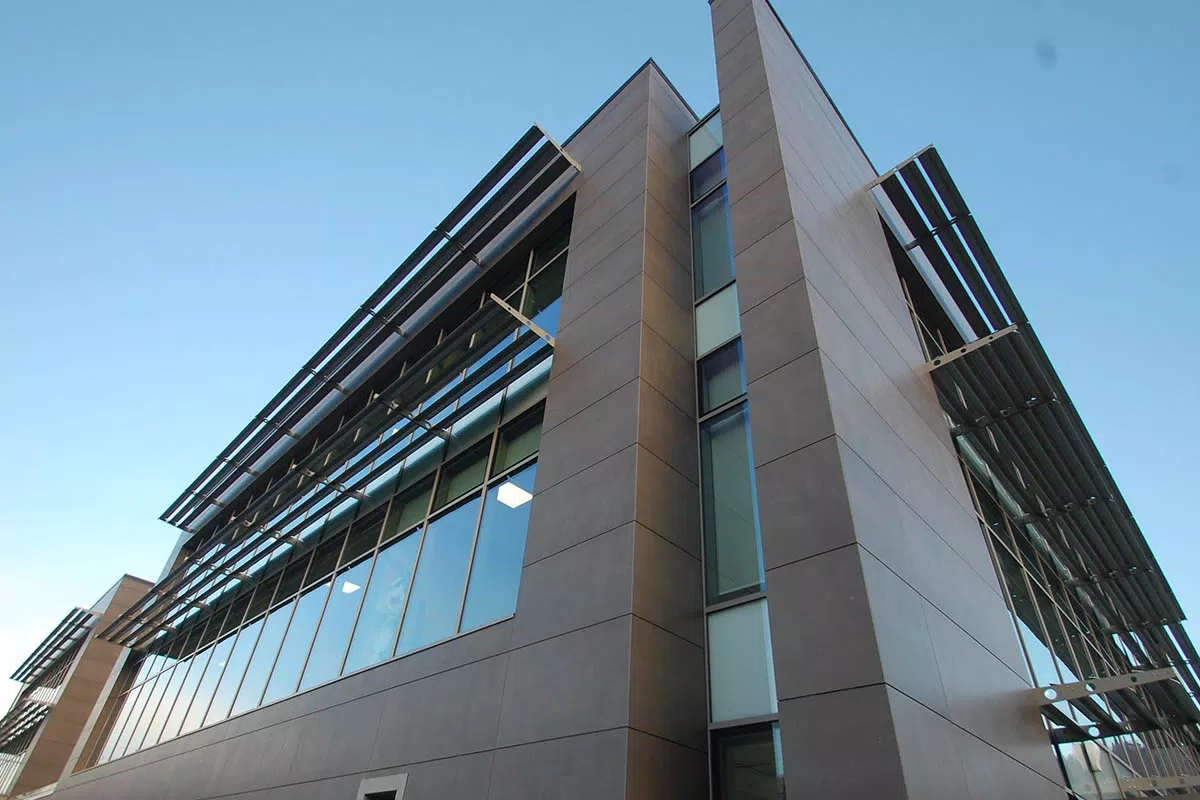 Sede Datalogic – IT
view the project
Request an appointment with one of our representatives