Buildings are the single units of a much more complex, higher-performing system: the city. 
Sustainable development means ensuring that all the elements that make up the urban system, from energy to transport and from buildings to services, work in synergy. And while technologies support development with ever-lower environmental impact, the concept of the smart city is changing.
Climate change and global warning are imposing a paradigm shift in the exploitation of resources and in more efficient management: energy, including its production, distribution and use, is an integral part of this vision. Hence the need for a smart energy system, including multiple sectors: electricity, HVAC, industry, building and transport.
Smart, integrated networks
A smart energy system is a system that is cost-efficient, sustainable and safe, in which energy production, infrastructure and renewable energy use are integrated and coordinated by means of energy services, active users and enabling technologies. Smart energy systems include not only smart grids but also smart buildings, meaning nearly zero energy buildings (nZEB), with a technological heart that both provides optimal energy management and increases residents' awareness.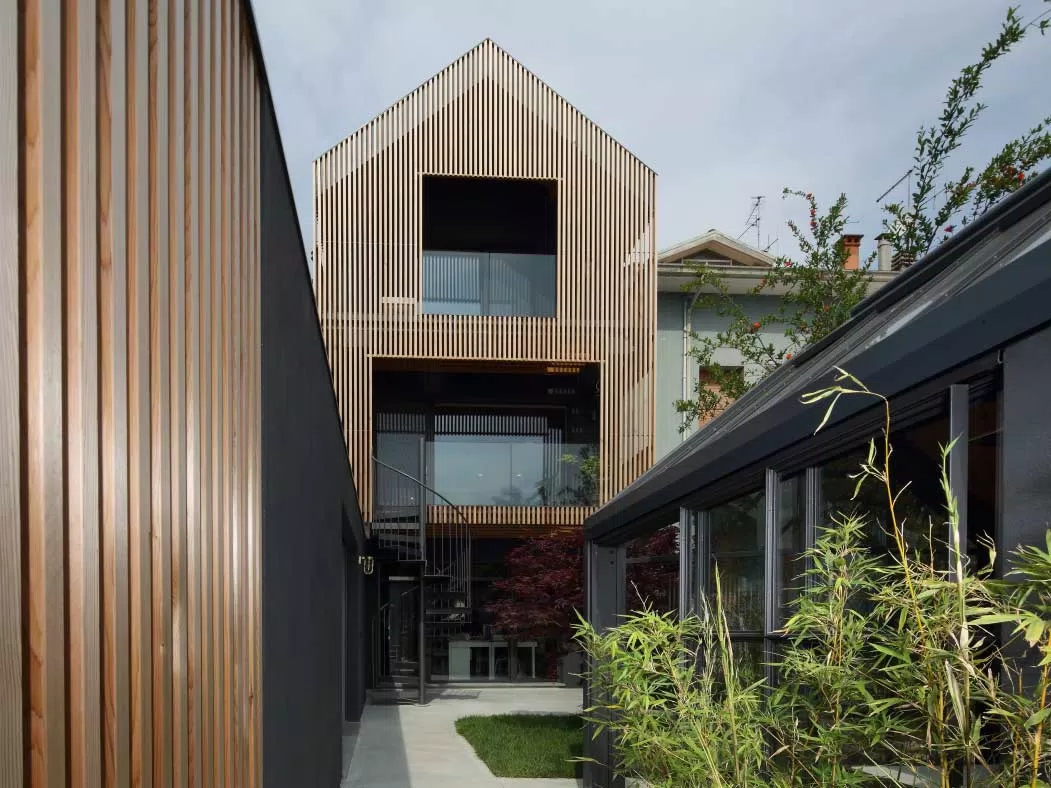 Passive House Cesena
view the project
Transport systems, especially those related to e-mobility, are strategic within this evolution, and will be transformed from mere carriers to energy storage centers, able to accumulate and exchange energy on the spot. All this will be possible thanks to digital technologies, which will make all the world's energy systems more connected, smart, efficient, reliable and sustainable.
Towards a rapid digital transformation
Speeding up the digitization of networks means not only the availability of large energy production systems but also increasing the importance and role of small producers: in the electricity sector in particular, digitization is enabling a smart response to demand, incorporating renewable energy sources with varying output levels, and enabling the introduction of new infrastructures, such as those for the smart charging of electric vehicles.
Vehicle to grid, meaning the use of electric cars to store energy and return it to the grid to stabilize it and avoid overloads, is already reality. Smart grids can thus automatically monitor energy flows and adapt to changes in energy demand and supply flexibly and in real time.
Request an appointment with one of our representatives
From consumers to energy communities
EU directive 2019/944 on common rules for the internal market for electricity specifically refers to the need for Member States to encourage the modernization of distribution networks, through the introduction of smart grids, "built in a way that encourages decentralized generation and energy efficiency".
It also specifically refers to the need to develop energy communities which, thanks to distributed energy technologies and consumer empowerment, "have become an effective and cost-efficient way to meet citizens' needs and expectations regarding energy sources, services and local participation." Communitive energy is an "inclusive option for all consumers to have a direct stake in producing, consuming or sharing energy."
The role of smart buildings
Buildings will play a fundamental role in this revolutionary energy production and distribution process.
European Commission Directive 2018/844 itself points this out, stating that:
"In order to digitalize the building sector, the Union's connectivity targets and ambitions for the deployment of high-capacity communication networks are important for smart homes and well-connected communities.
Targeted incentives should be provided to promote smart-ready systems and digital solutions in the built environment. This offers new opportunities for energy savings, by providing consumers with more accurate information about their consumption patterns, and by enabling the system operator to manage the grid more effectively."
Smart buildings will be able to monitor real energy needs and thus optimize energy use. This means we will be able to count not only on green energy, but also on a high degree of energy efficiency. The virtuous process enabled by smart energy will give us nZEB, buildings which require almost no energy, and energy sustainability in broader terms.
The four factors that can be considered as the key components of a Smart Building:
• Building devices and solutions: the systems and technologies installed in the building, including those for energy generation and efficiency and for the safety&security of occupants;
• Automation technology: the data-collecting sensors connected to the systems and the actuators that give the systems the instructions emitted by the control and management platform;
• Control and management platform: the software that collects, processes and analyses the data acquired by the sensors installed on the building's systems;
• Connectivity: the set of wired or wireless communication protocols by which sensors, actuators and the control and management platform communicate.
Finally, the fifth fundamental factor is the human component, meaning the people who invest in, manage and enjoy the benefits and services provided by a Smart Building.
Smart City, from tech networks to the wellbeing of residents
After confirming the huge importance of energy networks, and of a high-tech building system which will become a more and more integrated part of them, we must remember that a city is not really Smart unless it provides wellbeing to its residents. Here it is worth mentioning the "La Ville du quart d'heure" project, launched by the Mayor of Paris Anne Hidalgo, which sets the reduction of distances between homes and offices, schools, supermarkets and public parks as one of the goals of the new smart city. The city of Milan has also adopted this proposal in its "Milano 2020" strategy document.
To create "the quarter of an hour city", we need to bring into being an integrated urban fabric, in which shops are intermingled with homes, bars with health centers, and schools with office buildings. Today we need to rebuild the links between identities and functions with projects that stimulate community life and local shops (such as Barcelona's superblocks), which encourage social cohesion and generate economic opportunities in even the most marginalized districts (like East London's Every East Every Day initiative) and which promote sustainable mobility on foot (such as the 20 minute districts in Portland, Oregon).
A new way of living, and of choosing where to live
This means a major shift in design paradigms, as public buildings, offices and homes must be reconceived as organisms able to accommodate very different functions for a public who are changing lifestyles: people work from home more, spend their free time differently, and use services – including mobility services – in a shared, fast, digital way.
But, for residents, it also means rediscovering local services and shops, and appreciating the importance of spaces and communities, even within complex urban organisms, with the value of property no longer derived only from the speed and frequency with which locations are used, but also the quality of architecture, time and experiences.
Technology is also an aid when finding a home to buy or rent, and property portals are adopting "Lifestyle-Centric Searches", which enable people to look for a home close to subway stations, schools, electric car charging points or supermarkets, but also a few minutes from where they live or work, the university or any other point of interest important to their own, specific lifestyle.
Request an appointment with one of our representatives