Spanning two centuries
Cementine tiles were created between the nineteenth and twentieth century and are the product of the second industrial revolution, which led to the cities becoming populated and consequently to the rising demand for dwellings. It was thus a very prosperous period for the construction industry, which, however, had to respond to new needs.
The dwellings that were required were not destined for the elite, but for lower and middle classes with different needs and economic resources. This was how expensive rugs or precious mosaics were substituted by the newly invented cementine tiles. They were made through the recovery of construction by-products: fragments of marble, natural oxides and especially Portland cement, from which they took their name.
The new hydraulic tiles were composed of a base of cement and sand about 2 cm in thickness, overlaid by a layer of extra-fine sand newly mixed with cement, oxides and marble fragments, and finally treated with linseed oil, with water-repellent and anti-stain functions.
Request an appointment with one of our representatives
They became a typical feature of Art Nouveau. Even Gaudì was a great aficionado of cementine, and in 1904 used it in his design of the "Loseta Gaudì" for the Casa Batlló project. Actually, due to time constraints, it was never used as flooring for this building, but it was instead used in the service dwelling of Casa Milà. They were hexagonal tiles with fantastical and phytomorphic motifs in tones of light blue. Years later, this industrial design work was reinterpreted with a grey anthracite tone and used to create the paving for the street onto which these two buildings face: the Passeig de Gràcia, one of Barcelona's most charming streets.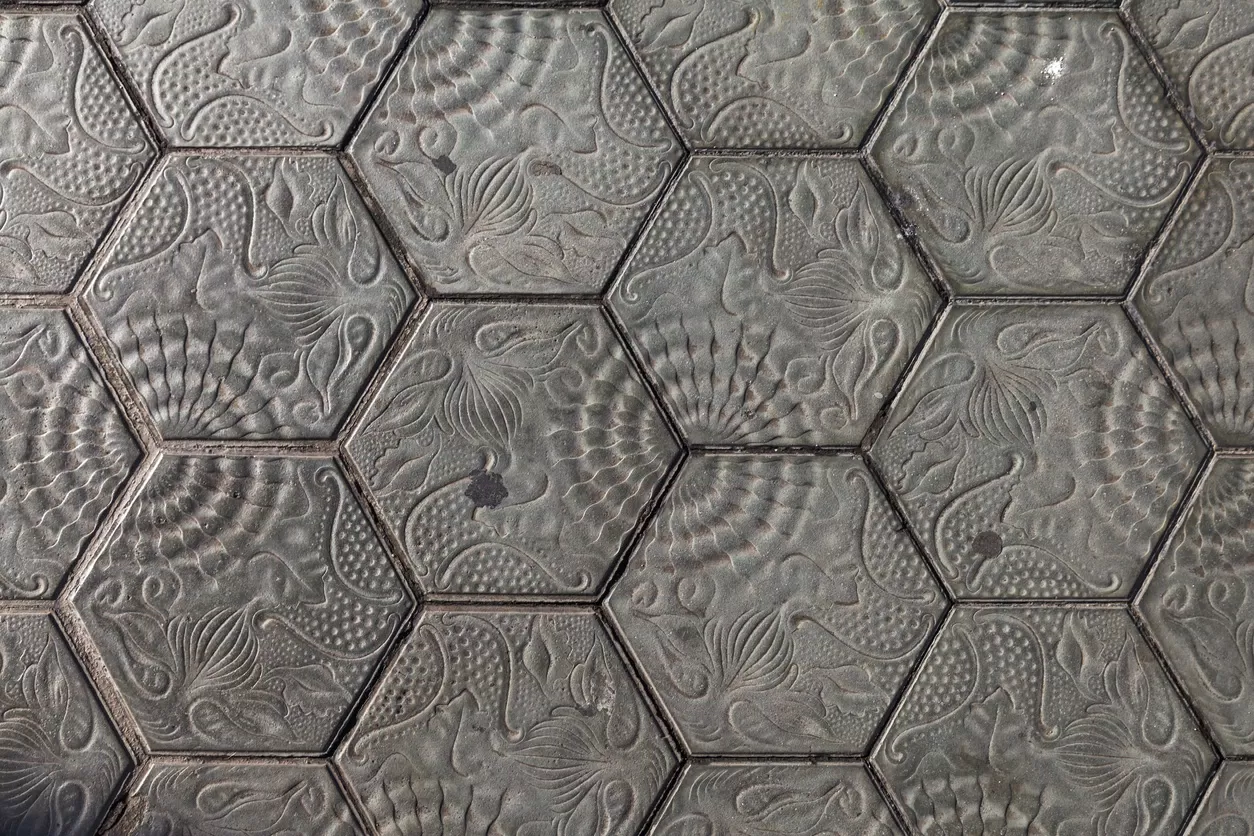 A century later
In the second World War, in the field of bathroom and kitchen cladding, cementine tiles were substituted by "marmette" (marble-chip tiles) and by industrial ceramics. It is only in recent years that they have returned on the scene, given new appreciation and considered an elegant finish, thanks to the rustic, vintage appearance which makes them unique to their class. In fact, while on the one hand we tend these days to restore rather than remove original elements in a redevelopment setting, on the other hand, cementine stoneware tiles are amassing huge success as a valid alternative to the original material. Thanks to current technologies, they are able to offer us once more the material consistency, the raw, unpolished effect, and the same essence – not of a simple cladding material – but of a genuine decorative feature that can bring character and soul to spaces. Furthermore, cementine tiles can be a harmonious feature within the new minimalist trend thanks to the choice of geometric shapes and tones.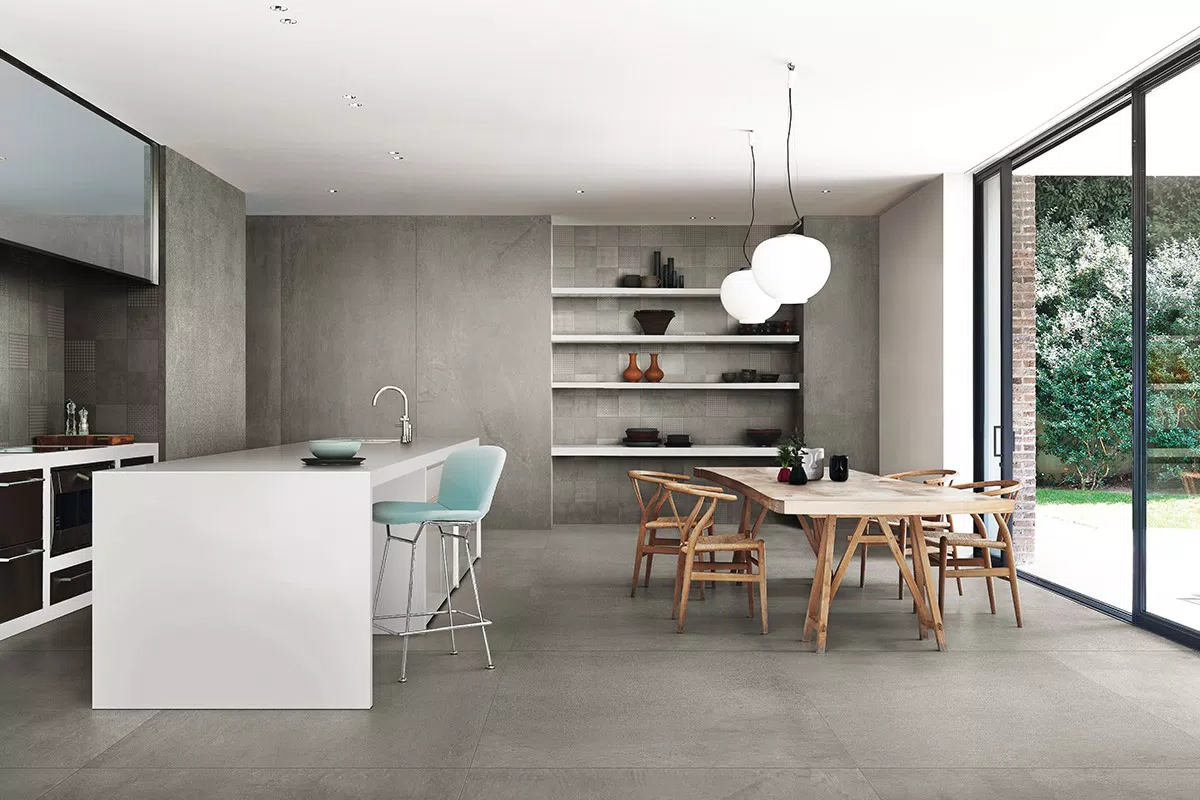 Cementine porcelain stoneware tiles from the Studios collection from Casa dolce casa – casamood
view the collection
Formats, colours and textures
The tiles – as industrial products – were created in standardised formats: squares (20×20 or 25×25) but also hexagonal or modular. Today, stoneware can be inspired by historical formats, but also offers so many more possibilities. For example, with large format tiles, it is possible to create a surface using ready-composed cementine tile decor pieces that are easy to position.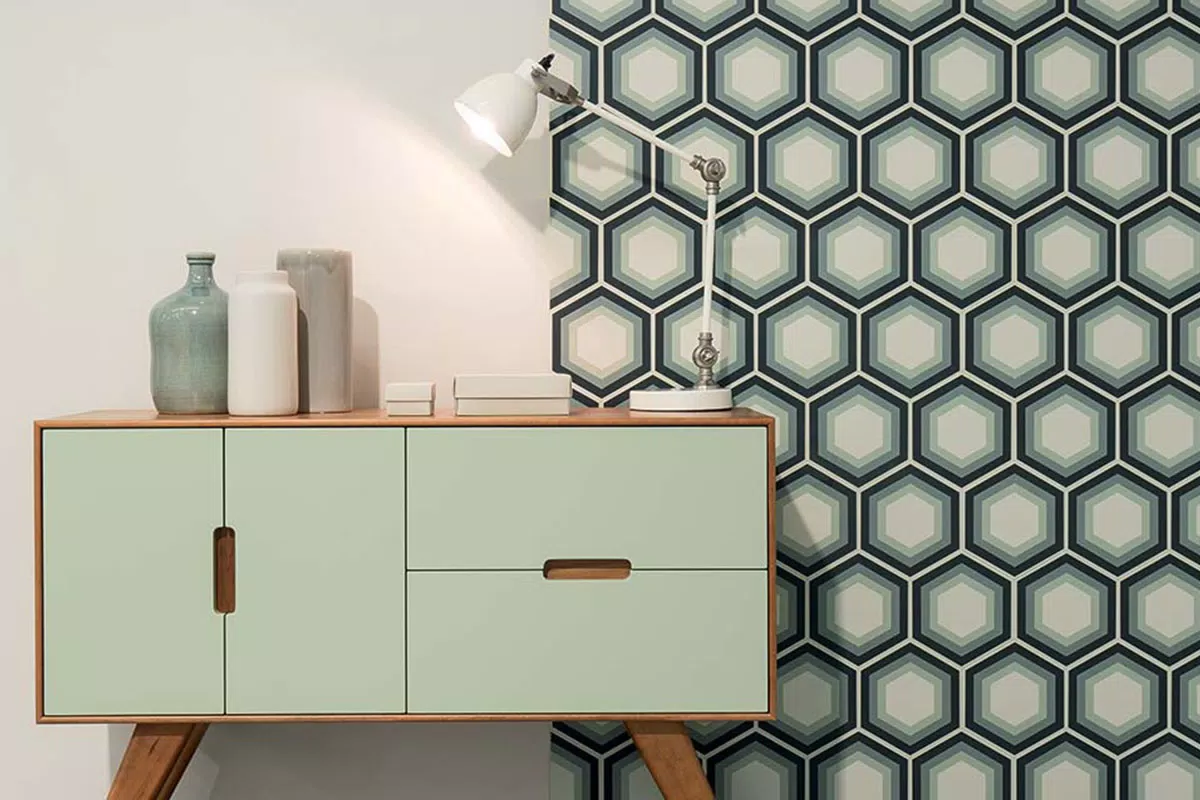 A large format that offers an innovative interpretation is composed of 120×240 Shades Decor slabs from the Neutra 6.0 collection from Casa dolce casa – Casamood, where many hexagonal tiles are virtually placed alongside one another.
view the collection
On the topic of colour, today neutral shades are preferred, with gradations of white to black, or in any case saturated and/or matte colours. Only in a few of the most eccentric homes do we see the richness of traditional chromaticism, a product of the Liberty style.
The original textures created by hand, as well as the floral motifs of the contemporaneous Art Nouveau, were inspired by geometric designs and by the traditional Greek and Roman "meander" pattern, thus anticipating the optical illusions of Op Art. Today, with cementine stoneware tiles, the combinations are limitless: we can break from tradition and move towards innovation, from floral to geometric. Another great opportunity that cementine tiles offer, whether antique or modern, is the possibility of composing "paintings" that differ every time according to one's creative impulses, simply through the placement of the standardised motifs of the individual tiles.
This patchwork effect can be seen in the residential project of Milano Contract District for Nòvampère, where the vertical cladding was carried out with a porcelain stoneware collection that was inspired by the retro charm of cementine tiles. The walls of the kitchen were decorated through modular formats of 20×20, as was the tradition, with mixed artwork, with straight-line sections and curves. The tones are dark, in shades of grey, according to contemporary taste.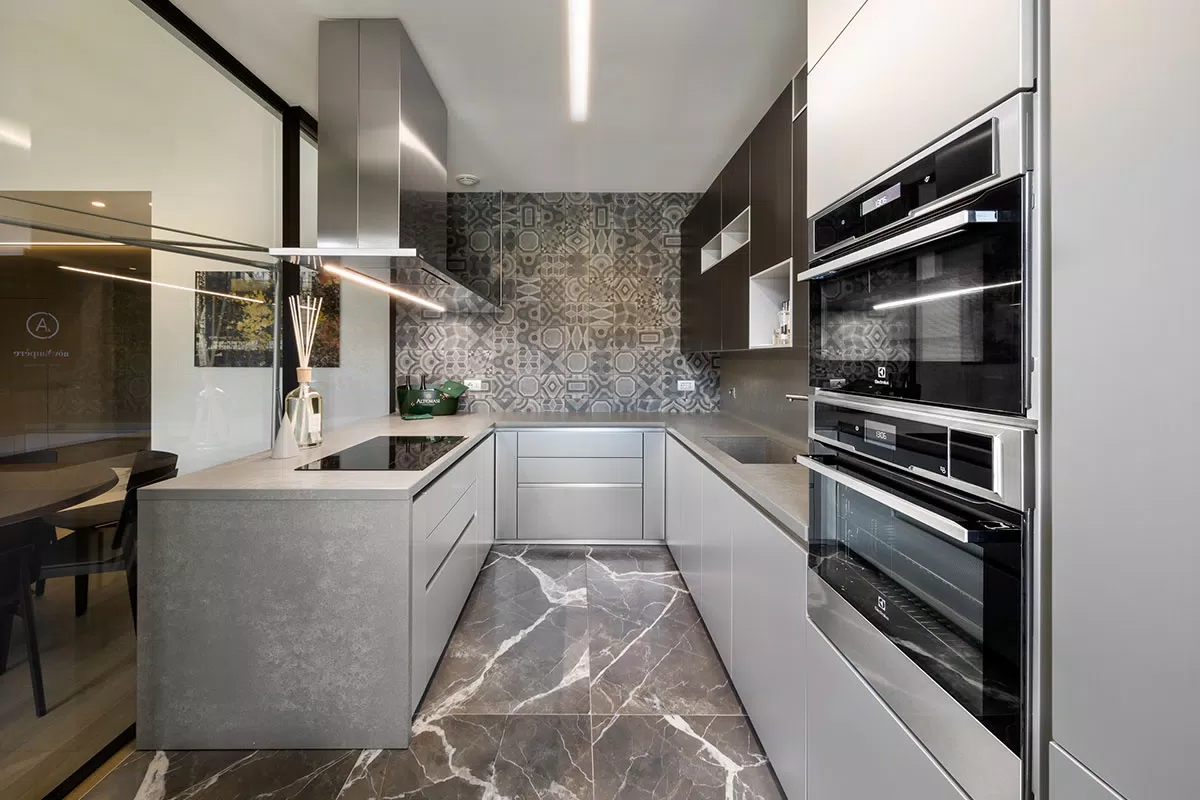 NòvAmpère Milan
view the project
More pronounced motifs and the same shades are revived by the stoneware collection Espirit de Rex. A collection that, among other things, offers this small format in vintage style, in mocha and grey tones, for backdrops with a big impact, as a decorative feature for other materials.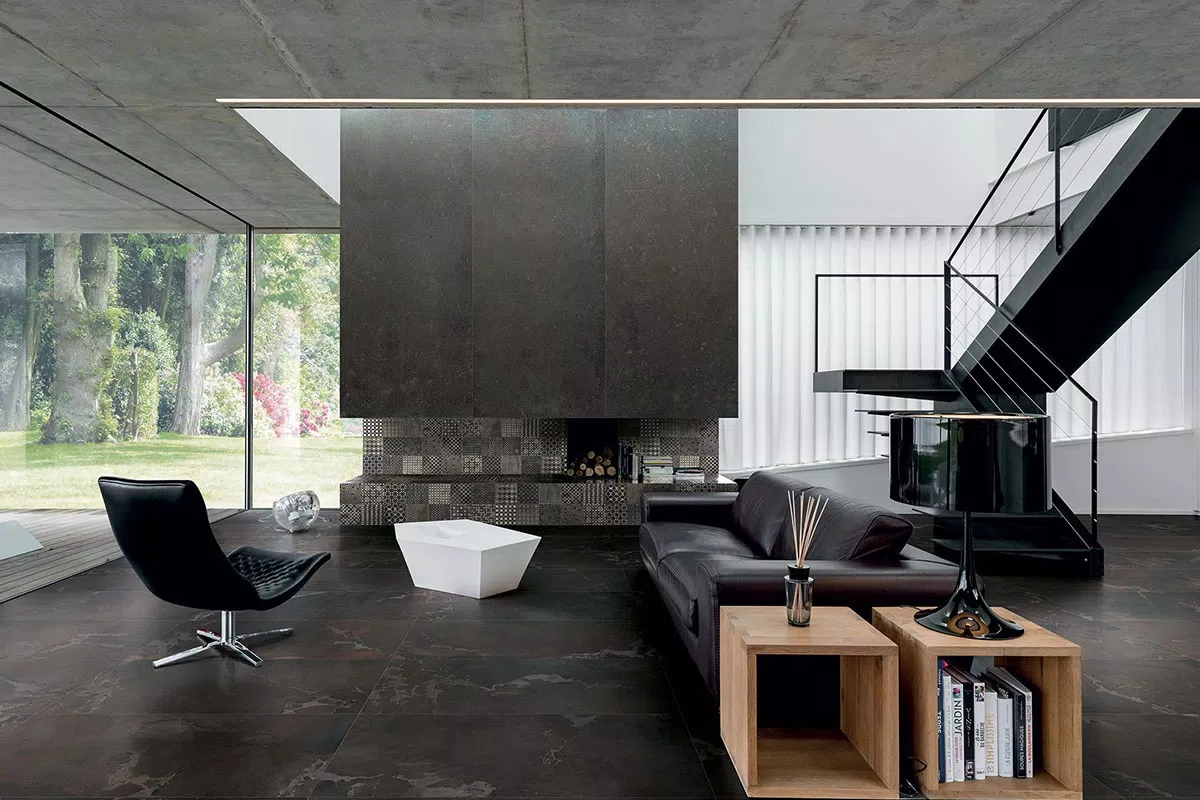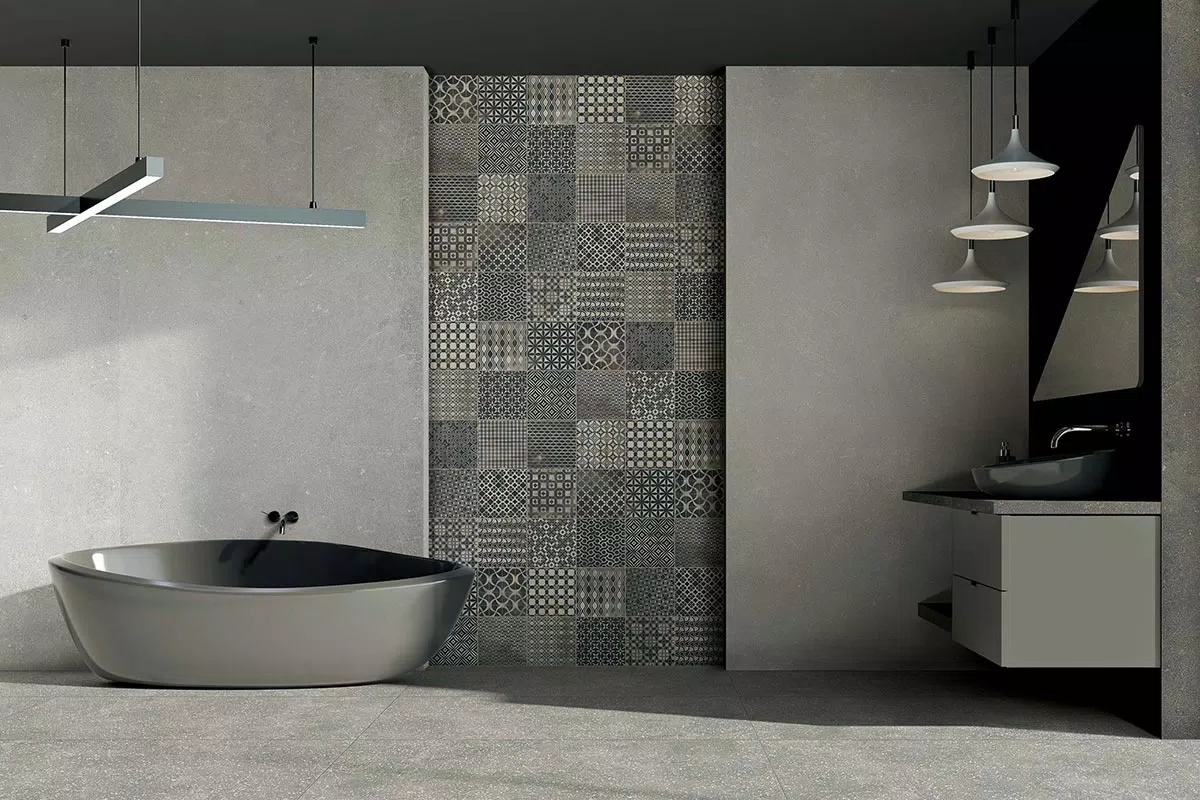 One of the reasons why this type of cladding has returned to fashion, mainly thanks to its reinterpretation in stoneware, is its versatility: from a decorative feature that imitates frames and rugs to define interior spaces, to a simple, minimal covering for surfaces that can always integrate with other materials and furnishings.
Request an appointment with one of our representatives